LEATHER
II
Divebomb Records - 2018
http://www.facebook.com/LeatherLeone




Having released the utterly brilliant Shock Waves solo album in 1989, you would've thought that powerhouse vocalist Leather Leone would be on her way to greater glories. But just as quickly as this album arrived, it seemed she just fell off the edge of the world. And for 20 years, that is pretty much what happened as Leather was out of the music world.

But in 2010, Divebomb Records reissued Shock Waves and soon that led to Leather's return to music. There was the sublimely fantastic SLEDGE/LEATHER PROJECT release Imagine Me Alive and her return as the frontwoman for CHASTAIN for two more highly regarded albums, 2013's Surrender To No One and 2015's We Bleed Metal.

All that has now seemingly coalesced into her new solo album II. Backed by what has somewhat charmingly been referred to as the "Boys From Brazil" (guitarists Vinnie Tex and Daemon Ross, bassist Thiago Velasquest and drummer Braulio Drummond), Leather has unleashed a damn fine recording.

Dedicating the album to Ronnie James Dio, Leather and guitarists Tex and Ross have crafted 11 songs that will leave you shellshocked with their unrestrained power, aggressive melodies and her signature vocal sound that leaves no doubt that she may have had a 29 year break between solo releases but has lost none of what makes her such a special performer.

It's no secret that I've been a fan of Leather's work from the first time I heard her singing on a CHASTAIN song. Hell, I once even wrote her a fan letter (back before the Internet this was how it was done) that got a handwritten response. So I'm extra hard on myself to not like what I'm hearing simply because I happen to think of Leather as one of my favorite musicians.

No such worries here because right from the start, you get the sonic assault that bears witness to the greatness of the material. "Juggernaut" explodes from the speakers and immediately kicks you in the teeth as it serves a metallic notice of intent. Leather's vocals go for broke right out of the gates and the sound is pure gold. The song's relentless pacing left me breathless even after multiple listens. This is one of the track's on the disc where a big booming use of backing vocals in the chorus helps enhance the sound as well. It also shows the band can do up quite an enlivening guitar solo too. "The Outsider" and "Let Me Kneel" are two more songs that have a remarkably cool solos as well.

The song "Lost At Midnite" (for which there was a video released) has a rock solid sound to it and is a lyrical standout. I'm a big lyrics guy (no surprise since I generally connect more with singers) and when there's a great turn of phrase I get goose bumps. I got that feeling with this song.

While the majority of the album is turned up to 10 when it comes to the pacing and delivery, there are very interesting twists to that method. "Black Smoke" is still a pretty quick moving song but the band lets up on the gas a little bit. Leather's vocals here had a little extra tinge of "evil" as she sang the lyrics. That big backing vocal sound is employed in the chorus once again making the "Black Smoke" words really slap you in the face.

The machine gun rat-a-tat-tat delivery of at least part of the lyrics made me love the aggressively paced "The One". As a kind of offset to that, the midtempo groove of "Sleep Deep" is probably the slowest number on the disc and the one that gives you a bit of an audio break from all the in your face action of the other tracks.

In terms of a showcase track where a band might do a little something different to give a wider scope or epic feel to a particular song, you'd be hard pressed not to like "Annabelle". There's a cinematically gothic overtone to the intro, which then alternates with a faster tempo throughout the song as Leather's vocals are the rocket fuel that make the song soar.

From what I've already said about the album, you can tell I really enjoyed what I heard. But I haven't even gotten to the best tracks on II yet!

The last two tracks on the disc are "American Woman" and "Give Me A Reason". The former is NOT a cover of the hit song from THE GUESS WHO. No, instead it is fast paced original track that is infused with anthemic vitality and a set of lyrics that leave little doubt to its intent (assuming I'm not misreading that, of course). The latter track has a great intro riff and a kicking groove, particularly established with the drums. It plays like an amped up version of an old-time rock 'n roll song that brings the album to a thunderous celebratory end.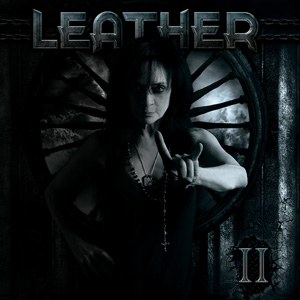 But for my money, the absolute stunner of a number on the album is "Hidden In The Dark". It's lyrical landscape is potent with lines like "I will disappoint you beyond all your desire" and "How can I believe in you, when you believe in nothing". The song is in all guns blazing attack mode from the first note and features yet another amazing guitar solo. I can't get enough of this song. If I was to choose one song from this album to use as an introduction to Leather, this would be my pick. It is a fabulously crafted song both lyrically and musically and further helps illustrate just how much this album is a metal ass kicking in all respects.
The hype sticker on the album's wrapper proclaims "Leather Leone Has Returned!" followed by "For Fans of CHASTAIN * DORO * DIO * WARLOCK * HALFORD". For those who have been fans of Leather for all this time, that might inspire a bit of a headshaking "DUH!", but it does leave open the idea that on future releases from those artists (RIP DIO), perhaps they should include a "For Fans of Leather* sticker.
CHASTAIN had that release The Voice of the Cult thirty years ago. It's a pretty apt summation of my feelings about Leather and her new album II. She's sacrificed none of her gloriously powerful vocals and backed by her talented and hungry new band, she's come up with not only a worthy successor to Shock Waves but an album that should rightly be considered a candidate for album of the year!
5.0 Out Of 5.0