All Photos By George Dionne
Thirty years ago (way back in the wilds of 1988), a group of friends and I went to the Orpheum Theater in Boston, MA to see BAD COMPANY perform. The opening band was WINGER, out on one of their earliest tours. After the show was over, we all got to meet the entire WINGER band as they came out to their tour bus. I still have the album flat of their first album that was signed by the band.
Fast forward 30 years, and I haven't seen the band or any individual members live since that Boston show. I had planned to go to the show when it was first announced, then I got offered a ticket for a different show which would've meant a night of hanging out to some other good music and the woman of my dreams. But I screwed that up and I did indeed wind up going to see Kip Winger in all his solo acoustic glory after all. While I definitely regret not being able to hang with the woman, I don't regret seeing the Kip Winger set. But more on that in a moment.
First, the opening band situation. At first it was a cover band called BOYZ GONE WILD that was scheduled to open. But they had to cancel the date a week before the concert. A band called THE CONCEPT opened the show instead. I wasn't overly enthused about their set though. The band sounded decent, the guitar player in particular was damn talented. But the mix of 90's alt-rock, pop and classic rock tracks would've been far better served if the vocalist hadn't seemed to lack a sense of "OOMPH" in his performance. Now, it's not that he sounded bad or anything, but there just seemed to be a sameness to his vocals no matter what the song was that was being performed. The set list included songs from HOOTIE & THE BLOWFISH, GIN BLOSSOMS, SHINEDOWN, FOO FIGHTERS, KINGS OF LEON, KANSAS, GEORGE MICHAEL, POISON and BON JOVI's "Wanted Dead Or Alive", which was actually the one song where the vocals were pretty full throated.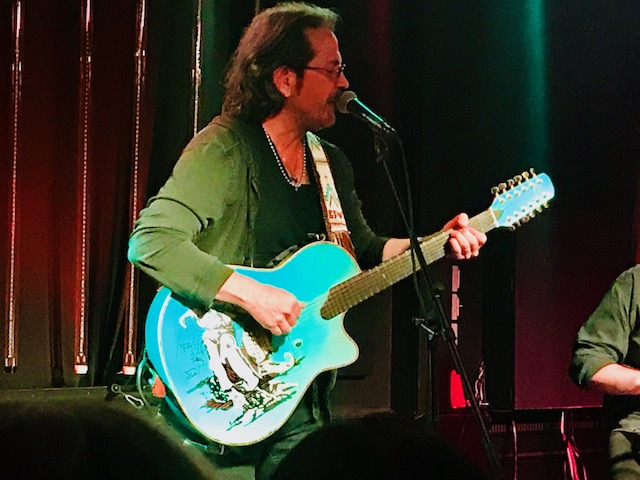 I remember telling my friend George that if I'd started their set at the front of the stage, I would've moved back before the start of the 2nd song. THE CONCEPT just really wasn't for me.
As for Kip Winger's set, it was billed as a solo acoustic show. And while the acoustic part was true, he was actually accompanied onstage by percussionist Ben Hans. Hans was excellent throughout the set.
When Winger came on stage it took a while for things to get started. This was the one dragging point of the show. As he hit the stage, he started talking in a stream of consciousness kind of way. He talked about his asthma inhaler, thanked the opener, mentioned how he stopped drinking and tied it to Jani Lane's death. Then there was an issue with the guitar not being ready to go and some interplay with the crowd. This went on for about 10 minutes and I was ready to say, "Start the show already!". Call me crazy, I wanted to hear some music!
Of course, once the set did start in true, there was some really great music to be heard. He started off with a song called "Cross" from one of his solo releases. I hadn't heard the song until the day of the concert when I was online looking up the possible set list for the show. I ended up on Youtube listening to the track and found it pretty good. In a live setting, it was a killer way to start the show.
The set list went back and forth between Kip's solo material and songs from the WINGER discography. He hit the high points for sure. As I haven't really heard his solo work, it was a treat to discover that I liked a lot of what I was hearing for the very first time.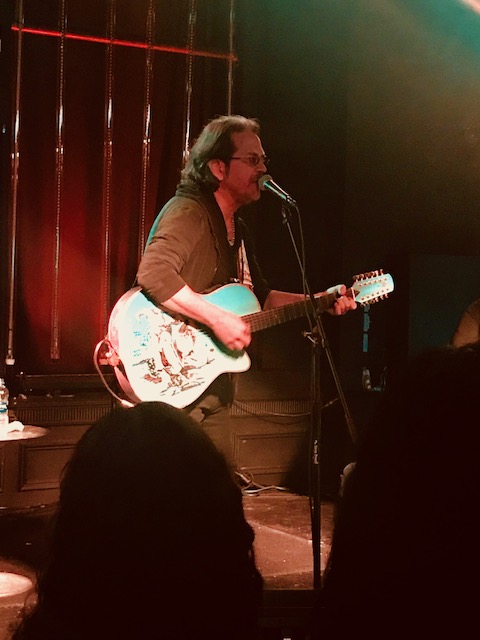 After the long intro, the stage banter was more focused and I loved how he joked about stealing lyrics from BAD COMPANY for the song "Can't Get Enuff".
Throughout the night, the crowd was quite enthusiastically singing along and never so much as when a guy got picked out of the audience to sing "Miles Away" as a sort of duet with Winger. And he was actually pretty good in doing so.
Winger briefly talked about his journey to Cairo years back which led into the instrumental "Free", a track that really captured my ear.
Perhaps the most hilarious part of the evening was when Kip tried to call guitarist Reb Beach on the phone. He got his voicemail and held it up as the crowd roared, and then Winger left the message, "Call me back, motherfucker!"
At the start of the show, Winger said that he did take requests, though it didn't mean he'd actually do the songs. But he did say that he was getting paid to play "Madalaine" and "Seventeen", so they didn't have to request those songs...that they would be coming up.
True to his word, the songs did get performed and at one point during a chorus for "Seventeen", he changed the lyric to "She's only forty-seven", a tongue-in-cheek acknowledgement of the song being 30 years old now.
Acoustic shows can sometimes be a lot of dire music and boring performers. A death knell for an enjoyable night out. The Kip Winger show I saw was anything but that. He put on a lively and energetic performance that was lapped up by a boisterously appreciative audience and left them wanting more, myself included!
Set List:
"Cross"
"Easy Come Easy Go"
"Who's The One"
"Can't Get Enuff"
"Hungry"
"Ever Wonder"
"Rainbow In The Rose"
"Miles Away"
"Free"
"Pages And Pages"
"Where Will You Go"
"Headed For A Heartbreak"
"Blind Revolution Mad"
"Down Incognito"
"Madalaine"
"Seventeen"
"Blue Suede Shoes"
http://www.kipwinger.com
https://www.facebook.com/KipWingerOfficial
http://www.benhans.com
CONCERT FUN FACTS: During the set, Winger mentioned he was enjoying the venue so much during the soundcheck that he called his manager to say he wants to come back soon.
I had the pleasant surprise of running into a friend of mine, Hope (and her husband Phil), at the show. It was a surprise because I wouldn't have expected her to be at this type of show.
After the show, Kip Winger came out for a meet and greet with the remaining audience members so I got to meet him once again.
Check out some more photos from the show!
All Photos By George Dionne