KRISIUN Scourge of the Enthroned


By Nathan Dufour, Great White North
Monday, August 13, 2018 @ 1:04 PM


| | | |
| --- | --- | --- |
| | | |
KRISIUN
Scourge of the Enthroned
Century Media, 2018




Ah, KRISIUN, that other Brazilian band. Just kidding, you all know who KRISIUN are, and the brothers are back for their eleventh dose of dizzyingly technical yet groovy, and distinctly Brazilian, death metal. Reign in riffs.

At just under 40 minutes, Scourge Of The Enthroned represents KRISIUN at their leanest and most focused. Being on the shorter end of the spectrum time-wise gives the songs contained a sense of immediacy and lethality what with blastbeats that sound like machine gun fire and guitar riffs that slice, dice, julienne and straight up slash the cerebellum, commanding outright attention and obedience. The technical term is earworm, and is applicable to every song present on Scourge Of The Enthroned.

KRISIUN are in a class all their own, really. They have been blasting away for almost 30 years and, as seems to be the case for many bands this year, are releasing some of their strongest material yet very deep into their career.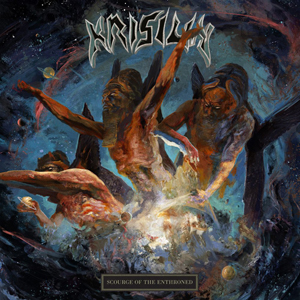 Beginning with a very slow burn by KRISIUN standards, lead off title track "Scourge of the Enthroned" lulls the listener with a subdued bit of tom work on the drums before really doubling down on both aggression and melody contained (albeit hidden) in the guitar solos. "Demonic III" gets the neck exercises out of the way straight off, then channels NILE with dense riffery and progressive tendencies smack in the center of the drum tornado (of souls) Max Kolesne. As mentioned above, earworms, they're everywhere, inescapable.
Track after track, KRISIUN delivers without pretense, without apology. Scourge Of The Enthroned is a showcase for brevity, but tempered with a keen sense of self and while not self-aggrandizing, definitely confident. Personally I don't feel scourged, but I am also not sure that the world is properly receptive to the type of aural havoc KRISIUN hath wrought and shall continue ad infinitum. Or tendonitis. Those tempos…
4.0 Out Of 5.0




Please log in to view RANTS

If you don't have a username, click here to create an account!