DEE SNIDER
For The Love Of Metal
Napalm Records - 2018
http://www.deesnider.com




I could've reviewed this album a few weeks back, but when a friend of mine announced he was going to be hosting Dee Snider for an in-store signing at his vinyl record store, I took the admittedly chicken way out and decided to wait until after I met Snider before listening to For The Love Of Metal. I mean, what if I hated it and he asked what I thought of the album? I'd hate to lie and honesty would likely not have been the best policy in that particular situation.

Funny enough, I probably shouldn't have worried because For The Love Of Metal turned out to be a pretty darn good album and well worth the price of admission.

Things start off rather explosively with the opening track "Lies Are A Business". You are immediately struck by how vicious and dark Dee's vocals are. They still sound like him but so much heavier. I loved the song title in and of itself and when the line pops up in the actual lyrics it only cements how good the song is.

This is not a TWISTED SISTER redux album. The music is far heavier (though not nearly as brutally intense as some of the heavier acts out there in the music world these days), without sacrificing melody. The majority of the guitar and bass tracks on the album are played by Charlie Bellmore with Nicky Bellmore (both from KINGDOM OF SORROW) smashing away behind the drum kit.

Songs like "Tomorrow's No Concern" and "I'm Ready" are pure straight up aggressive rockers. They both get the blood pumping and many a head will be unable to stop themselves from banging away.

I'm normally worried when a singer isn't involved in the songwriting for an album (particularly one that bears his own name). So when Snider mentioned in the pre-release press that he didn't write anything for the album, I wondered if this was going to essentially be a collection of tunes where he came off more as a guest star. With HATEBREED's Jamey Jasta co-writing all twelve songs plus producing the album, would the album sound more like a HATEBREED album than something that Dee's signature vocal sound would make his own? I was overjoyed to see that there was only one song, "Roll Over You", that just didn't have the feel of being a Dee Snider song. It just felt like a track someone else should've been doing.

Lyrically there are a lot of great lines for Snider to sink his teeth into. On the rather crushing "I Am The Hurricane", the lyric "I am a force of nature / Destroy your great design / I am the warning / You will never heed in time" blows you away when you hear it.

"American Made" starts out a bit slowly but soon comes on as a fast paced track fueled by a muscular kind of anthemic bravado. I wanted to like "Running Mazes" a bit more than I did. It had all the earmarks for a killer song. A great vocal take, strong lyrics and a definite aggressively charged musical bent. If it wasn't for what I felt was a weak as water chorus, this song might've been one of my favorites on the entire disc.

There's really not much in the way of a slow down on the album other than the ballad "Dead Hearts (Love Thy Enemy)". It has a guest vocal appearance from ARCH ENEMY's Alissa White-Gluz as it starts out like a traditional ballad before the soundtrack for the song gets a LOT heavier. White-Gluz is singing in a clean style here. Since I'm not a fan of ARCH ENEMY, I really was ignorant of the fact she could sing like she did on this song. When I first listened to the song I just couldn't get into the track as a whole. But with each successive spin of the album, the song grew on me to the point that I actually quite love the song now. And the line "Dead hearts can't be broken / but I'm sure you'll try" is drop dead awesome.

Other than that one slow track, the album never goes really gives you a break, wrecking your neck with its far more than brisk pacing. While I thought the guest vocal appearance from Howard Jones (from KILLSWITCH ENGAGE, not the 80's pop artist) overpowered Dee Snider's performance on "The Hardest Way", the song's tempo wormed its way into my head.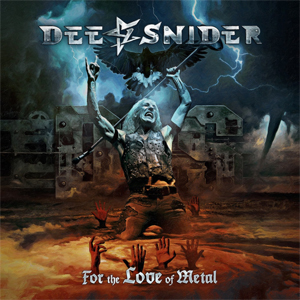 Rather unsurprisingly, I think some of the best songs on the album are when the material leans more towards being "fists in the air" anthemic rockers. "Become The Storm" will rip your throat out and stands apart for the one lyric line that could serve as a personal motto for many a rocker out there, "Rain is nothing to fear, when you Become The Storm". Maybe that's just me, but that line was just the epitome of cool when I heard it in the song and it was really sold by Snider's performance. The title track is the perfect summation of the entire album and closes things out with a smashing crescendo.
As for the most singularly powerful stand out track on the album, check out the song "Mask". I'm not British but I have to say that the track is just bloody brilliant! When making notes for this review, all I wrote down on the first pass listening to the disc was "excellent" with a check mark. It only got better with each listening. It is just a relentessly powerful song with an amazing performance from Dee Snider!
Despite some initial reservations behind how the album was created, I was really quite entertained throughout this album. Dee's voice is still elastically ageless and he makes the songs given to him his own. He is doing the album "for the love of metal" and those of us who claim to be lovers of the artform need to hear this album because it certainly captures everything that makes metal what we all love!
4.7 Out Of 5.0