PROPHETS OF ADDICTION Tell Nothing But The Truth With New Album


By Larry Petro, News Monkey
Tuesday, October 9, 2018 @ 7:20 AM


| | | |
| --- | --- | --- |
| | | Out October 26th Via HighVolMusic |
The Sunset Strip has been a buzz this year with stellar returns from the classic hard rock artists that made the strip .. well Ö the Sunset Strip! We just saw music by KINGDOME COME on stage the other night, LA GUNS returned with a new album release, TESLA and WARRANT just played through Agoura Hills - itís been tremendous to feel the music one more time. For the true American hard rock die-hards, what started with the fashion of Jim Morrison and his bare chested, steel belt buckled leather pants bad boy image that evolved into an endless list of artists including all the rarities fans collect on old cassette tapes to this day - that street has seen it all.

Lesli Sanders, the embodiment of what real bubblegum fanatics call the last man standing, rode alongside every major label hard rock icon from the era of hair spray - GUNS Ní ROSES, WARRANT, POISON - ahhh, the ever poppy PRETTY BOY FLOYD; yes, Lesli was there. What began as a literal explosion of sound had looked like riding an endless wave of girls, cars, money and parties that people still talk about now, yes, decades later Ö it just didnít last.

Sanders stood on stage at the Whisky when it was alive, and he stood there again as the dreams of every young rocker on the planet saw the life they know fall under the oppressing fanfare of grunge. The tide that carried in the music that made our lives quickly swept down Sunset and off into the ocean somewhere down around the Santa Monica Pier. If you lived it - you know what this means, and if you didnít, then you know what it means to have missed the boat.

It was perfect. It was amazing. It was Hollywood.

Lesli Sanders didnít quit the music. He did, however, quit the drugs, the booze, the parties and the lifestyle that every hard rock local was privy to. He got in a car and drove back to Seattle and straightened out his shit! Then, as any musician would do - he started to write for his passion of expressing himself and not for the girls and glam. He wrote songs! Flash forward to last yearís single - ďTake Me To Your LeaderĒ.

In and around April 2017, Sanders rounded up friends from his era of debauchery and mapped a route across the US, ready to kick ass in any club that would take Ďem. He put together a band, packed his gear on wheels and performed shows coast to coast. Some of the shows were electric, some of the shows were acoustic and all of the shows brought back the edgy, glammy, and passionate music that Sanders has crafted throughout his career.

It was perfect. It was amazing. It was Hollywood.

Historically, youíll find if you look, Sanders has gone in the studio with songwriter and bassist Phil Soussan a lot. A majority of Sandersí tunes have Soussanís fingerprints on them - and itís great! Philís a world class multi-faceted artist - on stage and in the studio. The end result of this marriage of skills and interests have produced some fantastic works from Sanders and the latest - about to be released album - is no different. Sanders got with Soussan, and band partner Glen ďG.G.Ē Gilbert, to take a wealth of music written on the road during last yearís, AND this yearís touring schedule and put it to tape. Itís deep and it talks about the life he lived, the career he made and the friends heís seen come and go - those who took the same ride Sanderís did, but didnít get off the train and clean up. In the end, itís an intrinsic view of the life we all dreamed of living in 2nd wave of glam metal - spoken from a survivor. These songs portray the stories youíve heard about and are told from someone who experienced the truth and has the ability to put those memories to a melody and make them stick in your ear like a fishhook.

Itís perfect. Itís amazing. Itís Hollywood.

The album is aptly titled Nothing But The Truth. itís being released on October 26th through Bill Chavisí HighVol Music and you can follow for details here: https://www.highvolmusic.com/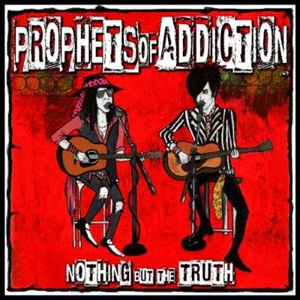 It features 10 hauntingly poignant songs that speak from the voice of a soul that flourished and suffered on the Sunset Strip and lived through an industry of broken dreams, stolen opportunities and character building that has made Sanderís unique in his music, and our lives.
Track list is as follows:
"American Dream"
"Altar of Altercation"
"Babylon Boulevard"
"Talkin'"
"Last of the Words"
"Spare the Bullets"
"Hollywood"
"Atmosphere"
"Heart of Mine"
"Return the Smile"
Now, while fans are patiently awaiting to hear it, Iím happy to share with you a new video from track 7 of the full length album release. Watch the video for "Hollywood" on KNAC.COM HERE.

Itís perfect. Itís amazing. Itís Hollywood.

Literally.




Please log in to view RANTS

If you don't have a username, click here to create an account!