Photos By Andrew Depedro Charlton
It was a close shave, but with the thanks of the frontman of one of the opening bands on this punishing display of top quality Canadian thrash from two different generations, I was able to witness the event firsthand.
...except for the opening band of said frontman who got me the ticket for the show thanks to some last-minute and unnecessary housecleaning I was given the task of doing.
And by many accounts, local power metal titans LYCANTHRO – featuring the lineup of frontman/guitarist/occasional ticket vendor James Delbridge, lead guitarist David Shute, bassist Carlo Cote and drummer Nathan Shuman – had put on a performance that nearly upstaged the headliners. Following the release of their EP The Four Horsemen Of The Apocalypse, the young wolfen foursome have been upping their game as of late with new songs such as "Fallen Angels' Prayer" and their ambitious 14-minute long opus "Pale Rider", featuring a duet with EXCITER's Jacques Belanger and enough strobe lights to signal potential extra-terrestrial life. Luckily I'd seen the band twice before to confirm their exhaustingly tight performance, but next time this wolf will be cutting loose from uncle duties early to watch the fur fly at their live shows.
http://www.lycanthro.ca/index.html
https://www.facebook.com/Lycanthrokills/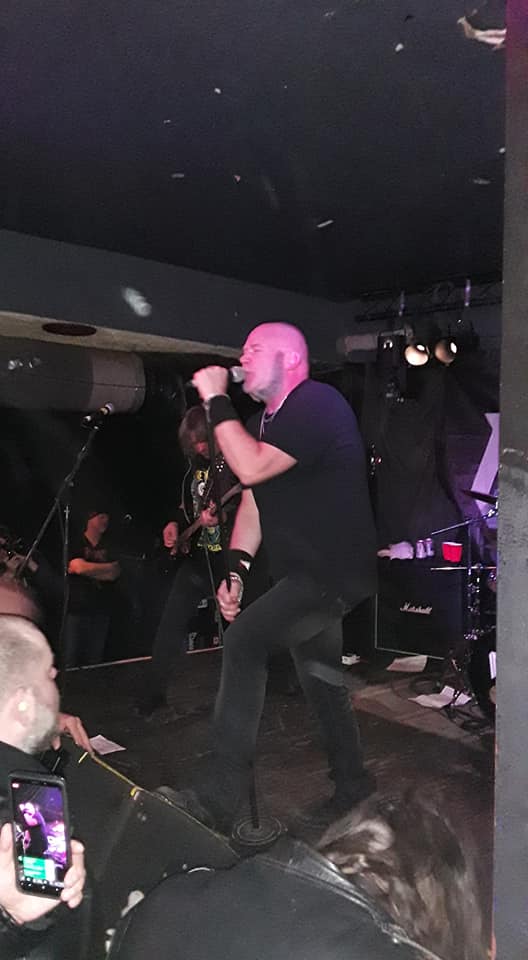 Yep...missing an opening band's performance which you'd paid for in the form of a ticket you bought directly from said opening band's frontperson – thanks again, James! – in order to do a double take on some abandoned housework is rather lame. Even moreso when, by comparison, the lead singer from another of the opening bands manages to honor his band's appearance at a show despite having a broken foot. Such would explain why frontman/guitarist Liam of local tech metallers EXO-VEDATE initially looked like he was performing while sporting one of Jake E. Lee's classic soloing poses until the closer you got, it was because he was sitting on a chair while playing and keeping his broken foot elevated in accordance with doctor's orders. Being the humbled – and somewhat hobbled – band that they are, EXO-VEDATE effortlessly push forward with their six-song set with just as much fury and energy at every other show they've played. Their death-ridden neckshredding numbers such as "Centrifuge", "Death's Demise", "Of Unknown Origin" and crowd fave/closer "Maximum Overdrive" continue to be the circle pit soundtrack legends thanks to the shared riffs of Liam and fellow axeslinger Shane McConnell and the esteemed rhythm section of bassist Justin Bedard and drummer Brady Lessard. In short, Liam's broken foot may have been an accident but the DEFIANCE T-shirt he was wearing was definitely purposeful and symbolic, reflecting EXO-VEDATE's tenacity to put on the best show that they can against all odds and then some.
https://www.facebook.com/ExoVedate/
Up next, court is in session for the only more hardcore-sounding band on the bill in the form of LIFE ON TRIAL. Like all good hardcore bands, the metal heart of this Gatineau quartet has been hard to tear apart since SLAYER's Reign In Blood entered its cardiovascular system after a couple of listens. The current lineup of Blake Hipson (vocals), Claudio Del Conté (guitar), Jean Lefebvre (bass) and Simon Bouchard (drums) have been together since 2010, causing their own hardcore uproar on the scene while sharing the stage with the likes of BIOHAZARD and SWORN ENEMY among other established bands in the genre. And they've got a small but growing catalogue, much of which was on the setlist tonight from the recent (okay, 2016) debut EP Terrorizer. Songs such as "Pisser", "If The Shoe Fits", "Depresser" and the opening title track punched well above their weight – as did much of the hardcore crowd during their performance – as Blake's growling knuckle-tight vocals pierced through Claudio's chugging riffs while Jean and Simon's rhythm section kept an impenetrable wall of solid back and blast beats standing. Standing out from the thrashers on the bill, LIFE ON TRIAL delivered their own verdict on Ottawa's thrash crowd for being welcoming and wild to their hardcore sound. No parole from rock 'n roll indeed.
https://www.facebook.com/lifeontrial/
https://lifeontrialhc.bandcamp.com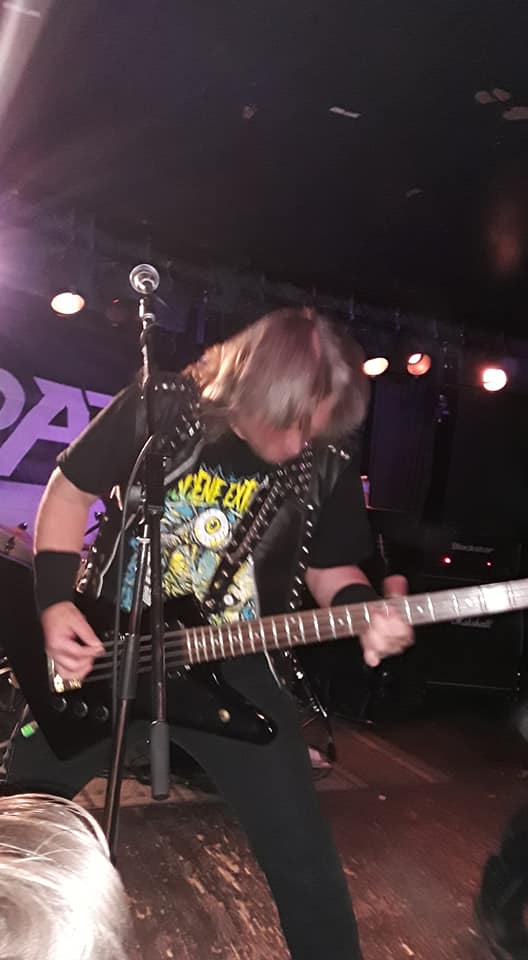 Local recently-unretired thrashers INFRARED continued their run of newfound fame with not only their fiery performance on this bill but also with the release of their sophomore album Saviours this past summer. The quartet of Armin (vocals/guitar), Mike Forbes (bass), Alain Groulx (drums) and Kirk Gidley (guitars) included the usual anthemic faves such as "All In Favour" and "Father Of Lies" (which had been intended for the album anyway) but included more lesser-known tracks such as "The Fallen", "Project Karma" and "Genocide Convention" which ensured that the pit was raging hard. It even allowed for a brief moment of levity when James of lycanthro was spotted wandering around with a sign picturing a bowl of peas crossed out by a red circle with a line through it during (naturally) "No Peace". A certain shade of green aside, INFRARED kept the show colorful and brutal.
https://www.facebook.com/infraredmetal
http://infraredmetal.ca/index.html
Finally, the headliners and one of the Great White North's own Big Four Of Thrash greet the City Of Damnation with a good 35 years' catalogue worth of classic headbangin' jams! As the punishing introductory riff from opening number "Cross Me Fool" slowly morphs into a wild thrashing mess, RAZOR take their slot at the top of the bill and keep the pit sharp for the next 90 minutes. The current original lineup of guitarist Dave Carlo and bassist Mike Campagnolo are still maintaining the band's edge thanks to frontman Bob Reid and relative newcomer Rider Johnson on drums. And while the band have been overdue in recording new material since 1997's Decibels, they still matter a fuck of a lot to the members of the old school crowd representin' hard – so much so that their current jaunt around the East Coast is prompting a return to the studio sometime during the new year! But, as a reminder to the loyal and true who supported them throughout their extensive career, RAZOR doled out a killer collection of choice cuts from their 8-album discography – yes, including Decibels – to much hair-raising delight amongst the crowd.
RAZOR's music, at first listen, is, for the most part, fast, raw and powerful. For someone who's been playing at such lightning speed for nearly four decades – almost about as long as 2/3's of SLAYER's original lineup – Dave Carlo is amazingly precise and showed no sign of slowing down his tempo or tuning down his groove like many of his contemporaries have started doing over the past year or so. This is duly noted on faster numbers such as "Stabbed In The Back", "Sucker For Punishment" and "Take This Torch". Bob Reid had only joined the band around '89 but his familiar piercing howls during RAZOR's transition from traditional heavy metal to full-on thrash continued the change that had been set in motion by his predecessor Stace McLaren, who, by then had left the band. And while he can still effortlessly chant out the breakneck choruses of the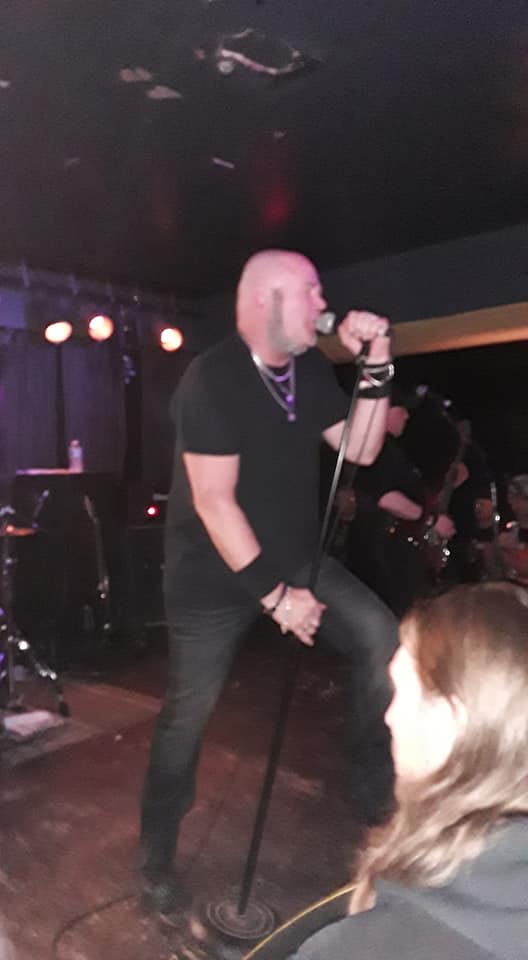 latter-day RAZOR classics such as "Sucker For Punishment", he also takes the early classics such as "Hot Metal" and "City Of Damnation" from the McLaren era to greater and louder heights. And these guys must be pushing into their mid-60's by now with no intentions of retiring from music any time soon. Their recent tours of Europe and South America as well as a recent appearance at LA's Hellfest only confirmed what the Great White North had known for decades: RAZOR are one of the last true torch bearers of the metal scene and they'll only play with some of the best of the next generation whom they can entrust to take that same torch in their name.
https://www.razorband.com/
https://www.facebook.com/RazorThrashBand/
Setlist:
"Cross Me Fool"
"Iron Hammer"
"Violent Restitution"
"Cut Throat"
"Behind Bars"
"Sucker For Punishment"
"Hot Metal"
"Stabbed In The Back"
"Instant Death"
"Electric Torture"
"Gatecrasher"
"Parricide"
"City Of Damnation"
"The Pugilist"
"Take This Torch"
"Evil Invaders"