METAL CHURCH
Damned If You Do
Rat Pak Records - 2018
http://www.metalchurchofficial.com




After the stunningly brilliant return to the fold of vocalist Mike Howe with METAL CHURCH's XI album I'm sure that many people, myself included, wondered just how the band would keep the metal rolling onward for their next album.

Well, Damned If You Do is a vastly powerful statement that METAL CHURCH is still firing strong and true on all cylinders. The band (guitarists Kurdt Vanderhoof and Rick Van Zandt, bassist Steve Unger and new drummer Stet Howland along with Howe) wastes no time in getting the mood of the album off to a heavy and driving rhythm. Opening with the title track with a chanting that reminds you ever so briefly of those Benedictine monks the riff heavy stomper serves as a statement of metal defiance to anyone who doubts their bonafides.

I've been a fan of Stet Howland from his time in W.A.S.P. and I have to say that his work on the kit here is fabulous. Not that I expected anything less than the best, but smashing away on the skins here really fuels the music in an electrically charged manner. (Full Disclosure: I met Stet at an in-store signing on the day of the album's release.)

Of course, the entirety of the music combined with the vocal work/prowess of Mike Howe is what makes METAL CHURCH as great a band as they are. And with "The Black Things" you get a fast paced (let's face it, there's very little hitting of the brakes on this album) track that has a killer chorus that is enhanced immensely by the shading of Howe's vocals to give them a gnarly kind of evil tinge to them.

I've seen others talking about the album online while I've been working on my own review and a lot of talk seems to be centered around "By The Numbers". If you check out the song you'll understand why. The song blazes fast and strong. But it's the vibe the song gives off that makes it a great song. You can wrap yourself up in the sonic landscape like a blanket and feel right at home within it.

It's not just the music that gives you the "feels" either. The lyrical content is quite potent as well. "Revolution Underway" and "Monkey Finger" are a full meal to chew on when it comes to the song lyrics. In fact, "Monkey Finger", which ranges from a mid to uptempo delivery is likely my favorite track on the disc. And that's something I've felt from the first listen. (I've listened at least 10 times to the album as of the writing of this review.)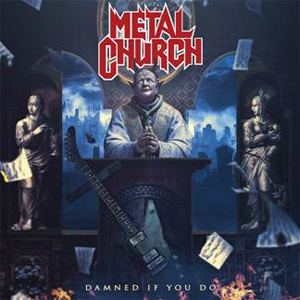 For all my talk so far, I think it very important to point out two songs that might end up being greatly underappreciated when taking the album as a whole. Both "Guillotine" and "Rot Away" are highly aggressive musically. I mean they just shred the ears throughout each track. "Guillotine" has a gut-ripping vocal as well. They are pretty intense songs that I enjoyed immensely and want to make sure anyone listening to the album doesn't just pass them by.
I spent a long time trying to find something on Damned If You Do that I could be a nitpicky pain in the butt about, but in all honesty, there's nothing here that would make me say a cross word against the album nor the individual stand out performances from the band. I think that is how it should be for as the band states on the closing song "The War Electric"... "the more you fight the deeper sets the hook".
The band turns out one slab of hot molten metal after another and they are never disappointing in the least. I've loved the band in each of their incarnations and I'm just about out of florid prose and superlatives to describe how mad freaking great they are. By now, if you aren't worshipping at the altar of METAL CHURCH, why are you still calling yourself a heavy metal fan?
5.0 Out Of 5.0