All Photos By Travis Failey/Rocket Sports & Entertainment
On Friday night in Orlando, rock and metal fans were treated to a trifecta of powerhouse female-fronted rock bands at the Amway Arena in Orlando. Hosted by I Heart Radio's WJRR 101.1, The Not So Silent Night event was co-headlined by HALESTORM and IN THIS MOMENT with NEW YEARS DAY taking the opening slot.
When this tour was announced and that this stop would be held at the same arena where the Orlando Magic play, I was surprised due to the enormity of the venue. I've seen both HALESTORM and IN THIS MOMENT before but it was either at a festival or in a packed club and I questioned if a venue change would happen. Thankfully for the bands and the promoters etc., the fans came out in droves, both female and male alike, and most of the side and lower levels were filled with fans primed for a rock show.
NEW YEARS DAY got it going with a short six song set that's typical for an opening band but did a great job bringing up the energy and got the crowd fired up. Vocalist, Ash Costello, who helped create the band in 2005, is a powerhouse of a singer that has a ton of stage presence, who often pulled the audience into the performance.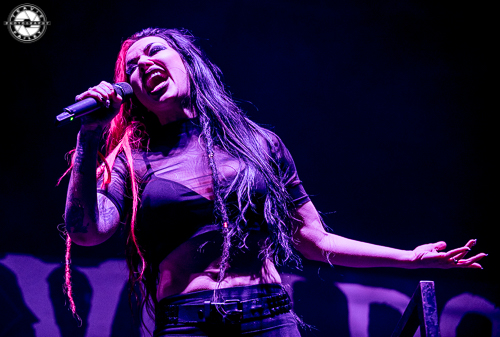 NEW YEARS DAY started their set with "Kill Or Be Killed" and then Costello introduced the band to the crowd, and then went right into "Fucking Hostile" by PANTERA. Doing a PANTERA cover always plays well with the crowd and it worked once again in Orlando, as it got everyone's attention and kept it throughout their whole set. NEW YEARS DAY continued with a few more songs in "Skeletons" and "Scream", and both songs really showcased Costello's voice and her chemistry with the band.
Up next on the bill was Maria Brink and IN THIS MOMENT. Getting their start in 2005 in Los Angeles, IN THIS MOMENT in the past five years has been on an epic touring run, playing shows and festivals non-stop, while also recording in the studio when time permits.
IN THIS MOMENT brings not only a hard rock edge to their music but also provides a theatrical performance at every show. Brink is an artist and a showman who uses props, smoke, costume changes and dancers to engage and mesmerize the audience. Prior to the curtain dropping, QUEEN's "We Will Rock You" and JOURNEY's "Don't Stop Believing" blasted through the house speakers.
Brink's band that includes guitarists Chris Howorth and Randy Weitzel, bassist Travis Johnson, and drummer Kent Dimmel, took the fog-laden stage. Two masked dancers stood aside the on-stage dressing room while Brink came through slowly through its doors.
IN THIS MOMENT started off with "Blood" from their 2012 release of the same name and then went right into "River of Fire" off of "Ritual". Brink stood in the middle of the stage with a long flowing white dress with large white, red and purple crosses on all sides of her. Massive amounts of smoke billowed from the stage as strobe lights and lasers flashed throughout the arena.
After "Adrenalize" Maria Brink thanked the military people in the audience for their service and their bravery. Brink left the stage after their hit "Roots" for the guys in the band to perform what they like to call their "Monster Jam". This is always a crowd favorite as it contains a couple segments of METALLICA songs in "For Whom The Bell Tolls" and "Creeping Death".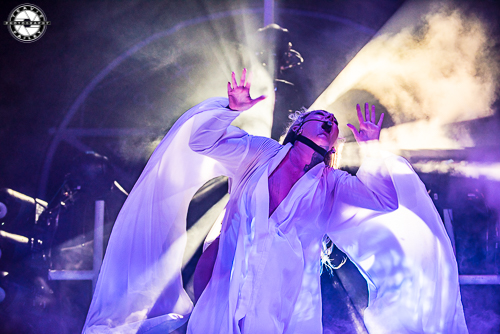 The adrenaline and hype in the crowd was at a peek level when the band started to perform "In The Air Tonight" by Phil Collins. It was an interesting song choice and transition as the song was played at a slow tempo. The two stage dancers embraced around a smoking witch's cauldron with Maria Brink nowhere to be seen. Brink came back on stage at the end of the track and thrashed at the front of the smoking fire pit. You really couldn't tell if she was singing or if the vocal track was piped in and that is disappointing.
The band finished up with "Oh Lord" and "Big Bad Wolf" with Brink wearing a black wolf mask during the latter. They would leave the stage for a few minutes to get more props setup while Martin Luther King's famous "I Have a Dream' speech played through the speakers. Their encore only included one song in "Whore" from the Blood album as Brink stood behind a podium with a white dunce hat on that read "whore". Massive black, white and red balloons bounced through the crowd as IN THIS MOMENT took a bow then left the stage to cheers from the fans.
HALESTORM took the stage with a vengeance, with Lzzy Hale screaming her way into "Black Vultures" from the band's forth original release, Vicious. I was curious as to what song HALESTORM would open with. Now usually this is a given, just check out setlist.fm. as most bands perform the same sets at every show, in the same order. But to my surprise, HALESTORM has been bucking the trend on this tour. Besides "Black Vultures", HALESTORM has also opened with "I Am The Fire", "Skulls", "Familiar Taste of Poison", "Love Bites (So Do I)", "Freak Like Me", okay, I think you get it.
HALESTORM has released two singles from Vicious at this point, "Uncomfortable" and "Do Not Disturb", with "Uncomfortable" up for a Grammy for Best Rock Performance. I expect that "Black Vultures", "Skulls" and "Vicious" will be released as singles next year.
After "Love Bites", "Uncomfortable" and the ultra-sexy "Do Not Disturb", Joe Hottinger showed off his prowess on the guitar with an extended (and awesome) solo during "Amen". Having seen the band a few times now, I was impressed more with Joe's playing than ever before. After "Amen" Lzzy got the chance to display her talent on a white grand piano during a powerful performance of "Dear Daughter". While the whole band has an undeniable chemistry, Lzzy and Joe are a special duo, bringing back the dueling guitars that were a staple in the rock and roll scene in the 1980's.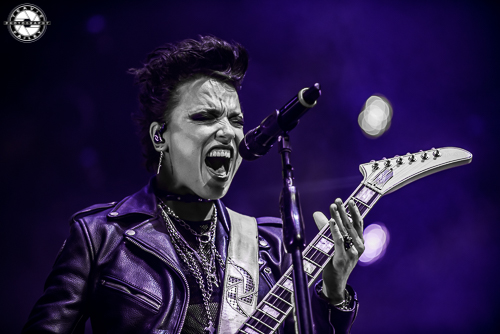 HALESTORM picked up the pace and played "Skulls", with Arejay Hale doing a short drum solo with monster drum sticks that led into "Freak Like Me" and a ripping rendition of the spine-chilling "I Am The Fire". Then the lights went off and Lzzy and Joe performed an acoustic and intimate rendition of "The Silence". HALESTORM ended their set with "I Miss The Misery" and after a short break, they brought up the members of the opening bands and performed "Here's To Us".
With only one more stop in St. Petersburg before the tour wraps up, The Not So Silent Night show hosted by WJRR in Orlando was a huge success. Thanks to bands like HALESTORM and IN THIS MOMENT, woman of all ages who enjoy rock and metal have influences that they can look up to and emulate. I don't think that rock and roll has had this high caliber female vocalists since the 80's.
Like many others like her, Lzzy Hale has struggled with depression and has used music to get her through tough times, especially during the writing of Vicious. By documenting her struggle in her on-line diary, and her interaction with fans, Lzzy has provided strength to others and should be commended for this in addition to her amazing vocals and guitar playing (and piano).
Their second leg of the Vicious tour starts back up in 2019, and the year looks like it may be in for a huge....... HALESTORM.
https://www.halestormrocks.com/
http://www.inthismomentofficial.com/
https://nydrock.com/
Check out some more photos from the show!
All Photos By Travis Failey/Rocket Sports & Entertainment