Photos By Andrew Depedro
If babysitting commitments, samples of bad Marmite and flu-ridden contagious work colleagues couldn't prevent me from catching so many high-profile shows over the past 12 months I doubt if winter's arrival was going to do the same for this show either. Especially since I hadn't seen the headliners since they opened for QUEENSRYCHE on their Building Empires tour from 1991.
On the Punk And Belligerent tour which hit the Brass Monkey recently, the co-headliners became the headliners. And here's how they measured up in terms of punk and belligerence.
To be honest, they're not anywhere close to punk rock musically or visually – save for that cover of "My Way" which people still think is a SEX PISTOLS song stolen from Frank Sinatra – but power metallers MACHINE MESSIAH are definitely a different force to be reckoned with in the local rock scene. It was my second time seeing them since their opening slot for STEVE GRIMMETT'S GRIM REAPER back in November. Not much has changed between then and this opening slot other than that frontman Bobby Stones was finally referring from the band's new website on ReverbNation. Guess he read the last review I'd done of 'em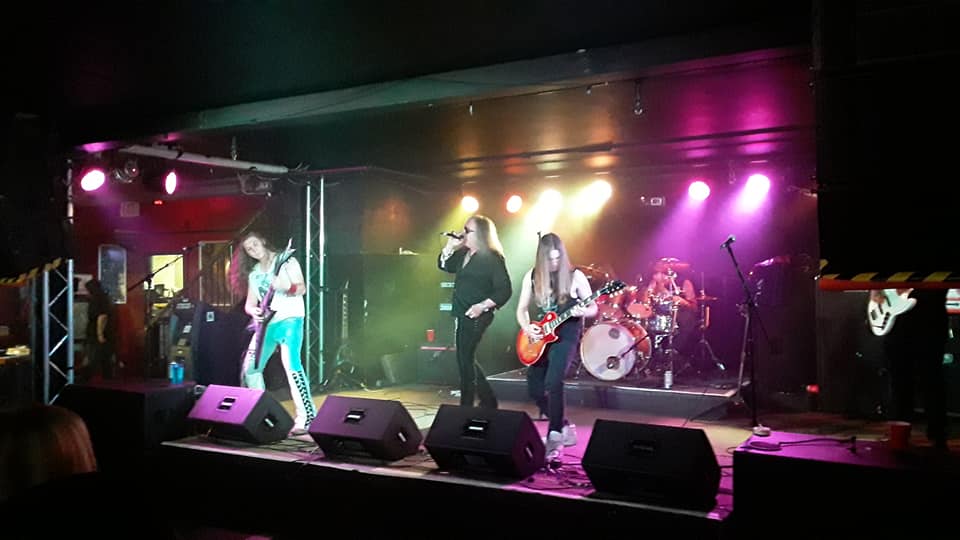 and sold the rest of the band on the idea of having a website upon which to post your music in a post-MySpace era. This would be because the band were in the process of finishing up their debut EP and were debuting a new song titled "Lady Love" which was a proper nod to their heavy WHITESNAKE influences, Bobby Stones exorcising his David Coverdale-like vocal demons hundredfold. Their other acclaimed originals such as "Killer Lady", "Thorny Crown", "The Valley Of The Kings" and their ode to Ronnie James Dio round out their performance, meaning that the band thankfully dropped their cover of "My Way" from the setlist. Regrets? I and the crowd had few to mention overall.
https://www.reverbnation.com/machinemessiahcanada
https://www.facebook.com/machinemessiahcanada/
Up next are the only Ottawa band to cite the SENSATIONAL ALEX HARVEY BAND alongside the likes of KISS, PANTERA and METALLICA among their influences known as SCARECROWZ. The nearly 20-year old band have been off the radar for the past 5 years since I'd seen 'em open for the KILLER DWARFS. They've been through a couple of lineup changes since then, with newcomer Reno D'Santie taking over lead guitar duties from longtime member Kevin Mazurek. And they've also released their seventh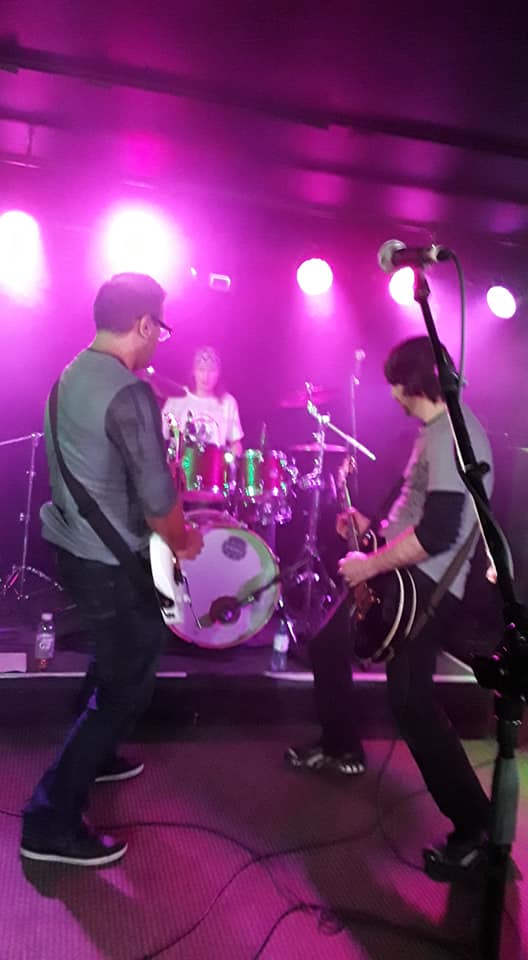 album back in February titled Refuel in between the lineup changes as well. Kicking off with "Creepsmoke", the band were on cue throughout the entire set. Rather than try and replicate his predecessor's performances on the popular tracks such as "Octane", "Burning Bridges", "Rock 'N Roll All Over You" and "Smoke And Mirrors", Reno brings his own magic virtuoso touch to the songs, even giving the newer fun number "Chicks In White Pants" both his signature sound while keeping it as distinctively close to SCARECROWZ' unapologetic devil-may-care southern rock aesthetic as possible. With the new album starting to get recognition, here's hoping more people are screaming for 'CROWZ in the new year.
https://www.facebook.com/Scarecrowzband/
http://www.scarecrowz.ca/
If frontman Steve O Leff were to rock any harder as he did during his set with ROCKIN' ENGINE, he'd have trouble forgetting his own name. At least that's the reason why five of his friends were at the show with each letter of his name painted on their chest anyway. Otherwise, flash mobs are so 2005, guys. Plus the rest of the band including guitarist Ste Vy Leff, drummer Joel Bilodeau and recently-added bassist JP "The Beast" Buzzard have their own wild shirtless lyrics since their inception three years ago.
Opening with "Shake That Ass", the quartet grace the crowd with their 80's rock-inspired tracks. Steve also looks the quintessential 80's rock star, with his signature yellow and white Satchel from STEEL PANTHER-endorsed guitar as he mugs the camera shot while belting out numbers such as "Livin' A Lie", "The State Of Nature", "When Engines Collide" and a solid cover of Billy Idol's "Rebel Yell" to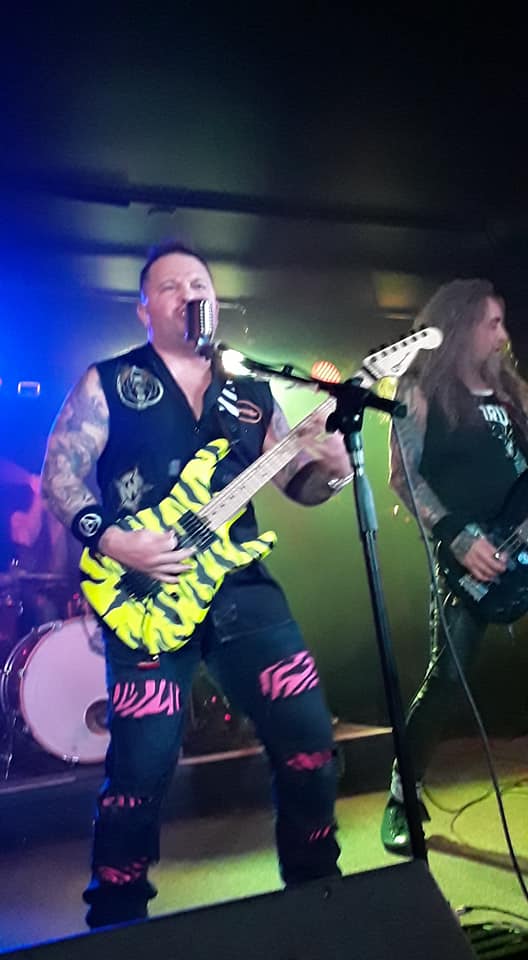 close their 40-minute long set. Even more entertaining was the performance by the bass-playing Buzzard who swooped all over the place, never missing a beat even when he briefly lost his pick and kept time with his fingers. And lest we forget the body painted quintet getting a final shot at fame with their shirts raised for Steve once more. Yet as memorable as their body art was, they won't be figuring on the cover of ROCKIN' ENGINES's EP Midnight Road Rage when it's released in January regardless of their naked ambition.
https://rockinengine.bandcamp.com/
https://www.facebook.com/4rockinengine/
Detroit had gotten stupid during the early 90's and, as the song goes, it was likely time to blow. And from Manhattan to LA and eventually across the border down to Mexico it would be a helluva ride afterwards to a small fishing town just outside of Athens, Greece, in which Kory Clarke would find himself by the end of the last decade of our dead century. This was what motivated him to keep his tenure as the frontman for legendary anarcho-punk/glam band WARRIOR SOUL over the course of a quarter century and then some. That, and his side gig as an established painter (should I have recommended the work of Launa Eddy to him as well like I did with THY WILL BE DONE earlier?) and the shock election of Donald Trump as the new US president also helped fuel his creative spark over time. I do recall that Kory wasn't much of a big Brian Mulroney fan when he and the band co-headlined QUEENSRYCHE's Building Empires tour in '91 and he led the near sold-out crowd at Lansdowne Park with chants of "FUCK BUSH!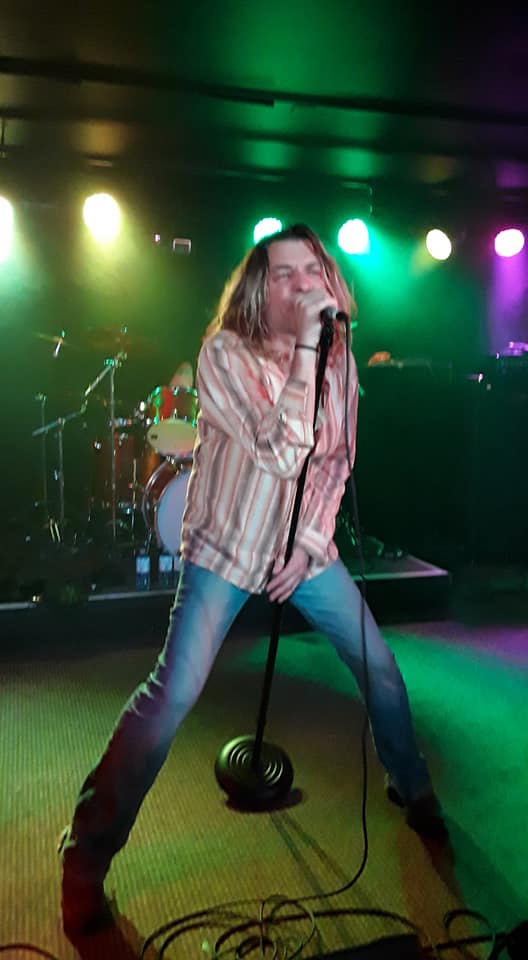 FUCK MULRONEY!" and my high school self observing in complete awe at his control over the crowd. "How exactly is Kurt Cobain considered to be better than this guy again?" I'd pondered to myself upon his performance at the time.
And 27 years later as the latest lineup of WARRIOR SOUL took the stage at the Brass Monkey, I also continued to wonder. And, yes, Kory Clarke still despises Donald Trump for those concerned.
As the band's sudden impromptu warm-up leads into their opening number "American Idol", Clarke, alongside the latest WS lineup of guitarist Adam Arling (THE LAST VEGAS), bassist Christian Kimmett and drummer Michael Branagh, unveil their set rife with punked-up belligerence and exuberance. If the next numbers such as "I Get Fucked Up" and "Back On The Lash" weren't enough of a clue that WARRIOR SOUL are a band that partied for its right to fight, Kory's toasting of the crowd certainly was especially when the band later launched into their underdog-championing song "The Losers" – the only slow-paced song of the night. Guitarist Adam Arling's sleazy-sounding riffs and driving rhythm, familiar with many from his playing with THE LAST VEGAS, fit nicely in with WARRIOR SOUL's fast-paced punk metal vibe as he demolished the solos on the classics such as "Love Destruction", "Downtown" and "The Wasteland". Even the underrated gems such as "Jump For Joy" and "Bad News (Rock 'N Roll Boyfriend)" were fiery and angry thanks to the rock solid rhythm section of Kimmett and Branagh. And while Kory's voice seemed rough at first, he quickly found his stride well in time, the effects and the energy of over 30 years and nine studio albums including 2017's Back On The Lash reflecting well on his performance that night. Also, often known for his outspoken political views, Kory was surprisingly chill, give or take a few subtle "FUCK DONALD TRUMP!" swipes here and there when needed during the band's set. Maybe the extended time away from Donald Trump on this short Canadian tour helped temper his rage a bit, but likely not for long. He was in his element that night, talking about past tours while keeping politics from renting space in his mind – and even having fond memories of that late '91 QUEENSRYCHE tour that stopped off at the former Civic Center, thanking many of us for attending both of those shows.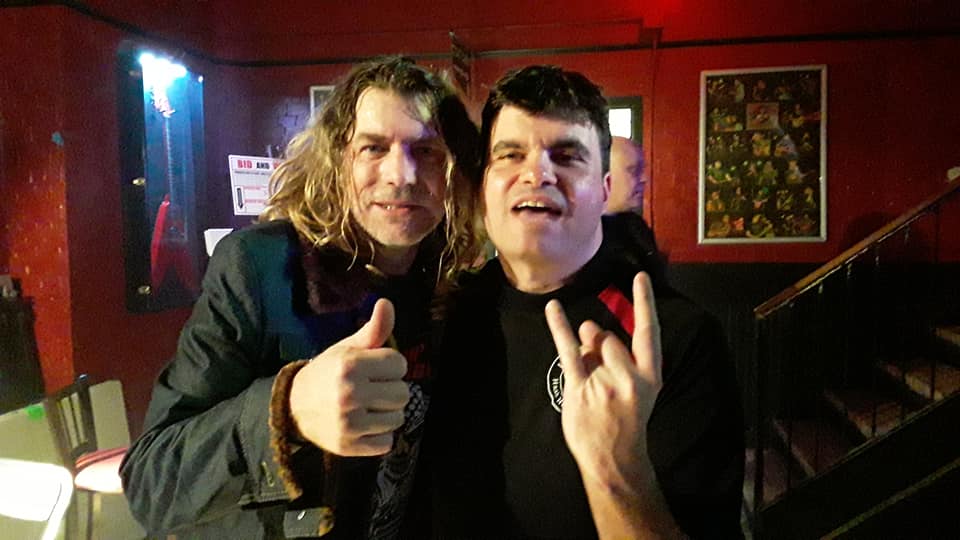 If punk rock means revisiting your roots and especially the people who stayed with you throughout your career, WARRIOR SOUL defined that ethos that evening.
May the lash and the belligerence stay strong with them.
Setlist:
"American Idol"
"I Get Fucked Up"
"Back On The Lash"
"Burning Bridges"
"Bad News (Rock 'N Roll Boyfriend)"
"Rocket Engines"
"Generation Graveyard"
"Ass Kickin'"
"Punk And Belligerent"
"Downtown"
"The Wasteland"
"Payback's A Bitch"
"I've Got The Rock"
"Black Out"
"Jump For Joy"
"Love Destruction"
"The Losers"
"The Drug"
"Rotten Soul"
http://www.warriorsoulofficial.com/index.html
https://www.facebook.com/warriorsoulofficial/