TAME FURY A New Reason


By Larry Petro, News Monkey
Monday, February 11, 2019 @ 8:17 AM


| | | |
| --- | --- | --- |
| | | |
TAME FURY
A New Reason
Self-Released




TAME FURY is a Houston-based hard rock band that has been paying its dues on the local scene for a number of years, gracing the same stage with acts such as DIO DISCIPLES, STEPHEN PEARCY, ACE FREHLEY, RON KEEL, THE DEAD DAISIES, GRIM REAPER and HINDER to name but just a few of the many. The band released their first opus, a debut EP titled Taste Of Fury in 2014 and things were looking up for this hometown product.

The 'rockstar lifestyle' (playing in multiple bands, getting out late, eating junk food, etc) would eventually catch up to drummer Phred Williams who suffered a minor heart attack that same year, but was misdiagnosed by the treating hospital as "stress" and sent home. This led to a massive heart attack just two weeks later. The hospital prepped him for stint surgery and then forgot about him for nearly 11 hours! That wait turned out to be too much and his heart gave out, resulting in his needing a heart transplant. After 6 months on life support, through nothing short of a miracle, he received the heart of a 20 year old and began his recovery.

Not only did he recover, but Williams came back stronger and leaner than ever and the band set out to finally record their first full length album, A New Reason (the cover and title of which are an obvious nod to Williams' ordeal), which was released digitally in October of 2018 with physical copies coming soon. During this time the band added new bassist Erick Villarreal and a second guitarist Brandon Todd, Phred Williams' son. The addition of these two new players has given the band a whole dimension in sound and longtime guitarist Mark Bankston seems more than content to share the lead duties with Todd, and it's obvious throughout this disc.

A New Reason is an air guitarist's dream, with nearly every track on the album giving you the urge to pick up an imaginary instrument and play along. Think of a bluesy, soul-infused vocalist such as Dug Pinnick (KING'S X) fronting a guitar-driven band like, say RATT or KISS, and you get a little bit of an idea what this album sounds like. The band poured their entire heart (literally) and soul into this release and it shows right from the start. The disc leads off with "Brainwashed", a tune with a nice opening riff that makes you think the song is going to go one way but then kicks into the meat of the track and goes off in a different direction. A rocking tune for sure that leads straight into several more: "Masquerade", "Red Carpet" and "Fallen" before pressing the pedal to the floor with probably my favorite song, "When Hate Buries Love" and its galloping beat and great solo.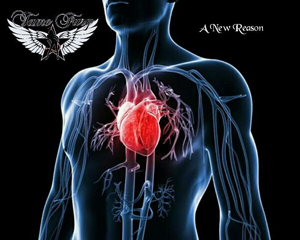 Next up is the first of two tracks that have been rerecorded from the band's debut EP, "Leave It All Behind", before slowing things down just a tad with the power balledesque "So Much To Say". TAME FURY cranks things up again with "Diva", a swinging rocker that will make you want to get out on the dance floor and do 'The Twist', I'm not kidding. The next 'track', "New Reason" is simply the sounds of an EKG machine monitoring a heartbeat before flatlining and then starting up again and leads straight into "Gift Of Life (Phred's Song)", a very poignant track detailing Phred's thoughts during his ordeal.
"Hell No" follows and is the second of the songs from the EP that is redone, which itself is then trailed by the awesome "Black As The Fire". The ballad "Hands Of Prayer" finishes off the disc and the reason I bring this particular track up is that singer Michael McVey's vocals on this track sound unlike anything else on the album. Seriously, he sounds one way throughout the whole album and then surprises you with something completely different. So much so in fact that I had to inquire who was actually handling vocals on this song. After seeing them live so many times over the years I was dumbfounded and left with a whole new respect for this guy's talent and abilities.
The band put all their chips on the table and went all in on this release and it shows in spades (no pun intended). One listen to A New Reason and you will understand why it made my Top Ten releases for 2018.
4.8 Out Of 5.0




Please log in to view RANTS

If you don't have a username, click here to create an account!