W.A.S.P.
The Neon God: Part II - The Demise


By Jeff Kerby, Contributor
Wednesday, October 13, 2004 @ 1:11 AM


| | | |
| --- | --- | --- |
| | | (Sanctuary) |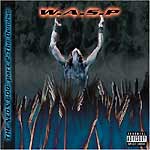 "WASP frontman Blackie Lawless is quite possibly the busiest man in hard rock currently." ---via press release.

Yep, music fans the lead singer of vaunted 80's icons WASP has just ransacked three boxes of Snickerdoodles, two dozen moon pies and washed it down with a half gallon of Yahoo. Oh yeah, he also cancelled a bunch of shows because he either:

A. Got Food Poisoning
B. Got Pneumonia
C. Decided That His "Mic Stand" Weighed Too Much
D. Doesn't Give a Damn

Oh well, who needs fans when you have the accolades of the press. Part One of the Neon God musical saga garnered such complimentary quotes as:

"…peerless" and "bombastic…" - Las Vegas Mercury

"…rarely ceased to entertain…" - Hit Parader

LA Weekly said that Part 1 was like, "a lavalike mountainside flow that pulls you inexorably from track to track."

What they didn't say is that this "lavalike mountainside flow" actually came from a horizontal porta potty resting tenuously by the edge of a campsite and that shit will generally roll downhill if given the opportunity. I guess that disclosure just isn't important to some people. Maybe I'm just an unhappy man who seeks to ridicule others as a backhanded way of lifting myself up… is that right? Could it be true?

Nah.

You see, this offering is the sequel to Neon God Part 1. The reason there was such an expedient push for this follow up is that fans all over the country were flooding the streets screaming the protagonist's name, "Jesse, Jesse!" and begging that this album be made. There were even numerous cases of severe anxiety reported whereby music fans across the world attempted to check themselves into local mental hospitals due to their inability to deal with the intense strain caused by the suspense related to the conclusion of the first record… yeah, sure they did… More accurately, if there were ever the musical equivalent of the proverbial "tree falling in the forest," this would be it.

Melodramatic and kind of full of shit, Blackie and the boys are back to let you know what happened to mental case, bird kissing, tortured metal messiah Jesse. You remember the days when this band talked about drinking and fucking? Well, you can forget about that—who needs to discuss such base needs and emotions when you can ponder the meaning of life and ponder questions such as "Oh tell me Lord, why am I here?"

Zzzzzzzz.

Blackie to Lord:

"Why am here?"

God to Blackie:

"Oh come on… I gave you a career, remember? It was in Los Angeles. You got a bunch of chicks and all that. Now you want to bother me with questions about the meaning of life when you wore assless pants? Look, there are starving people in New Guinea that I need to deal with right now. Come back when you have something serious to discuss, like how many licks it would take to get to the center of a Tootsie Roll Brand Tootsie Pop."

Second verse, same as the first. There are a bunch of lyrics and there is a storyline—I guess—this time I didn't get a twenty-page narrative outlining the action. It's okay though—I think what I'll do is just go back to my original vision of what might have happened to Jesse from the first review. I believe it included him hooking up with the corpse of Minnie Pearl or something like that. At least it would have been something I might actually have been interested in following. Otherwise, if there are any listeners out there who truly want to engage in the musical experience that is The Demise, they can just go and attempt to process all thirteen minutes of the finale "The Last Redemption." Mostly, you know what's coming… there is the trademark WASP sound in all its operatic Who-like glory. Basically, there is absolutely nothing that distinguishes the sound of this album from the last. There are a ton of lyrics that I assume mean more to Blackie than they will for the five or six people who purchase this record. Hell, it's even difficult to find any reviews on the Internet about this. I think if Dexy's Midnight Runners came out with a record right now, it would meet with a more striking reception than this.

Word is that Lawless would actually fly back to California while the band was touring this summer to go to hit the studio in order to try to get this record finished. Why anyone thought that Part 2 should be rushed is a mystery, because it doesn't even seem as though this portion of the epic is going to get as much of a publicity push as the first one did, and that didn't even do very well. Maybe, in retrospect, the band should have been concentrating a little more about pleasing their fans and taking care of the road rather than trying to divide time between projects and overextending themselves. Think about it: this group cancelled their 'Dying For The World' Tour because Blackie suddenly got inspired. Then, they release the first portion of The Neon God to a largely apathetic public and then follow it with a tour that ended up leaving many fans disappointed and disillusioned. In all honesty, there are a couple of more than decent songs here -- "Never Say Die," "Come Back To Black" and "All My Life" are all listenable WASP offerings. That is the most frustrating part of all this: Blackie can still write quality songs… that being the case, why does it seem as though he undermines himself at every opportunity by coming out with overblown projects and neglecting those who buy the records by having so many concert cancellations? That isn't just true of this tour—that is true historically. For the Neon God Parts 1 and 2 to have had any impact on the metal community whatsoever, WASP would have had to tour their asses off and show metal fans across the country that they are serious about more than just the studio. There simply was no need to rush the conclusion at the expense of the promotion of the last two records.

That being the case, I have an idea for "The Neon God: Part 3." It will be called "Salvaging a Career." In it, the protagonist, Blackie, realizes that he needs his fans and that in order for him to retain any semblance of credibility or popularity, that he needs to stop making self-indulgent concept albums and concentrate on delivering live sets all across this country and the world that log in at over an hour and thirty minutes. Then, build off of whatever momentum that will garner and come out with a metal album that delivers the goods minus the philosophical posturing. Realize that the reviews shouldn't be relied upon for validation, since whatever you come out with is always going to garner a positive reception by at least 80% of metal writers. Of course many of these same scribes would swear that a new White Lion record should get five stars as long as they got it for free. Once this is achieved, then and only then, metal fans will realize that Blackie can still deliver a metal fury that is still among the best that ever came to prominence during that era… and that Snickerdoodles are just damn good.

* *




Please log in to view RANTS

If you don't have a username, click here to create an account!