HELLYEAH, NONPOINT, SLEEP SIGNALS In Houston, TX With Photos!


By Cynthia Fields-Jalil, Writer/Photographer
Wednesday, August 28, 2019 @ 10:40 AM


| | | |
| --- | --- | --- |
| | | Friday, August 16, 2019 At The House Of Blues |
All Photos By Cynthia Fields-Jalil
Heyyy there, KNAC.COM fans, friends and family! Check out this Show Review and Interview assignment (look for it on the KNAC.COM site) that happened to fall into my hands as a last minute fill-in for a fellow KNAC.COM writer & photographer. WOWWWW, OH WOWWWW was it an awesome one! All I could think of as I left for my 1 hour and 45 minutes of a drive from the Houston/Tomball, TX suburbs to downtown Houston, TX in the worst traffic EVER was I sure hope I remember to turn the recorder on, and I sure hope it works for my FIRST EVER in-person interview with Tom Maxwell, guitarist & co-founding member of HELLYEAH. In addition to that, I hoped that I would be able to handle covering both of my assignments in the best way possible. Great news, my interview with Tom was awesome! He was super nice, very welcoming, super chill, and very patient & understanding of my late arrival no thanks to Houston's horrible traffic! Our interview even lasted longer than the allotted time which made it even better! However, because it did, I found myself rushing to the photographer's photo pit to try to shoot the end of the second song and the entire third song of show openers SLEEP SIGNALS before all of us photographers were to be escorted out of "the pit" so that the attendees could enjoy the show! Well, of course for the first time ever, I dropped and lost my cell phone somewhere and somehow. Talk about being stressed! The good news is crazy, long story short, it was found by another photographer who promptly surrendered it to my friend who was also there shooting. Needless to say, I DID NOT get my cell back until just before HELLYEAH. It made it super challenging to focus on reviewing SLEEP SIGNALS' and NONPOINT's sets! Crazy, but understandable for sure though, right? All of my issues aside (laughing), this show was one of my favorite last summertime shows and so, I hope y'all enjoy this KNAC.COM show review as much as I enjoyed shooting and reviewing it for y'all!
Keep Rocking!
Cynthia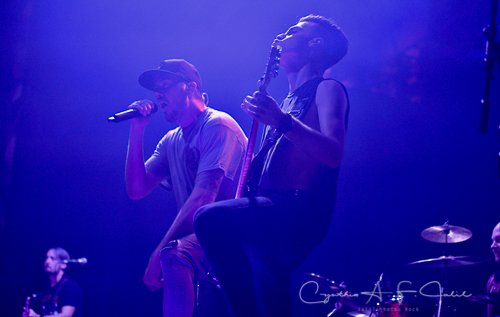 So, I made to the pit as soon as my interview with HELLYEAH's Tom Maxwell wrapped for a whole song and a half to witness HELLYEAH show openers SLEEP SIGNALS command the stage in an explosive high-energy kinda way! While I shot the guys, they rocked the audience with their catchy, easy to understand, sing-a-long type rock tunes that possibly spanned from their first album Open Your Eyes, or their second EP titled Transitions, and from their third, latest album At the End of the World. Either way, I loved their stage presence, their songs, and their style so much so that the next time they perform close to me, I plan on being there! Just so you know, SLEEP SIGNALS is a quintet from Minneapolis, Minnesota that's been together since 2014. They've opened for NINE INCH NAILS, ALL THAT REMAINS, SEETHER and HELLYEAH as well as performed at several notable music festivals including; Heart of Texas Rockfest, SXSW, Texas Showdown and a few others. SLEEP SIGNALS was a nice lineup addition to this tour, and worthy of opening the show for sure! So, make sure y'all check them out for yourselves, I promise you won't be disappointed!
Next up was another killer nu-metal and rock band that I had heard a ton about, but had never seen live, NONPOINT! This quintet was formed in 1996/1997 in Fort Lauderdale, Florida and WOW, OH WOW did they come out rocking! The majority of the crowd seem to know or either recognize every song they played! As for me having never seen the band or listened to one of their full albums, I had no idea which song was which. What I do know is that every song the band played excited me along with HOB's nearly full house! The band's frontman lead vocalist & founder Elias Soriano commanded the stage and the audience in a rockstar kinda way. He quite literally covered every single inch of the stage. At times, he would sing perched on the front performance riser, and then from the drum riser, and from the guitarist's riser, and everywhere in between! He belted fan favorites
from probably all ten of their album releases I'm sure! My guess is the majority of the songs probably came from NONPOINT's last albums The Poison Red, X and their current projects and popular single recordings such as "Chaos And Earthquakes", "Bullet With A Name" and "What A Day" plus more! Elias reminded me so much of SEVENDUST frontman & lead vocalist Lajon "LJ" Witherspoon, especially because his vocal abilities and his look and stage presence was beyond mind blowing. The other band members carried their own weight in a way that made for a killer show as well. I mean, the band's stage presence is high-energy and super loud in the best rapping & rocking kinda way possible! NONPOINT has opened for sooo many notable bands including SEVENDUST, BUCKCHERRY, LINKIN PARK, STAIND, MUDVAYNE, and several other bands in addition to playing just about every notable music festival around including; Ozzfest, Download Festival, and Rock On The River plus! I for one definitely plan on checking NONPOINT out the next time they come to Houston!
After about a 20 minute stage set-up roughly around 10 pm, the time had finally come to celebrate the life of HELLYEAH's dear friend & bandmate, drummer Vinnie Paul! HELLYEAH's "Vinnie Paul: A Celebration of Life" Tour not only celebrates the life and one year anniversary passing of Vinnie Paul, the band has also partnered with The American Heart Association to help bring much needed awareness to heart disease THE NUMBER ONE killer of more people globally THAN ANY OTHER disease. It was heart disease that ultimately claimed the life of their dear friend and bandmate drummer on June 22, 2018. HELLYEAH is hoping to surpass their $10K goal by donating $1 of every show ticket to The AHS. For those fans who cannot attend a show, HELLYEAH has also set up a crowd funding account to donate to you can find a link on band's website.
Just before the curtain opened the band started playing and then boom, the curtains opened with frontman and lead vocalist & co-founding member Chad Gray belting out at least two adrenaline infused power packed metal songs. The crowd of course went wild with excitement singing along, and cheering loudly and applauding the band! Fortunate for me, I've had the pleasure of seeing HELLYEAH perform twice before and both times, especially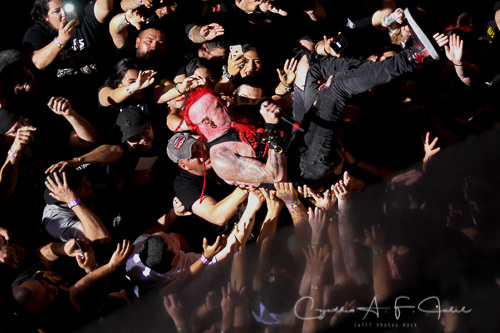 on their last tour run back in 2014 in support of their Blood for Blood aka Sangre Por Sangre album of which I was completely blown away by Chad's intense vocals and his mesmerizing stage presence then. Once again and without fail, Chad's intense singing and intense & commanding stage presence made it very challenging to focus on shooting him and the guys. Considering the fact that I only had three songs to get it right, I did my best to try and capture as many pics as possible of all of the band members. HELLYEAH's current lineup consists of Chad Gray, guitarist Tom Maxwell, bassist Kyle Sanders, fill-in tour drummer Roy Mayorga and guitarist Christian Brady. While briefly stopping after the second song, Chad graciously thanked the crowd for being there with them and the opening bands SLEEP SIGNALS and NONPOINT to celebrate the life of Vinnie Paul. He then carried on with the show belting out several new songs from their upcoming release WELCOME HOME, due out on Friday, September 27, 2019. During several of their new songs like "Oh My God", "333" and "Welcome Home" peppered with songs like "Moth", "Say When" and "Love Falls", he crowdsurfed in between constantly switching back and forth from perching himself on the front performance riser, the stage, the photo pit, and especially the crowd!
More than midway through the show, he spoke to thank the fans for their support and prayers during their darkest hours and days after losing Vinnie. He also extended his and the band's condolences to all of us fans for Vinnie's loss because like them, we're hurting too, and wanted to make sure that their thoughts and prayers are with us fans too. Chad's condolences also served as the intro for the band's video tribute to Vinnie narrated by the song "Sky and Water". It was a beautiful tribute with images of Vinnie on and off the stage, playing drums while smiling and images of him in the heavens and cloudy skies playing his drums and then his image fades to a video of the sky meeting the water. Again, it truly was a beautiful tribute, and one that Vinnie Paul surely is watching with pride while beaming with his infectious smile.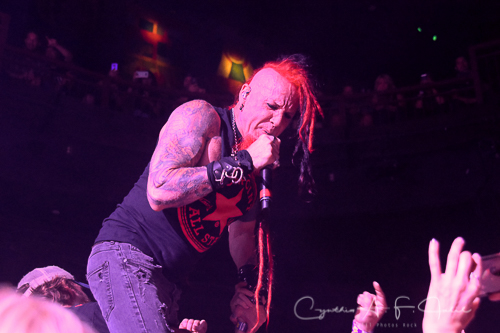 After Vinnie's video tribute and nearing 11:30 pm the guys burst into to PANTERA's "Walk" and that got the crowd moving and moshing and Chad crowd-surfing one more while singing every lyric to the song with pounding first. And what a kick ass show finale it was! While Chad crowdsurfed, the band members from SLEEPING SIRENS and NONPOINT, along with some of HELLYEAH's road crew, family & friends joined in onstage. It was truly a night to remember and the grandest of show finale's all in celebration of Vinnie Paul. After the song ended the band's photographer took a pic of the bands & crew with their backs to the audience for a group shot with the audience. Finally, just before leaving the stage fill-in drummer Roy Mayorga raised his drum sticks to the heavens to salute and thank his dear friend Vinnie Paul. At that point, my heart was full.
Thank you Vinnie Paul for all of the good times and the music, your musical legacy will live forever!
Check out some more photos from the show!
All Photos By Cynthia Fields-Jalil




Please log in to view RANTS

If you don't have a username, click here to create an account!