UPDATE: Via offical press conference on CNN at 8am (PST)/ 11am (EST) with Sargeant Brent Mull, Columbus Police Department, Damageplan guitarist "Dimebag" Darrell Abbott has been officially confirmed dead. He was pronounced on the scene last night. No further information has been given except what is posted on KNAC.COM.

* * * * * * * * * * * * * * * * * *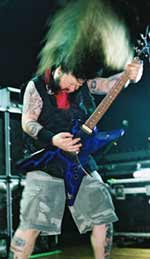 From NBC 4 News, Columbus, Ohio.
At least three people died and four others were wounded after a shooting at a Columbus nightclub on Wednesday night, NBC 4 reported.
The shooting took place shortly after 10 p.m. at Al Rosa Villa, located at 5055 Sinclair Road.
Two members of the heavy metal band Damageplan were reportedly shot and killed, including Dimebag Darrell, formerly with the band Pantera, NBC 4's David Wayne reported. The alleged gunman also died at the scene, Wayne reported.
Shortly after the band began playing its first song, a man reportedly ran onto the stage and began shooting, according to a witness who identified himself as Sean. Some members of the audience reportedly thought the man running onto the stage with a gun was part of the band's act, NBC 4's Erin Tate reported.
Witnesses said that several shots were fired at the band. Witnesses said that a bouncer at the club tackled the alleged gunman before that person was shot and killed. It was unclear as to whom shot the alleged gunman.
Alrosa Villa is a popular north Columbus nightspot for young adults, featuring rock and heavy metal bands, NBC 4 reported.
According to the band's Web site, Damageplan was touring nationally. It performed in Buffalo, N.Y., on Tuesday night and had a concert scheduled in Flint, Mich., on Thursday.
Damageplan featured former Pantera artists Dimebag Darrell and Vinnie Paul. The pair were joined by vocalist Patrick Lachman and bassist Bobzilla, according to their Web site.
(Photo by Gnarly Charlie Steffens/ KNAC.COM - Hollywood, CA 11/04)