Review And Photos By Daniel Licitra
I visited family and saw ARCH ENEMY in Denver, Colorado on October 4th, 2019. Two birds with one stone.
I first met up with fellow KNAC.COM listener Jesse Sanchez before the show. This would be his first time seeing ARCH ENEMY live and my tenth time overall.
I got the meet and greet ticket and was surprised I was given an ARCH ENEMY tote bag with a shirt and other merchandise inside. They asked me my shirt size before giving me the tote bag The band seemed impressed when I told them it was my tenth time seeing them and travelling from Florida for the show.
I ran into a guy dressed as Spiderman who was waiting in line at their merchandise table which seemed like a mile long. I'm glad the meet and greet allowed me early entrance to buy anything early before the eventual selling out of merchandise.
ARCH ENEMY weren't headlining this tour which meant a shorter setlist.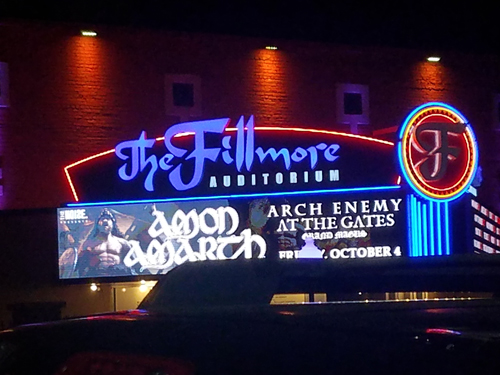 The prerecorded intro music started with the instrumental "Set Flame To The Night", then immediately after the band came on and played one of my newer favorites, "The World Is Yours" and followed it with another one of my older favorites, "Ravenous". They played a total of nine songs and ended with "Nemesis". I saw most of the other bands and they were entertaining but I was there for ARCH ENEMY. It was another great show by one of my newer favorite bands and I hope to do it all over again in the near future.
Setlist
(intro) "Set Flame To The Night"
"The World Is Yours"
"Ravenous"
"War Eternal"
"My Apocalypse"
"You Will Know My Name"
"The Eagle Flies Alone"
"First Day In Hell"
"As The Pages Burn"
"Nemesis"
(Outro) "Enter The Machine"