PLATINUM OVERDOSE Murder In High Heels


By Andrew Depedro, Ottawa Corespondent
Monday, November 25, 2019 @ 7:07 AM


| | | |
| --- | --- | --- |
| | | |
PLATINUM OVERDOSE
Murder In High Heels
Demon Dolls Records




As 2019 and indeed the decade of the 2010's itself is about ready to draw to a close, the nostalgia for 80's rock and metal is still finding an audience even though the grunge scene is now poised to celebrate three decades in the new year. Its persistence is noted in the recent and sudden comeback of MOTLEY CRUE who, after a highly publicized farewell tour barely five years earlier, have opted to embark on another global tour with their glam rock colleagues in DEF LEPPARD and POISON in 2020. In particular, while the salad days of the Sunset Strip scene have mostly moved overseas to Sweden thanks to the rise of the new carriers of the torch such as CRASHDIET, CRAZY LIXX, KICKIN' VALENTINA and KISSIN' DYNAMITE to name a few, there's still enough interest on this side of the pond to allow for a fresh resurgence of the era of big hair, big solos and spandex.

Please welcome PLATINUM OVERDOSE, who, according to their bio, were born on the 8th day when the Devil created 80's metal and spawned the sin forever known as this actual LA-based quartet comprised of Matt Thorr (rhythm guitar), Rick Mead (lead guitar), Steve Philbrook (vocals), Glen W. (drummer) and Lance V. (bass). More specifically, despite PLATINUM OVERDOSE being a fairly young band at about three years old, their individual members have over two decades of experience in the biz, Lance himself having produced and released two albums each from Steve and Rick's former bands, BRASS KITTEN and SYRE, respectively while Matt Thorr is best known for his work in ROUGH CUTT and RATT in their earlier years. Their combined efforts once pooled together became the ideal lineup for PLATINUM OVERDOSE as they toiled for 9 months to craft their debut album Murder In High Heels and it sounds as every bit steeped in the 80's and proud of it. With Lance V also in charge of its production, this is an album able to boast its raw DIY ethos without the use of any special production tricks, focusing instead on harnessing the best hooks and riffs that have previously shape many an 80's hard rock classic.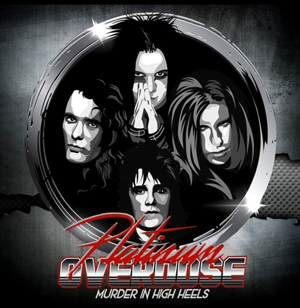 Confirming a sharp ear for catchy choruses and wild solos, the album opens with breakout singles "Pretty And Punk", "Rise Up" and "Need Your Love" with a neat foothold on the streamlined sounds of WARRANT and FIREHOUSE's debut albums. Elsewhere, the classic sleazy rock vibe of HANOI ROCKS echoes heavily on "Broken Boulevard" as Steve channels his inner Michael Monroe down to the gritty sneer. The bouncy number "Red Light Rhythm" straddles somewhere between HARDLINE and AUTOGRAPH, whereas "Black Widow", while almost the literal darkest-sounding track on the whole album, also features the sharpest-sounding Jon Bon Jovi-style vocals since 7800 ͦ Fahrenheit, with maybe "Young And Wild" being a close second in approximating the vocals.
In fact, perhaps the one thing that sets Murder In High Heels apart from many of its glamtastic 80's predecessors is the overall absence of slow and occasionally saccharine power ballads, which have, to be frank, been often the death knell of many of their peers' careers as grunge slowly dug in its boots. The closest to anything of that nature would again be "Need Your Love", which is more upbeat and less sonically imposing, getting its message of unrequited adulation across with basic simplicity, almost making the listener ponder "Were 8 minute ballads with 30-piece orchestras really necessary back then just to say that I love this person?".
So while Murder In High Heels is unabashedly a product of its celebrated era, it's also a straightforward album stepping away from much of the stumbling hurdles that tripped up the glam scene some three decades earlier and proof that PLATINUM OVERDOSE can walk the walk.
5.0 Out Of 5.0
https://www.facebook.com/platinumoverdose/
http://www.platinumoverdose.com

Please log in to view RANTS