RUNNING WILD Crossing The Blades (EP)


By Alex Yarborough, Orlando Contributor
Monday, December 2, 2019 @ 1:49 PM


| | | |
| --- | --- | --- |
| | | |
RUNNING WILD
Crossing The Blades (EP)
2019 Steamhammer/SPV Records




It's been over three years since RUNNING WILD released Rapid Foray, an album I really enjoyed, and wrote about at the time that "runs the gamut and offers quite a few instant classic tracks..." Well, Rolf Kasparek and crew haven't slacked off at all in the time since, as this EP will attest to. Rolf, along with Peter Jordan (guitar), Ole Hemplelmann (bass) and Michael Wolpers (drums) have unleashed this four song teaser ahead of their anticipated seventeenth studio album in Summer 2020.

First out of the gate is the title track, "Crossing The Blades", which features trademark RUNNING WILD rhythms and harmonies, and a nice long solo section. Rolf says this song is inspired by the musketeer motto of "all for one and one for all", (which is part of the chorus). I think this is a fantastic song, and exactly what I hope to hear from the band. You can view the lyric video HERE. Note: this version is different than the one that will appear on the forthcoming album.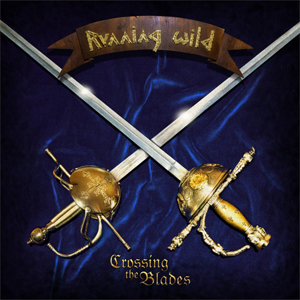 Track number two had been previously introduced to fans at Wacken in 2018. In my opinion, this is the strongest track here, and inspires the most fist-raising, head down jam. A little more aggressive and riff-driven, "Stargazed" is a winner with its straightforward chorus and steady tempo. The solo and breakdown are bad ass, and Rolf's vocals here are a highlight.
The third track is a cover of "Strutter" by KISS. I have to admit, this is well done. It retains the KISS feel, yet Rolf and the band stamp this one with their swagger, especially in the bridge/chorus. The last track is "Ride On The Wild Side", which chugs along with a great main riff and a truly infectious chorus. It's worth the cost of this EP for these final two songs; apparently they will not appear on the forthcoming album in 2020 (unless they change their minds). Çrossing The Blades will be released on December 6th digitally, as well as physically in Digi-CD, and 12" blue vinyl format.
4.5 Out Of 5.0

Please log in to view RANTS