BRITISH LION The Burning


By Shelly Harris, Chicago Contributor
Thursday, January 23, 2020 @ 12:53 AM


| | | |
| --- | --- | --- |
| | | |
BRITISH LION
The Burning
Explorer1 Music




Good things come to those who wait - at least that platitude definitely holds true for The Burning, the newly released and highly combustible sophomore BRITISH LION amalgam that has stewed and smoldered for the past eight years since the release of the band's debut album in 2012.

In fact, this cauldron of tunes is full of fire and brimstone imagery in every respect, whether it be with regard to some of its titles and lyrics (along with the title track there is "Spit Fire" plus the incendiary lyrics of "Father Lucifer", "Bible Black", "Lightening", "City of the Fallen Angels", and more), or the explosive instrumentation and dynamics that one might expect from a band under the creative wing of IRON MAIDEN alchemist Steve Harris, who contributes even more than his legendary (and instantly recognizable) bass grooves to this record.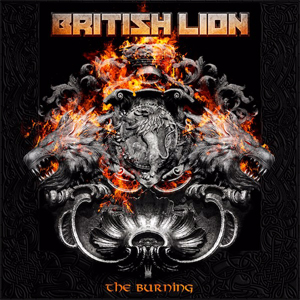 Produced by Harris himself, at his own Barnyard Studio outside London, and engineered and mixed by perennial IRON MAIDEN sound master Tony Newton, The Burning is a molten magma of soaring and even syncopated vocals that hover over sometimes haunting neo-Celtic melodies and sometimes epic, wistful and melancholic lyrical themes.
Released on and by the new Explorer1 Music (E1) label and management team, there's a modern and very contemporary heavy rock power and vibe running through The Burning's eleven songs that - while hinting at the band's classic British hard rock heritage and some essences of the MAIDEN trademark sound as well - transforms the aural identity of this BRITISH LION into an entirely different beast altogether, a fact that will no doubt be chiseled in stone along the trail on the band's current whirlwind stateside tour.
4.5 Out Of 5.0




Please log in to view RANTS

If you don't have a username, click here to create an account!