LORDI Killection (A Fictional Compilation Album)


By Alex Yarborough, Orlando Contributor
Wednesday, January 29, 2020 @ 10:38 AM


| | | |
| --- | --- | --- |
| | | |
LORDI
Killection (A Fictional Compilation Album)
2020 AFM Records




The past few years have seen a flurry of activity coming from Finnish shock rockers LORDI, who released the studio album Sexorcism in 2018, toured extensively to promote it, and then released the double live album Recordead Live – Sextourcism in Z7 last year. Before 2020 has barely even started, here comes Killection, a new concept album that finds LORDI imagining if their career began way back in the 1970s. The album's subtitle is "A Fictional Compilation Album", and is similar to a greatest hits collection with the hit singles they might have released making up the track listing. Of course, these are actually all new songs that LORDI have tailor-made to sound specific to the '70s, '80s and '90s. They were recorded in seven different studios in Finland with period-accurate instruments and recording techniques. "We rented original instruments and amps from those times to make sure we could really record everything as authentically as possible," Mr. Lordi says. "The songs from the '70s were recorded analogue on 24-track tape." They even used Hammond organ instead of keyboards on some tracks for that old school sound. The result is a varied and unpolished (yet great sounding) hard rock album, the band's 10th.

This is a pretty fun idea actually, and emblematic of the Lordi work ethic and their sense of humor. One listen to the intro track, "Radio SCG 10" and you'll get it. The send-up of AC/DC, Ozzy, and Axl Rose with sound-alikes performing older LORDI songs is amusing. The first proper track, "Horror For Hire" kicks into gear with a scream from singer Mr. Lordi and a blazing riff from guitarist Amen. This song doesn't make me think "70s" – but it's very catchy nonetheless. A definite Rob Zombie influence is heard on the track "Shake The Baby Silent", which offers more up-tempo riffage and a bounce. "Like A Bee To The Honey" offers a Vincent Price-evoking spoken intro. New bassist Hiisi keeps the track anchored well, and the saxophone solo is a surprise.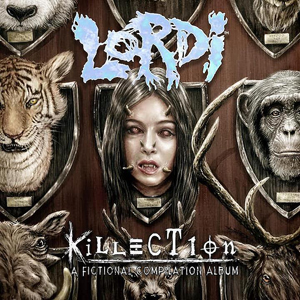 Ballad "Apollyon" showcases Hella's keyboards and features some orchestration amongst the power chords. The interlude "SCG 10 The Last Hour" features the return of characters Ruiz and Anna, this time on a radio show. The next song, "Blow My Fuse", is in the early KISS style, complete with tongue in cheek sexual references and Gene Simmons-style vocals. Rocker "I Dug A Hole In The Yard For You" received a video treatment, and you can view the video on KNAC.COM HERE. This is one of my favorite songs on the album. "Zombimbo" refers to KISS' "I Was Made For Lovin' You" for inspiration, while "Up To No Good" nods at MOTLEY CRUE's "Looks That Kill". "Cutterfly" is a catchy mid-tempo track, while "Evil" has more gumption than most songs and even features a little double bass drumming from Mana. "Scream Demon" slows things down again, while another spoken radio moment from Ruiz closes the album.
Despite the farrago of fictional stories, costumes and theatrics, LORDI remains true to their sound with catchy, up-tempo songs that fans are going to enjoy. '70s and '80s rock and metal fans are going to find a bounty of fun inside Killection. There are references to Alice Cooper, KISS and Dee Snider of TWISTED SISTER, among many others. Once you're done shouting at the devil, you'll enjoy singing along with the Killection, which will be released by AFM Records on January 31st in a myriad of formats: Digipak CD, colored double vinyl, double picture disc vinyl and even a box set.
4.3 Out Of 5.0




Please log in to view RANTS

If you don't have a username, click here to create an account!