TESTAMENT Titans Of Creation


By Peter Atkinson, Contributor
Friday, April 3, 2020 @ 9:41 AM


| | | |
| --- | --- | --- |
| | | |
TESTAMENT
Titans Of Creation
Nuclear Blast Records




This is probably about the worst time imaginable to be releasing a new album – given that COVID-19 has shut just about everything "non-essential" down and turned most of us into desperate hermits forced to scavenge for fucking toilet paper. But for Bay Area legends TESTAMENT, there is actually reason to celebrate.

Frontman Chuck Billy, along with his wife, some members of the band's crew and possibly bassist Steve Di Giorgio are recovering from bouts of the virus that they picked up at the end of a tour of Europe with EXODUS and DEATH ANGEL – whose camps have also been hit by the illness, but also seem to be returning to health. So some good news there at a time when everything else seems to be going to shit. And with pretty much every tour having been canceled or postponed until like Christmas, and releases pushed back to whenever things start getting back to "normal", new music of any sort is a real blessing – especially with so many people sitting idle at home.

So kudos to TESTAMENT and Nuclear Blast for keeping Titans Of Creation to its scheduled release date, even though the band won't be able to do much to support it for the foreseeable future. But TESTAMENT's 13th full-length is the sort of kick in the ass we could all use right now. And the album most definitely kicks ass.

I wasn't a real big fan of the band last album, 2016's Brotherhood of the Snake, which had a few notable songs and a bunch that were merely meh!. Titans, by contrast, is, for the most part, pretty solid top to bottom as it mixes the classic old schoolthrash with contemporary death/black metal hues, throws a few genuine curveballs and lets the band's all-star rhythm section of Di Giorgio and drummer Gene Hoglan really work their magic. The material is crisp, clever and inspired, and the album's thunderous production really brings the bombast – with Billy's full-throated roar topping it off.

Titans opens in a vintage flourish with a grand slam's worth of the trademark TESTAMENT chug and charge that was perfected 30 years ago but still manages to sound vibrant and vital today. "Children of the Next Level", "WW III", "Dreamer Deceiver" and "Night Of The Witch" bring beefy riffs and hooks by the truckload and plenty of gallop to boot – though at more than six minutes "Children" and "Witch" are both a bit overlong. Nevertheless, it's a rousing start for an album that has plenty more of that in store.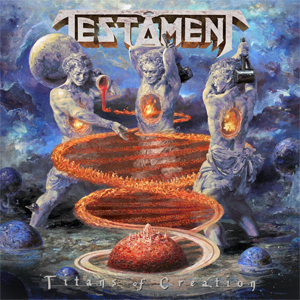 But not before taking a bit of a sudden turn with the eerie "City Of Angels" which chronicles the Night Stalker's serial killing reign of terror with a soundtrack that intersperses a jazzy intro, ethereal melodies, doomy dread - and a buzz-sawing basssolo – with elephant march crunch. After the rush of the earlier tracks, it definitely steals some of the momentum but is an intriguing departure, nonetheless. Later, "Symptoms" - which deals with Billy's battle with cancer and not our current pandemic - contrastsproggy rhythms, anchored by Di Giorgio's bass licks, with shout-along choruses and hulking, "Sad But True"-like riffs.
"Code of Hammurabi" is about as technical as the band has ever been with the dog-fight guitars of Alex Skolnick and Eric Peterson following the lead, again, of Di Giorgio, who is just awesome here, whereas the blazing "Curse of Osiris" borders on black metal with its shrill wash of tremy riffs, Hoglan's breakneck pace and Peterson's breathy backing vocals. Neither quite break the mold like "Angels" or "Symptoms", but they do prove these these old thrash dogs are capable of new tricks, and can handle them with aplomb.
At 12 songs and 59 minutes, Titans is perhaps 10 minutes longer than it needs to be and would have been a leaner, meaner package had, say, the leaden "Ishtars Gate" and the needless instrumental final "Catacombs" been relegated to B-sides - if such things still exist anymore – or left off entirely. But it's still a marked improvement over the aimless Brotherhood, which seemed almost mailed in, especially after 2012's far more memorable Dark Roots of Earth. TESTAMENT is in fine form once again here – and just when we really need something like that.
3.5 Out Of 5.0




Please log in to view RANTS

If you don't have a username, click here to create an account!