FIREWIND Firewind


By Alex Yarborough, Orlando Contributor
Monday, April 27, 2020 @ 12:21 AM


| | | |
| --- | --- | --- |
| | | |
FIREWIND
Firewind
2020 AFM Records




Greek power metallers FIREWIND have returned with their ninth studio album, titled simply Firewind. Leader and modern day guitar riff lord GUS G has guided his band for over 20 years, and captains the current lineup of Petros Christo (bass), Jo Nunez (drums) and brand new lead vocalist Herbie Langhans (AVANTASIA, SINBREED, SEVENTH AVENUE, VOODOO CIRCLE). FIREWIND is back to working as a four-piece; keyboardist and backing guitarist Bob Katsionis left the band to focus on producing. Bob was integral to the band's sound and songwriting, dating all the way back to the band's third album Forged By Fire (2005). Former vocalist Henning Basse left the band due to tour schedules. He absolutely owned the microphone on the band's previous album, Immortals (2017). It was a tall task replacing Apollo Papathanasio, but Henning did so quite capably.

Gus decided to make over the band's lineup last year, so we now enter the Herbie Langhans era of FIREWIND. His voice is actually suited for the band's sound much more than I thought. I am a huge fan of his work in SINBREED and SEVENTH AVENUE, so familiarity helped. Herbie's voice is rougher and has a lower register, but he also hits some amazing high notes as well. This adds to the heaviness of the songs, and makes them sound more aggressive. After listening to this album, I can say without a doubt he is absolutely the perfect choice to be the new frontman in FIREWIND.

Opening track "Welcome To The Empire" welcomes fans accordingly, in classic FIREWIND style. Speed metal anthem "Devour" was the first song that Herbie did vocals for. This song features some fantastic riffs from Gus and drumming from Jo. First single "Rising Fire" is unquestionably a standout track (video on KNAC.COM HERE) and finds the band declaring its message of positive self-affirmation. "Break Away" is a soldier's story, and keeps the flow of the album going. "Orbitual Sunrise", ballad "Longing To Know You" and "Space Cowboy" form a trilogy of sorts. Gus describes them as "a Sci-Fi story about the overexploitation of nature seen through the eyes of a lonely astronaut, orbiting earth in his space capsule". "Orbitual Sunrise" is first-rate, featuring an atmospheric vocal from Herbie and some chunky riffs from Gus. "Space Cowboy" features a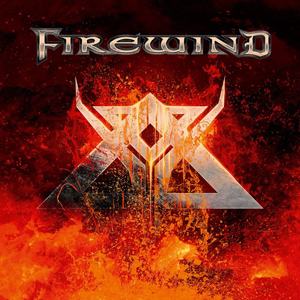 commercial slant and nice solo as well. Mid-tempo marcher "Overdrive" has an early DIO feel to it, while "Perfect Strangers" is another classic FIREWIND song. Herbie's best performance can be found on the passionate rocker "All My Life". "Kill The Pain" is another upbeat, blazing anthem, and great choice to close the album.
This is a really solid comeback album, a 'reformation' album if you will. I believe this lineup will prosper for many years to come. Gus' guitar work is exceptional as always, as his riffs are aplenty and the solos and blistering. Petros' bass work is amazing and Jo turns in yet another incredible performance. Herbie is a great choice as vocalist, and his hooks are truly inspiring. Firewind has a total of 11 tracks, and clocks in around 48 minutes. Gustavo Sazes' cover artwork (and updating of the FIREWIND symbol) is the icing on this cake.
The band's summer tour with SYMPHONY X and PRIMAL FEAR was destined to be the power metal tour of the decade until COVID-19 put a damper on it. The tour was postponed until next year, and I know it will be a blast and not to be missed. Firewind is a melodic metal classic, and yet another winner for AFM Records. The album will be released worldwide on May 15th.
4.7 Out Of 5.0




Please log in to view RANTS

If you don't have a username, click here to create an account!