SNAKEYES Evil Must Die


By Alex Yarborough, Orlando Contributor
Tuesday, June 2, 2020 @ 1:39 PM


| | | |
| --- | --- | --- |
| | | |
SNAKEYES
Evil Must Die
2020 Independent




Spain's power metal masters SNAKEYES released their fantastic debut album Ultimate Sin in 2015, and their sophomore album, the brilliant Metal Monster, in late 2017. At last, we have the band's third release, Evil Must Die. The lineup of Cosmin Aionita (vocals), Justi Bala (guitar), José Pineda (bass) and Carlos Delgado (drums) remains intact.

The band describes Evil Must Die as a conceptual work, featuring songs about war, politics, religion, literature and horror. It's the perfect title, because the entire album is about different kinds of evil. The opening salvo of "War Machine" focusing on the Nazis during World War II, is the aggressive power metal I've come to expect from SNAKEYES, and a great choice for the lead-off track on the album. "The Evil Dead" is inspired by the film of the same name, and is an unrelenting speed metal attack. "New World Order" is of course political, and became one of my favorite songs on the album. Cosmin simply levels the earth with his voice here. Carlos' double bass drumming is enjoyable as well. Justi shreds your face off, as José's bass is the anchor. "Lose Control" slows things down a little, but no power is lost, as this dynamic track has a ton of appeal.

As you reach the middle of the album, some of the strongest tracks can be found. "I Am Evil" is inspired by the book of Revelation, and is filled with quality performances from every member of the band. (Video on KNAC.COM HERE). "Dead Don't Ride" is a zombie apocalypse track, while "The Clown and The God" takes it's queue from Stephen King's IT. "Death Stranded" and "Sign of The Times" are excellent deep cuts. The album is closed by the longest track, "All Gods Are Dead". An epic like this is a nice side of the band.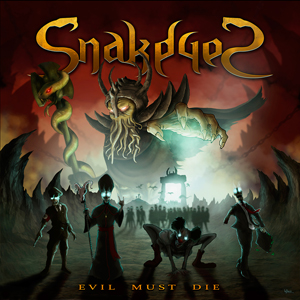 The 10 songs on Evil Must Die clock in around 48 minutes. (Most songs are around the four to five minute range). The production and mix by José Pineda is outstanding. Leo Traverso contributed the cover artwork, and animated a really cool video for "The Evil Dead", so check that out as well.
I like Evil Must Die a lot. The bottom line is SNAKEYES are three for three. The album is full of passionate performances from all four members of the band. They continue to deliver quality power metal, and Evil Must Die is another notch on this band's belt. SNAKEYES understands strong songs are the key, and the spirit of these tracks will definitely entice many new fans. Evil Must Die is available now on digital platforms and from the band directly at: www.snakeyes-metal.com.
5.0 Out Of 5.0




Please log in to view RANTS

If you don't have a username, click here to create an account!