SHOK PARIS Full Metal Jacket


By Alex Yarborough, Orlando Contributor
Monday, July 13, 2020 @ 1:16 PM


| | | |
| --- | --- | --- |
| | | |
SHOK PARIS
Full Metal Jacket
2020 No Remorse Records




"Who rules the night... when you lie in bed and once you close your eyes?"

Full Metal Jacket is the comeback album from a band that had been away for over 30 years. That almost never happens. But dammit, they did it. They kept The American Dream alive, all that time. Sure, SHOK PARIS released the single "Those Eyes" several years ago, and the remaster and re-release of the classic Steel and Starlight album on Auburn Records in 2015 was long overdue (find that if you haven't heard it). But I'm talking about a new full-length album from a band that never gave up.

SHOK PARIS' 1984 debut album Go For The Throat is the stuff of legends. Their 1987 album, Steel and Starlight captured lightning in a bottle. Concrete Killers (1989) was good, but more commercial. And yes, vocalist Vic Hix recorded two very good albums with AFTERSHOK in the early 2000's. However, all these years later, the spirit of SHOK PARIS is somehow most accurately captured on Full Metal Jacket! To me, this is the band's most mature and realized album. It should be. It took the most time to make, and was perfected over the years to what you hear now. Vocalist Vic Hix admits he can't quite hit those crazy high notes anymore, but he really sounds 99% the same, and can still give you goosebumps with his voice. He still has one of the most unique voices in music. Lead guitarist Ken Erb has written some of the tastiest riffs of his career on this album. Guitarist John Korzekwa, drummer Donovan Kenaga and Ohio bass legend Ed Stephens have all been with SHOK PARIS since 2010. These musicians are amazingly talented, and perfectly suited to be in this band.

Appropriately, Full Metal Jacket opens with "The Creed", which features dialogue from Private Joker and Private Lawrence (Matthew Modine and Vincent D'Onofrio) from the film Full Metal Jacket. This segues the Marine's (Rifleman's) Creed being recited in part, similar to how it is recited in the movie. Ken Erb adds guitar to this dialogue to ratchet up the tension. The album cover also features references to the film; see if you can find them. The album officially blasts off with the title track, "Full Metal Jacket", a captivating opening song. Donovan drives the song with his drums here, and the guitar riffs from Ken and John are dynamic. Ed adds nice bass runs throughout the song as well. Vic's lead vocals and the backing vocals leave an impression. In fact, this song is about a bullet that will absolutely annihilate, and is such a perfect song in my book. This is a very powerful performance from the whole band. "Nature of the Beast" hints at the glory days of SHOK PARIS, and features that trademark break after the guitar intro that sets up the rest of the song. The theme is fate, and man's quest to live up to his own expectations. Donovan has some of his best drum fills on this track, and the chorus here is just pure money. "Do or Die" immediately became a favorite of mine; this track barrels down the highway at full tilt. There's riffs galore, and my favorite solo by Ken on the album. Vic sounds great, and this is an all around searing track!

"Metal On Metal" features the band very effectively slowing down to more of a groove. This is another of the album's best choruses. Metal on metal's your sin! "Brothers In Arms" has an "all for one" unity theme that marches along, uniting the metal brotherhood (and sisterhood). This song has one of the strongest IRON MAIDEN influences, I believe. Those guitar layers are just magnificent, and another grand solo is added by Ken. "Black Boots" is another of the top tracks for me. Also referring to the past catalog for inspiration, "Black Boots" is the hard-driving, shout-along metal this band was known for. This track features my favorite Donovan drum performance on the entire album. Truly iconic.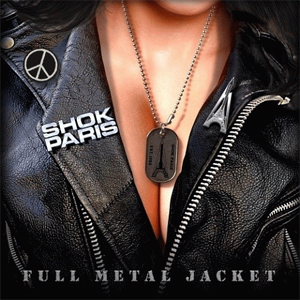 Single "Hell Day" (video here) is another great metal unity song. This track takes no prisoners, and brings to mind visuals of armies marching. Ken and John lay down some blistering guitar work, while Donovan goes back to the double bass drums. "Those Eyes" is the oldest song, having been reworked over the years to the masterpiece included here. Fantastic bass from Ed, while riffs are flying everywhere. Vic is the star of this one; his emotional vocals simply exude power. "Fall From Grace" is propelled by the excellent guitar work, yet the verses are also inviting. Check out the backbone Ed lays down on bass here.
"Symphony of the Sea" is an ode to the siren call of the sea, and the urge to leave behind all that troubles you. I can certainly relate to that. The "Sail On!" chant is a highlight here. Ed gets things rolling on the final track, the epic (and longest song at 7:15) "Up The Hammers", which is the band's tribute to the Greek metal festival of the same name. The intro here is nice and long, at over two and a half minutes, before Vic begins singing. The track is more mid-tempo, and will undoubtedly be a killer song to raise your fist (and ale) to in concert. Simply a devastating tune... hail to the gods!
This is no over-the-hill band trying to relive its glory days. So sorry, but fuck that. This is a band of veterans showing everyone how it's really done. I've been a fan of SHOK PARIS for a long time, back to the heydays of classic metal '80s. They made this album for their fans, but mostly they made it for themselves. I can't say enough about the production by Ken Erb on this album. It expertly highlights the band's strengths and pushes them to the forefront. To get a perfect review, all the songs have to be great, and that is the case with all 11 songs on Full Metal Jacket. There are plenty of references to old SHOK PARIS, yet enough new energy to excite fans. This is a great album, and one of my favorites of the year so far. Full Metal Jacket is available now digitally, on CD and vinyl now from No Remorse Records. Horns up!
5.0 Out Of 5.0




Please log in to view RANTS

If you don't have a username, click here to create an account!