PRIMAL FEAR Metal Commando


By Alex Yarborough, Orlando Contributor
Tuesday, July 21, 2020 @ 12:14 AM


| | | |
| --- | --- | --- |
| | | |
PRIMAL FEAR
Metal Commando
2020 Nuclear Blast




"We're born to rock and raised on metal, a generation made of steel..."

Here it comes, the 13th studio album from Germany's Metal Commando (the album title is borrowed from the band's nickname), PRIMAL FEAR, also known as 'the hardest working band in heavy metal'. After a lengthy stint on Frontiers Records (six studio albums), the band is back on Nuclear Blast Records, which released the band's first six studio albums. Altogether, the band has now released a total of 13 studio albums, two live albums and two compilations since 1998.

PRIMAL FEAR has retained the same lineup of Ralf Scheepers (vocals), Mat Sinner (bass), and the trio of guitarists: Magnus Karlsson, Alex Beyrodt, and Tom Naumann. The only difference is drummer Francesco Jovino was replaced by Michael Ehré (formerly of METALIUM). I reviewed the band's last studio album, Apocalypse, for KNAC.COM in 2018, their live video Angels of Mercy, compilation Best of Fear in 2017, and Rulebreaker in 2016.

There's no intro track on Metal Commando – they get right to business with the proselytizing "I Am Alive", a commanding testament of life after death. Ralf owns the chorus, and demonstrates why he is one of the best frontmen in metal. (Video on KNAC.COM HERE). The next track is an effective metal anthem called "Along Came The Devil". Ralf's vocals run the spectrum on this song from highs to lows. With a clear accessibility, the track is an undeniably infectious lead single. "Halo" is a song that took me a few spins to get into, but once I got it, the song resonated. Ralf's passionate vocals work well here, while Michael's drumming gets into more of the double bass work he was famous for in METALIUM. "Hear Me Calling" is more mid-tempo, yet still powerful."The Lost and The Forgotten" is nice and heavy, and I cannot deny the strength of the song. Once again, PRIMAL FEAR includes a song title with the word "fear" in it. This time it's "My Name Is Fear", which will shred your face off, and it's among the heaviest tracks on the album. Conversely, and demonstrating just how talented this band is, the next track is an acoustic ballad ... and it's actually a great song. It's just Ralf backed by an acoustic guitar, and it's amazing. (Well, there are some backing vocals as well). "Raise Your Fists" is a kick ass call to arms that will stay on your play list.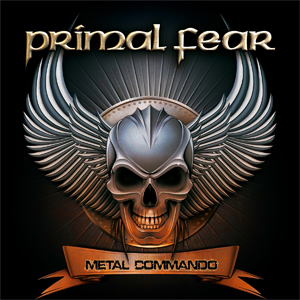 "Howl Of The Banshee" is also one of my favorite tracks; that chorus (and solo) is awesome. "Afterlife" is another speedy up-tempo riff-heavy shred fest that approaches speed metal and totally goes for the throat. Every song on the album is in the four to five minute range, except for the closing monster epic, "Infinity", which is the all-time longest PRIMAL FEAR track at over 13 minutes. This song features a lengthy intro, and once it kicks in, gets heavier and faster as you arrive at the 3:00 minute mark. Double bass drums and heavy chords are accentuated by the chorus of "Rise, infinity forever, I'm walking through the night..." that leads you deeper into this remarkable track. Honestly, this might be the most phenomenal song ever written by PRIMAL FEAR, a true masterstroke. It really has everything that makes the band special: dark lyrics, passionate vocals from Ralf, fast and heavy sections, slow acoustic passages, a killer solo section, and an ominous outro. I'm not sure what else you could ask for from PRIMAL FEAR!
Metal Commando has tons of killer riffs and solos from Magnus, Alex and Tom. Mat Sinner once again proves his songwriting, production and bass playing are all top notch. He said this about the album: "It's the perfect mix between our origins and our current style, a perfect balance and all band members did an awesome job playing and recording it". Once again, PRIMAL FEAR proves they are among the most reliable bands in power metal. It's tougher and tougher to review this band, because they never deliver a bad album. On Metal Commando, they give you 11 killer tracks, at nearly an hour total time. Metal Commando will be released on July 24th in multiple formats. Go get it, and bang your head all summer long!
5.0 Out Of 5.0




Please log in to view RANTS

If you don't have a username, click here to create an account!