DEATH DEALER Conquered Lands


By Alex Yarborough, Orlando Contributor
Tuesday, October 20, 2020 @ 8:44 AM


| | | |
| --- | --- | --- |
| | | |
DEATH DEALER
Conquered Lands
2020 Steel Cartel Records




DEATH DEALER's first two albums, War Master (2013) and Hallowed Ground (2015) are testaments to this band's power metal determination. The band returns to Steel Cartel Records for their greatest accomplishment thus far, the monumental and inspiring heavy metal masterpiece, Conquered Lands. Vocalist Sean Peck (THREE TREMORS, CAGE) and guitarist Stu Marshall (NIGHT LEGION, DUNGEON) have joined forces with drummer Steve Bolognese (INTO ETERNITY, ROSS THE BOSS) and guitarist Ross The Boss (Ex-MANOWAR) to craft these amazing songs. But wait! There's more. Conquered Lands is the first album to feature distinguished bassist, Mike LePond (SYMPHONY X).

Any "fat" that might have been lingering has been completely cut out forthwith. There is not one wasted moment, right from the red hot opener, "Sorcerer Supreme", (based on Marvel's Doctor Strange). Take a look at the lyric video HERE. This is an outstanding song, with plenty of references to the good doctor's spells! "Every Nation" is a heavy metal call to arms, that pummels the listener with speed, tasty riffs and double bass drums. Mike's bass work here is downright bad ass, and a favorite song for me personally. "Beauty And The Blood" brings you a tale of vampiric blood lust. After an intro setting up the story, the track blasts off and delivers a nice mini saga. There are a few interludes and solos that add to the intrigue and overall appeal of this song.

"Running With The Wolves" has a killer main riff, and stellar lead guitar work throughout from Stu and Ross. More or less a theme song for the band, you'll feel like you're running with the wolves, when you raise the horns high during this rocking track. The Heretic (from War Master's "Curse Of The Heretic") has returned on "The Heretic Has Returned". Stu and Ross lay down some intertwining solos on this track. Next up is the title track, "Conquered Lands", which takes a more narrative approach. This song is monstrous (check out 3:45 - 4:00) and will convert any non-believers with its Egyptian themes and motifs. Sean Peck's high vocals take the wheel here, and he simply shines, driving the song from start to finish. "Hail To The King" references warriors and the Knights of the Round Table. Sporting a nice shout-along chorus, this one is sure to be a winner in a live setting. "Slay Or Be Slain" gets even more "warrior", in case you were craving barbarian themes. This is another great track for sure. "Faith Under Fire" is a patriotic speed metal anthem that absolutely destroys everything in its path. Heavy as hell, and featuring the most bombastic, over the top performance from the entire band, "Faith Under Fire" utterly rules!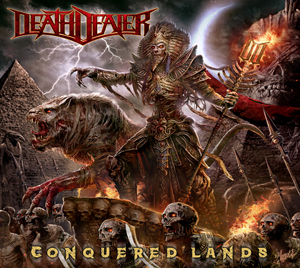 And just when you thought you'd heard it all, the band unleashes its first real ballad, "22 Gone Today". This song references veteran suicide from a first person point of view. "Heartfelt" and "passionate" don't quite do it justice. The album concludes with the blistering "Born To Bear The Crown", which brings to mind images of the riots that have recently dominated the media. Conquered Lands features 11 songs and a total time of around 47 minutes. The LP will feature the bonus track "Cold Dead Hands", which I would place among my favorite DEATH DEALER tracks, as well as an additional bonus remix track.
In keeping with the band's motto of being kings of physical media, only three songs will be released to streaming services ("Sorcerer Supreme", "Every Nation" and "Running With The Wolves"). If you want to hear the rest of the album, you need to buy it. And trust me, it's well worth the investment! This is not just an incredible power metal album. The CD and LP packaging for Conquered Lands is unrivaled, and contains incredible cover artwork (by Dusan Markovic) and unique artwork for each track. Conquered Lands will be released on November 13th. Go to: deathdealermetal.com for more information.
5.0 Out Of 5.0




Please log in to view RANTS

If you don't have a username, click here to create an account!