King Diamond, Nile, The Black Dahlia Murder & Behemoth Live in Seattle


By Chris Slack, Contributor
Monday, June 27, 2005 @ 0:56 AM


| | | |
| --- | --- | --- |
| | | Kind Diamond, Nile, The Black |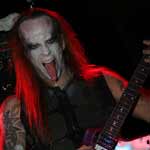 Upon staking out a position up front I saw "Black Dahlia Murder" stickers on the kick drums so I expected them to play first. Much to my surprise Behemoth came on stage at about 8:45 (supposedly the show started at 9) in all of their corpsepainted and spiked up fineries. The crowd was somewhat sparse at the time but that didn't stop Behemoth from delivering a relentless and precise death metal attack on the crowd that was in attendance. Despite very little space on stage (drums and amps up front because of King Diamond's large stage setup) the band had a pretty good stage presence, particularly Nergal who interacted with the crowd well and donned a leather robe and the "Demigod" mask for the final song of their set. A terrific performance overall, I really feel sorry for the people who arrived a little late and missed their set.

More Behemoth photos from this show can be found at http://www.mortado.com/gravemusic/live/050505kd-nile-bdm-beh/behemoth.shtml

Next up was Detroit's The Black Dahlia Murder. Being a 5-piece band, the cramped stage was even more of a burden for them, forcing vocalist Trevor Strnad to perform his duties from inside the narrow security barricade. I'm not sure whether the band was off or if it was just the sound mix but all the songs really sounded muddy and it was hard to differentiate between one song and the next. The only two songs I could pick out were "Apex" and "Closed Casket Requiem." They also played a track off their forthcoming album Miasma, but due to the sound issues mentioned previously I can't fairly judge it. Hopefully I can catch the band again at a venue that will allow them more stage space (and better sound) as I really dig their studio work and am fairly sure they are capable of putting on a much better live show. Much kudos go out to the vocalist for making the best of his "stage" position and getting in a lot of interaction with the crowd.

More TBDM photos from this show can be found at http://www.mortado.com/gravemusic/live/050505kd-nile-bdm-beh/bdm.shtml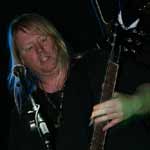 It's been over a year since I've seen Nile and I was interested in seeing what their live performance would be like without Jon Vesano on bass and vocals. From the beginning of their set they were plagued with not only sound problems, but incessant heckling from one very loud drunkard near the stage. This seemed to bother Dallas a bit but didn't stop the band from putting on a pretty tight performance. The musicianship was definitely top notch, but from an entertainment aspect was fairly boring as the members for the most part just stood and played with very little movement or even headbanging. If it weren't for the fact that they played a few songs from their forthcoming album it probably would have been better to just stay home and play one of their CDs.
More Nile photos from this show can be found at http://www.mortado.com/gravemusic/live/050505kd-nile-bdm-beh/nile.shtml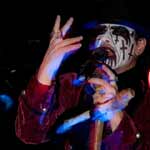 As soon as Nile was done the pressure from behind me started to increase with the anticipation of King Diamond. As soon as the music started, I felt a crush like I have never felt at any other metal show. I spent the majority of the first few songs fighting off some jackass who felt the need to elbow my head repeatedly, perhaps in some vain attempt to get me to give up my spot in front of the King. The need to do this seriously limited the amount of photos I was able to take; however I did manage to squeeze off a few I was happy with. King did not speak at all during the first few songs; giving the impression that he was pissed off any perhaps not very happy to be doing the show. After a while he started talking to the crowd, making it apparent that he was happy to be back in Seattle again performing in front of a very appreciative audience. The set of songs performed was very similar to those performed on the "Puppet Master" tour but this time he performed a couple of classic Mercyful Fate numbers, much to the delight of old headbangers such as myself. King and his band's performance was flawless throughout the evening, almost exactly like the songs from the more recent Deadly Lullabys album. The band was very energetic and moved about frequently, showing that there is a lot more to doing a live performance than simply standing and headbanging once in a while. As one would expect, King pulled out all the stops, bringing out Grandma, doing his puppet routine during "The Puppet Master" and his traditional entrance behind the coffin of Abigail. King Diamond was THE highlight of the nights show, once again proved that he can command an audience like few other musicians in the metal scene, living, dead or unborn.
More King Diamond photos from this show can be found at http://www.mortado.com/gravemusic/live/050505kd-nile-bdm-beh/index.shtml
Note: the set lists below are strictly from memory as I was not in the position to write so they may not be entirely correct.
Behemoth set list
Decade of Therion
As Above So Below
Christians to the Lions
Sculpting the Throne ov Seth
Conquer All
Demigod
Nile Set List
The Blessed Dead
Smashing the Antiu
Serpent Headed Mask
Sarcophagus
Ramses Bringer of War
Chapter For Transforming Into a Snake
Cast Down the Heretic
Sacrifice Unto Sebek
Lashed to the Slave Stick
Annihilation of the Wicked
Black Seeds of Vengeance
King Diamond Set List
Funeral
Arrival
Mansion in Darkness
Family Ghost
Black Horsemen
Spare This Life
Mansion in Sorrow
Come to the Sabbath
The Eye of the Witch
Sleepless Nights
The Puppet Master
Blood to Walk
So Sad
Welcome Home
Halloween
Evil




Please log in to view RANTS

If you don't have a username, click here to create an account!






BRITISH LION, CONEY HATCH In Ottawa, Canada

SUNFLOWER DEAD C O M A

SURF CITY BLITZ In California Photo Gallery

TRIVIUM, AVATAR, LIGHT THE TORCH In Portland, OR Photo Gallery

DEVILDRIVER, JINJER In Cleveland, OH With Photos!

CORROSION OF CONFORMITY In Dublin, Ireland

CAULDRON New Gods

STEVE GRIMMETT'S GRIM REAPER In Ottawa, Canada

JUDAS PRIEST, KREATOR In Quito, Ecuador

CAL JAM '18 Photo Gallery

BLOODBATH The Arrow of Satan Is Drawn

STRIKER Play To Win

NIGHT RANGER "Dawn Of Madness" Show In Waukegan, IL

BUTCHER BABIES, KOBRA AND THE LOTUS, SKARLETT RIOT, IGNEA, MAERTYRIUM, In Siegburg, Germany

HOUSE OF LORDS In New Bedford, MA

GRETA VAN FLEET Anthem Of The Peaceful Army

IMPELLITTERI The Nature Of The Beast

ALICE COOPER In Houston Photo Gallery

ICARUS WITCH Goodbye Cruel World

TARJA, STRATOVARIUS, SERPENTYNE In Cologne, Germany

CLUTCH, SEVENDUST, TYLER BRYANT & THE SHAKEDOWN In Portland, OR With Photos!

ACCEPT In Houston, TX With Photos!

U.D.O. Steelfactory

SKULL FIST Way Of The Road

SOULFLY Ritual

ANTHRAX State of Euphoria 30th Anniversary Deluxe Edition

FIFTH ANGEL The Third Secret

STEVE GRIMMETT'S GRIM REAPER In New Bedford, MA

ANAAL NATHRAKH A New Kind of Horror

PRIMAL FEAR Apocalypse

BEHEMOTH I Loved You At Your Darkest

DORO Forever Warriors, Forever United

SLASH FEATURING MYLES KENNEDY AND THE CONSPIRATORS In Houston, TX Photo Gallery

BILLY MORRIS AND THE SUNSET STRIP Holdin' All The Aces

VINCE NEIL In Houston, TX Photo Gallery

DEE SNIDER For The Love Of Metal

UNLEASH THE ARCHERS, STRIKER, HELION PRIME In Houston, TX W/Photos!

DREAM CHILD Until Death Do We Meet Again

SCORPIONS, QUEENSRYCHE In Tampa, FL With Photos!

HUMBLE PIE Live At The Ottawa CityFolk Festival

BEHEMOTH Album Listening Party In Los Angeles For I Loved You At Your Darkest

THE DEAD DAISIES, HOOKERS 'N BLOW In Ottawa, Canada With Photos!

DRAGONLORD Dominion

STONE BROKEN Ain't Always Easy

BRANT BJORK Mankind Woman

KORPIKLAANI Kulkija

BRAINSTORM Midnight Ghost

SLEAZY WAY OUT, INSUFFICIENT FUNDS In Ottawa, Canada

DEEP PURPLE, JUDAS PRIEST In Jacksonville, FL W/Photos!

HELLOWEEN In Worcester, MA With Photos!