PERSUADER Necromancy


By Alex Yarborough, Orlando Contributor
Saturday, January 16, 2021 @ 11:43 AM


| | | |
| --- | --- | --- |
| | | |
PERSUADER
Necromancy
2020 Frontiers




Necromancy is the latest release by Swedish power/speed metallers PERSUADER, released over six years after their last album, The Fiction Maze. Vocalist Jens Carlsson, drummer Efraim Juntunen and guitarist/bassist Emil Norberg welcome second guitarist Fredrik Mannberg (NOCTURNAL RITES) to the band for this album, and hopefully many more to come. Regarding Fredrik joining the PERSUADER team, Emil says, "we are delighted to have his fierce songwriting skills and proven stage presence in our ranks!"

Fredrik's influence can be heard immediately with "The Curse Unbound", which takes over your speakers at the outset. (Lyric video HERE). The song resides in the speed metal realm (as many songs do here), and chugs along with aggression and conviction. The soaring chorus and blistering solo are highlights. Efraim adds tons of double bass drumming to the mix as well. "Scars" offers even more speed and breakneck rhythms. Emil's bass and Efraim's drumming are simply masterful. Necromancy is defined as the ability to communicate with the dead, and this title is articulated with songs like "Raise The Dead". The track begins slowly, but quickly escalates to a fast tempo, bordering on blast beats during the chorus. Certainly, this song is a centerpiece for the album.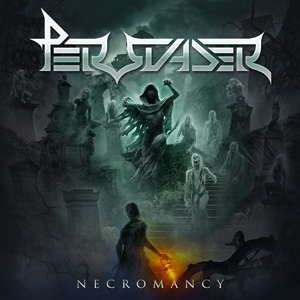 "Reign In Darkness" is a highlight for Jens for sure, showcasing his highs as well as his lows; featuring a dominating performance from him on this track. "Hells Command" is dark, but offers a brief respite with a keyboard interlude, followed by tasty soloing. "Gateways" is more melodic and grooving, yet still crushing. The final track, "The Infernal Fires", is the longest (at 8:35) and more epic in scope. This closer is a real treat, featuring several tempo changes and Jens' highs and lows again. Gang choruses and keyboard accents pop up here and there, adding to the accessibility of this song.
There are only seven tracks, but they're all good ones. Consisting of dark symbolism and deliciously excessive and punishing speed metal, Necromancy proves PERSUADER are back. To be sure, the band has trimmed all the fat with this album, (which still clocks in around 45 minutes). Jens' voice is as perfect as it has ever been, and the chunky riffs and tinges of thrash have always been appealing to me. The production and mix are outstanding as well. Felipe Machado Franco's cover artwork is another amazing piece, and perfect complement to the music. Fans of BLIND GUARDIAN, NOCTURNAL RITES, and IRON SAVIOR will find a lot to love on Necromancy.
4.3 Out Of 5.0




Please log in to view RANTS

If you don't have a username, click here to create an account!