I'm Too Old For This Sh*t Documentary Movie


By Francisco Zamudio, Metal X Candy 2.0
Friday, February 19, 2021 @ 8:11 AM


| | | |
| --- | --- | --- |
| | | |
When you think of Floridaís Metal scene, you probably think of the infamous Death Metal scene it spawned, at least thatís what comes to my mind. Granted there have been a lot of great bands to have sprouted from that end of the east coast but what about the great bands no one has heard of? Or at least bands you THINK no one had heard of. Enter Brandon, Floridaís own SIREN and their tale known as Iím Too Old For This Sh*t, produced by the multi-talented Chris Jericho.

This Rockumentary is one of those that gives hope for the little guy, or in this case the little band that couldÖ or could they? After what can only be called a 30 year hiatus the group is sought out to perform at Germanyís KEEP IT TRUE FEST and the film follows the 5-piece consisting of original members drummer Ed Aborn and vocalist Doug Lee along with bassist Gregg Culbertson and guitarists Todd Grubbs and Hal Dunn as they get an opportunity to fulfill theirs and any bands dream of playing Europe and one of its prime festivals.

Without giving too much away about their journey to Germany, with the re-kindling of friendships and the bumps along the way in finding bandmates that are well enough to be a part of this special occasion, there is additional commentary and support from the filmís producer Jericho and FOZZY guitarist Rich Ward who is also long-time friends of Ed and SIREN. What started way back in the early 1980ís, these teenagers had a plan to rule the world of Metal. Disagreements and misunderstandings lead to the demise of SIREN at a young age. Through the blessing of die-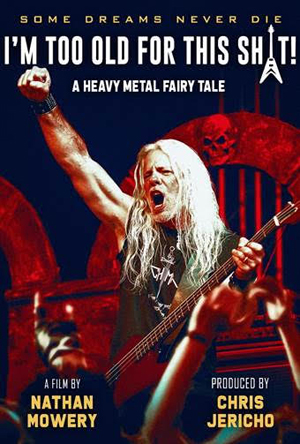 hard fans on the other side of the world, an aged Ed and Doug would set those differences aside and leave it in the past where it belongs to team-up once again and help achieve a dream their young teenage minds had back then. There isnít a moment where they donít pause and soak up the energy and all the emotion leading up to the big gig. This is something that I hope takes notice because it was admiring to see them living in every moment.
Back in the day SIREN had quickly gained recognition through fanzines (as they were known at the time) and true DIY (DO-IT-YOURSELF) hustle. Their name spread throughout the world as far out as Saudi Arabia, South America and of course Europe where our story would eventually take us. With additional support of Brandon locals NASTY SAVAGE, they arranged a local warm-up/comeback to shake the cobwebs and any stagefright before packing up and heading to Germany.
There are a lot of highlights throughout the film that reflect how wide an audience and impact SIREN had. It even shocked them to realize how far their sound reached. Any musician in a band will gravitate to the story here and I think non-musicians will also feel a bond as this isnít only a tale of a band getting their shot (albeit 30 years later) but for those of us that donít let a dream go and are able to buckle up for the ride and enjoy every aspect. I couldnít imagine myself sticking with the same first band that I was in back in the day (GAWD that was a waste of time) but for some, probably many, their first band is like their first love and have stuck with it and likely for reasons very much like SIRENís, that one day a raging fan from the other side of the world will get you on the phone and ask,Ēhey you guys want to play a European festival?Ē
5.0 Out Of 5.0

Please log in to view RANTS



PANTERA At Welcome To Rockville With Photos!

THE BLACK DAHLIA MURDER, TERROR, FROZEN SOUL, FUMING MOUTH, PHOBOPHILIC In Anaheim, CA With Photos!

ENFORCER Nostalgia

BUZZFEST Featuring GODSMACK, I PREVAIL, HIGHLY SUSPECT, THE STRUTS And Others In Houston, TX With Photos!

SLEEP TOKEN Take Me Back to Eden

UGLY KID JOE, FOZZY, PISTOLS AT DAWN In Houston, TX With Photos!

TESLA, FASTEST LAND ANIMAL, KURT DIEMER In Orlando, FL With Photos!

CATTLE DECAPITATION Terrasite

TYGERS OF PAN TANG Bloodlines

MYSTIC PROPHECY Hellriot

WHITECHAPEL, ARCHSPIRE, SIGNS OF THE SWARM, ENTHEOS In Santa Ana With Photos!

ALCATRAZZ Take No Prisoners

BURNING WITCHES The Dark Tower

ELVENKING Reader Of The Runes - Rapture

CHAOS AND CHARNAGE Tour Featuring SUICIDE SILENCE, DYING FETUS, BORN OF OSIRIS, ABORTED, CROWN MAGNETAR, SANGUISUGABOGG And SLAY SQUAD In Anaheim With Photos!

ENFORCED War Remains

SAVAGE EXISTENCE Savage Existence

BLACK ROZE Penny For Your Sins

WINGER Seven

JASON BIELER AND THE BARON VON BIELSKI ORCHESTRA Postcards From The Asylum

TITAN'S WRATH Will Of The Beast

VADER, KRISIUN, DECREPIT BIRTH In Los Angeles With Photos!