Allele "Point of Origin"


By Charlie Steffens aka Gnarly Charlie, Writer/Photographer
Friday, October 14, 2005 @ 7:04 AM


| | | |
| --- | --- | --- |
| | | Corporate Punishment Records |
"Hey, this sounds like music to shit by!" "Like, this is just like every mall rock band." "Oh, this blows. These poseurs are sooo not metal." "Like, hello, where are the guitar solos?" "Why does this sound like every nu metal band on the planet." "And I'm like, and she's like, and I'm all and she's all and like, I'm goin' and she's all goin' "This band sucks. Like, what were they thinking, n'shit?" "Ah, for fucksakes this singer's Daddy shoulda pulled out. Hey, maybe he did."

This is the inner dialog with the committee members in the devil's playground. A critic's inner critic will always be trying to win the conversation with the gatekeeper of his mind, which leaves little room for any real contentment unless there is an abundant supply of heavy music on hand to heal the affliction.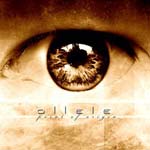 Allele's debut record, Point of Origin, is worth a spin for it's similarities with bands like Nonpoint, Crossfade, Tool, Shinedown and Helmet. The differences that Allele possess over these and other road tested modern rockers, however, might save them from instant extinction.
In its employ, Allele have two established guitarists: Lane Maverick, who was one of the first guitar players for Otep. He is paired with guitarist Kelly Hayes, who recently left Cold to join Allele. Wally Wood is the singer, and while he could (and will) be compared to other vocalists in sound and style, his voice complements the band in its brutality, yet it doesn't have the overdone rasp til the last gasp thing going against it. That brand of singing is reserved for the metalcore elite, or for those who just can't sing.
The opener on Point of Origin "Fake", like its name, is a piece of fool's gold. While its sound and lyrical structure give an overall snapshot of the band, you really need to go mining on this record for the buried treasure. Do this before you give it the shaft. The moody, cautionary, good lovin' gone bad (or is bad good?) song - "Immune" is a great song to knock back several tall boys with, or maybe just a 40 oz jug of Colt 45, and cry to. After hearing "Immune" you will be compelled to drunk dial that ex of yours. For that reason alone this record might be a good purchase. Maybe you'll get back together. Maybe you'll be arrested for stalking. Either way you'll never forget the song. "Lies", another victim of love song, comes out of the chute hard and with a badass bass bottom, machine gun fire drumming and fine guitar work with tasty leads and harmonies. "Closer to Habit" is catchy, and thus far, has caught the most play on Active Radio, apparently.
There is an instrumental on the Point of Origin record that is a fine piece of work. It's called "Jaydin's Song."
Allele is:
Wally Wood "vocals"
Kelly Hayes "guitar"
Lane Maverick "guitar"
Tim Tobin "bass"
Giancarlo Autenzio "drums"
* * * (out of a possible 5 stars)




Please log in to view RANTS

If you don't have a username, click here to create an account!