DREAM THEATER A View From The Top Of The World


By Andrew Depedro, Ottawa Corespondent
Thursday, October 21, 2021 @ 7:33 AM


| | | |
| --- | --- | --- |
| | | |
DREAM THEATER
A View From The Top Of The World
InsideOut Music/Sony Music




Sweeping solos!
Soaring vocals!
Lengthy compositions!

Two-time – and seventy-two-time – Grammy-nominated and millions-selling progressive music titans DREAM THEATER are back to take their stand on top of the modern prog rock scene with their fifteenth panoramic collection of images and words titled A View From The Top Of The World. And on top of the world did the band indeed find themselves at during the middle of a sold-out world tour in support of their last release Distance Over Time and the 20th anniversary of Scenes From A Memory before COVID-19 brought everything to a standstill. Moreso, as every global border was quickly closing so as to curb the spread, frontman James LaBrie suddenly found himself back in self-isolation back home in Canada while his esteemed bandmates John Petrucci (guitars), Jordan Rudess (keyboards), John Myung (bass), and Mike Mangini (drums) were likewise sequestered in the US. As DT albums go, their latest offering certainly offered its fair share of challenges especially compared to 2019's Distance Over Time, which was recorded at a rented cottage in upstate New York when the band was a cohesive entity. Fortunately, prior to the recording of A View…, the band had just completed the construction of their own official studio titled DTHQ – DREAM THEATER Headquarters – which would serve as a multi-purpose unit for the band as a combination live recording studio, rehearsal space, control room, equipment storage, and creative hive. LaBrie had initially written the bulk of the music and lyrics with the rest of the band over ZOOM before he was able to fly to New York – quarantined, of course – and record his vocals face-to-face with Petrucci; the end result would be one of the band's most technically proficient albums, whose songs rank among some of their lengthiest and uncompromising-sounding classics.

Opening number and lead-off single "The Alien" – inspired by LaBrie's son who encouraged him to listen to Joe Rogan's interview with noted philanthropist Elon Musk – is a good 9 and a half minutes of sheer unadulterated pulsating prog metal musical brilliance. Mangini's rumbling drum fills commence the riveting track with Myung's furious bass riffs having his back just as Petrucci's unmistakable free-flowing time signatures birth out some impeccable riffs in between, while LaBrie chimes in at the right moment with his well-studied powerful narrating voice and stark-sounding lyrics. With the triple production and mixing talents of Petrucci along with additional production by James "Jimmy T" Meslin and the mixing/mastering skills of Andy Sneap, the album resonates the best of DT's sound throughout. Follow-up tracks, including "Answering The Call" and second single "Invisible Monster" (which highlights social anxiety) also offer lots of DT's A-game, thanks to Petrucci and Mangini's dual crashing intro and Rudess' flashy laser-sounding keyboard wizardry in parts, battling Petrucci's equally manic-sounding riffs. The aptly-titled "Sleeping Giant" is the band at its zenith, with Petrucci's opening riffs allowing for a series of super-charged breakdowns in between – a sonic rarity in DT solos – while Myung incorporates more of his bass skills which, thanks to Sneap's talents in expanding the bass' range of sound and tone, magnifies brilliance. Ditto the inclusion of Rudess' honky-tonk-sounding piano solo nestled well between Petrucci's solos.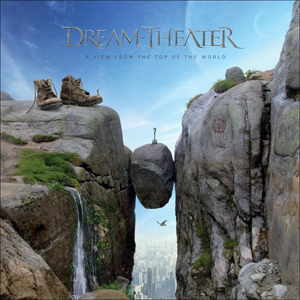 Fortunately, for those who might find the lyrical topic of unseen foreign beings just a tad bleak for their liking, "Transcending Time" offers a more upbeat-sounding vibe. Credit LaBrie's harmonious chorus and Petrucci's more up-tuned riffs on this particular song, which echoes some of RUSH's mostly underrated mid/late-80's catalogue and even a bit of MAX WEBSTER tossed in for good measure with the vocal range. "Awaken The Master" is absolutely the most guitar-driven DT track as Petrucci's signature 8-string Ernie Ball Music Man Majesty gets its greatest workout throughout the track. And, finally, the 20-minute closing title track – perhaps one of the band's most ambitiously long numbers since "Octavarium" – highlights the band's entire sum of its talents.
With a list of only seven songs, one could actually consider A View From The Top Of The World as perhaps being DREAM THEATER's shortest album in its entire catalogue. Yet, as far as both musical and topical content are concerned, A View… also shares the distinction as being the most sonically challenging and diverse album within the band's impressive repertoire, which is quite the feat for a band pushing beyond 35 years and 15 studio albums into its career, mounting many a mountain where many of their other peers may hesitate to tread out of a fear of heights.
5.0 Out Of 5.0
https://www.facebook.com/dreamtheater/
http://dreamtheater.net/




Please log in to view RANTS

If you don't have a username, click here to create an account!