ASHES OF ARES Emperors And Fools


By Alex Yarborough, Orlando Contributor
Thursday, January 13, 2022 @ 2:21 PM


| | | |
| --- | --- | --- |
| | | |
ASHES OF ARES
Emperors And Fools
2022 Rock of Angels Records




With NEVERMORE sadly gone and ICED EARTH on hiatus for the foreseeable future, fans of this brand of power/thrash hybrid are lucky to have a band like ASHES OF ARES still releasing quality heavy metal. AOA is essentially a duo, comprised of vocalist Matt Barlow and guitarist/bassist Freddie Vidales (both ex-ICED EARTH). They employ the great Van Williams (ex-NEVERMORE) to lay down the drums on their albums, and this album is no exception, with Van killing it once again on Emperors And Fools. Rock of Angels released the EP Throne of Iniquity last year (which featured some interesting cover songs– check out that killer cover of KANSAS' "Dust In The Wind", for example) to hold fans over, but Emperors And Fools is the band's first full length album in over three years.

AOA starts things off with their first ever intro track, "A City In Decay", which segues directly into "I Am The Night". This song is an uptempo, pounding masterpiece accentuated by Matt Barlow's trademark howls and moans. Things don't let up during "Our Last Sunrise" either. Freddie's guitar and bass work on these two songs is phenomenal. The first time the band slows down and creates some melancholy is during the intro of "Primed", which eventually gives way to all out speed and thrash. "Where God Fears To Go" features a supremely heavy riff from Freddie, accompanied by Van's swift double bass drumming and Matt's roar. The title track features a somber acoustic intro, that spotlights some of Matt's best (and most emotional) vocals on the album. One of my favorite songs on the album is "By My Blade", (video HERE) a killer song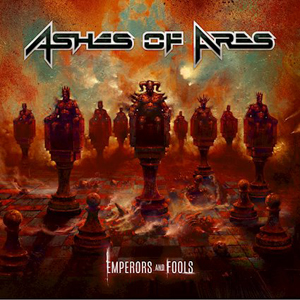 about the Marvel character Blade. Matt double tracks his traditional vocals with his upper register to create a devastating effect. "What Tomorrow Will Bring" is a delicious mid tempo track, I really dig it. Those craving some medieval Game of Thrones references will enjoy "The Iron Throne". "Gone" is a legitimate ballad of grandiose quality; I am blown away by this track. "Throne of Iniquity" is an amazing deep cut that was released on the aforementioned EP. Album closer "Monster's Lament" is a real masterpiece. This is the band's first ever epic, clocking in at 11:30, and featuring everything you could want in an AOA track: atmospheric intro, pounding double bass, speedy sections, slower moody sections and piercing vocals! It even includes incredible guest vocals from Tim Ripper Owens.
I went back and listened to the band's first two albums numerous times to prepare for this review. Emperors And Fools follows perfectly in the band's evolution and growth. I don't think it's a mistake to say Emperors And Fools is the band's most ambitious and monumental album thus far. There is a lot of material (over an hour) for fans to digest here, and it's a feast for the ears. Matt Barlow in particular sounds amazing on this entire album. If you were a fan of his vocals in ICED EARTH, then be sure to pick up Emperors And Fools, which will be released on January 21st on digipak CD, limited Turquoise/Black Splatter Vinyl (300 copies worldwide), limited Red/Black Splatter Vinyl (300 copies worldwide) and digital streaming and download format. You can pre-order the album at: https://bit.ly/ashes_of_ares_emperors_and_fools
4.5 Out Of 5.0

Please log in to view RANTS


SOILWORK Övergivenheten

IRON SAVIOR Reforged - Ironbound (Vol. 2)

SPEAKING TO STONES (In)Human Error

ANTHRAX, BLACK LABEL SOCIETY, HATEBREED In Hollywood, CA With Photos!

STYX, REO SPEEDWAGON, LOVERBOY In Nashville, TN With Photos!

ARCH ENEMY Deceivers

THE HALO EFFECT Days Of The Lost

DIO Holy Diver Super Deluxe Edition

MICHAEL MONROE I Live Too Fast To Die Young

ZEPPARELLA In West Hollywood, CA With Photos!

RAGE AGAINST THE MACHINE, RUN THE JEWELS At Ottawa Bluesfest

AMON AMARTH The Great Heathen Army

THE PRETTY RECKLESS, THE WARNING, LILITH CZAR In Houston, TX With Photos!

LOVE IN CHAINS Everyday Heroes

MUNICIPAL WASTE Electrified Brain

SATYRICON Satyricon And Munch