All Photos By Chris Pirri
What happens in Vegas stays in Vegas. Truer words could not be spoken. Unless you are there to cover a concert for KNAC.COM. When this tour was first announced everyone including myself said 'what the fuck is this?'. A heavy metal artist headlining with support from two country musicians. This is blasphemous. However, I will eat my words and say that it was a tremendous and gratifying show.
I will not go into too much detail of the two country artists. This is a metal station and we don't have much appreciation for yee-haw and twang here. However they both put on a good southern rock set. The highlight of the two sets is when Ivan Moody of FFDP joined Brantley Gilbert onstage and performed "Blue On Black". The two had a hit single with this song that was made famous by the Kenny Wayne Shepherd band in 1997.
After a few liquid libations it was finally time for FIVE FINGER DEATH PUNCH to take the stage. They came out in a frenzy and had the crowd jumping and thrashing around like maniacs. Even the confetti cannons went off right away with a loud boom that sent shockwaves through the Michelob Ultra Arena. Ivan Moody and the boys were fired up and loving every moment of this show. This was a home show first of all, but also the last concert of the tour and the year.
You could feel the energy that Ivan Moody was laying down to the crowd. How could we not? His family and a plethora of other rock musicians were in the house to support the band. He told a great story about why he became sober and thanked his Mom. I actually think you could hear sobbing from this tough crowd. The liveliness of the show never stopped.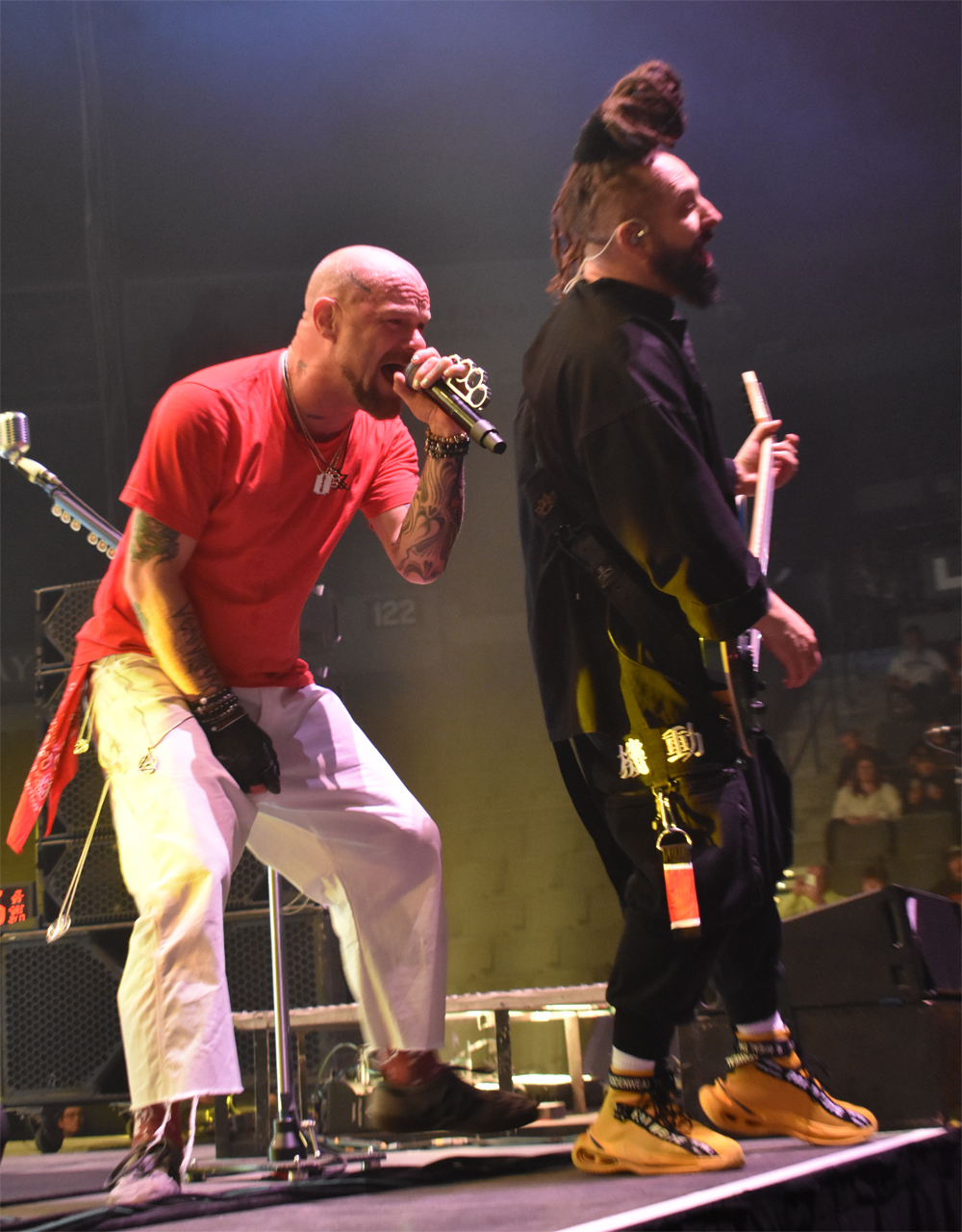 This was an amazing show not just for music but also for society. I would've never of thought that a bunch of country fans and head banging metal zealot fans would get along and have a good time. It just shows you that music soothes all souls and is the key to happiness. Rock on🤘🤘🤘
FFDP Setlist
"Lift Me Up"
"Trouble"
"Wash It All Away"
"Jekyll and Hyde "
"Sham Pain"
"Bad Company"
"Never Enough"
"IOU"
"A Little Bit Off"
"Turn The Page"
"Wrong Side of Heaven"
"Burn MF"
"Welcome to The Circus"
"Under and Over It"
"The Bleeding"
Check out a few more photos from the show!
All Photos By Chris Pirri