MOTÖRHEAD Bad Magic: Seriously Bad Magic


By Peter Atkinson, Contributor
Friday, February 24, 2023 @ 11:40 AM


| | | |
| --- | --- | --- |
| | | |
MOTÖRHEAD
Bad Magic: Seriously Bad Magic
Silver Lining Music




With landmark anniversaries coming one right after the other for the classic works of MOTÖRHEAD – Overkill, Bomber, Ace Of Spaces, No Sleep 'Til Hammersmith, and Iron Fist having all hit the 40-year mark during the last three years – special edition rereleases of each album have coincided to celebrate the band's legacy and honor the "Three Amigos" lineup of Lemmy Kilmister, Fast Eddie Clarke and Philthy Animal Taylor who cranked out these classics during a remarkable run, but who were all dead before any of the celebrating really could commence.

The band's estate has been emptying the vaults, as it were, with these anniversary editions, festooning them with unreleased material, outtakes and demo versions from each album cycle and adding a ton of live material from the touring that followed, along with booklets, memorabilia and other trinkets and doodads, depending on which package one might desire. Logically, 1983's transitional and divisive Another Perfect Day would follow, if this practice was to continue, but instead MOTÖRHEAD's final album, 2015's Bad Magic, has jumped the queue.

While not as expansive as most of the prior reissues, Bad Magic: Seriously Bad Magic adds two unreleased tracks – "Bullet in Your Brain" and "Greedy Bastards" - from the album sessions to the original track list as well as the band's cover of David Bowie's "Heroes", originally issued on the 2017 Under Cover collection. These may well have been the last tunes MOTÖRHEAD ever recorded in a career that spanned 40 years, but which still seemed cut short given Lemmy's death just two weeks after the band's last show in Munich, Germany, in December 2015.

A bonus second disc - Live at Mt Fuji Rock Festival 2015 – Sayonara Folks! – presents, as the title implies, the band's final Japanese performance. Folks who want to pony up for the limited-edition boxset version will also get an exclusive Lemmy War, Love, Death and Injustice audio interview on 12-inch vinyl and an exclusive MOTÖRHEAD "MURDER ONE Ouija Board" should they want to attempt to commune with Lemmy in the great beyond.

Issued just four months before Lemmy's death, Bad Magic found MOTÖRHEAD as surly and raucous as ever. It didn't quite match the awesome power of 2013's Aftershock, arguably the band's best effort since 2004's Inferno, but it was ferocious, and certainly seemed more urgent – no surprise, given the frontman's mounting health issues. Indeed, there was an element of haste to the recording process as longtime producer Cameron Webb had the band record material live together for the first time in the 20-year "Three Amigos 2.0" era of Lemmy, guitarist Phil Campbell and drummer Mikkey Dee.

So there was a punk-like terseness and tenacity to Bad Magic, with only the chillingly biographical bluesy jaunt of "Till The End" cracking four minutes – if you discount the cover of THE ROLLING STONES' "Sympathy For The Devil". And while Lemmy did sound a bit frail and couldn't quite project with his usual authority – though he was at his full-throated best for the STONES cover - his delivery and intent were no less sharp or honest. This is especially true of the Seriously Bad Magic finale "Greedy Bastards", which follows the "Just 'Cos You've Got The Power" script and shows that Lemmy remained cantankerous yet astute, well, 'till the end.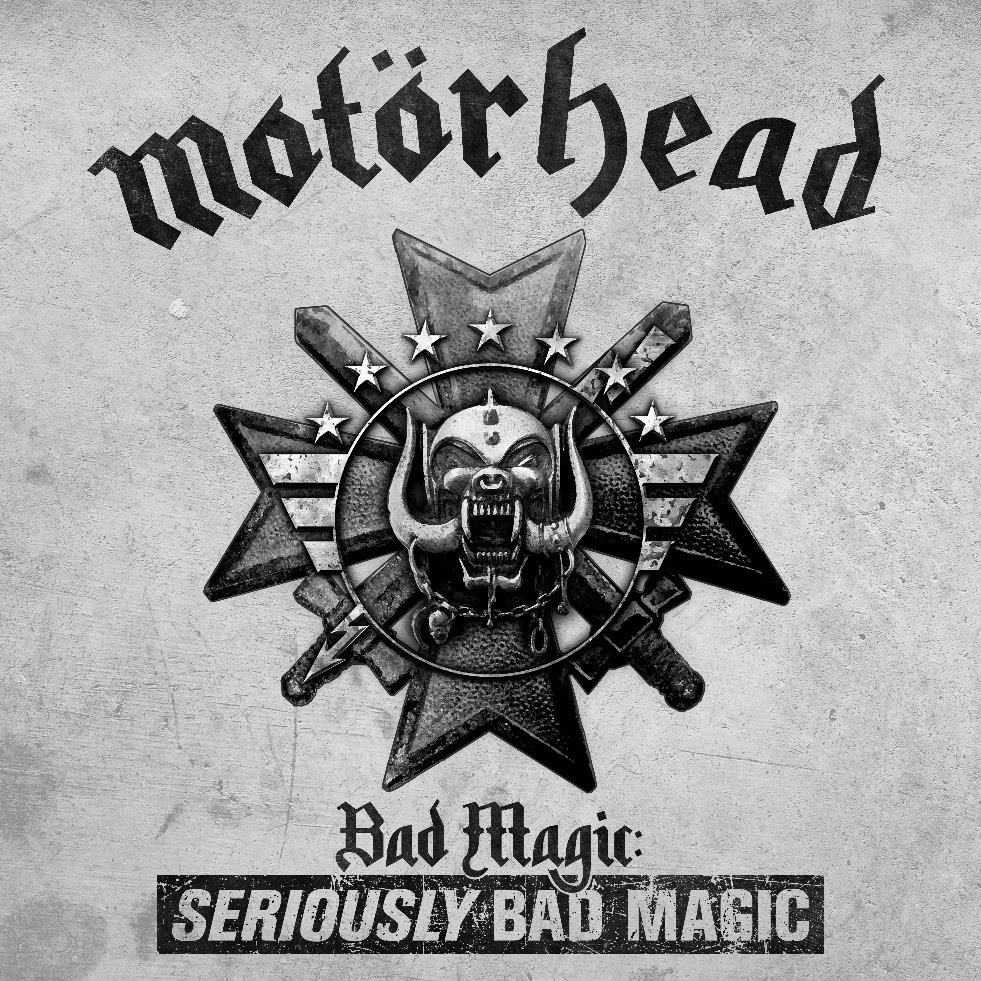 The bracing "Bullet In Your Brain", on the other hand, contrasts the "good old days" when warriors died with honor during the glory of battle instead of ending getting shot on the street. The cover of "Heroes" certainly packs more wallop than Bowie's original, but retains its triumphant wishful thinking spirit and authenticity.
One of the cool things about the previous MOTÖRHEAD special editions is all the extra live material – including the full set from which No Sleep 'Til Hammersmith was culled. The Live at Mt Fuji Rock Festival 2015 – Sayonara Folks! bonus disc here, though, hardly seems worth it – and really doesn't do the band any favors. The mix, for one thing, is awful, with Dee's kick drums overpowering everything. Campbell's usually biting riffs are mushy and often barely audible, save for the leads, and Lemmy's famously quaking bass comes and goes. Lemmy also sounds winded, and the timing is off with his vocals, even with the jammy filler included to give him a bit of a breather.
But the new bonus tracks do make a good album better– and then, of course, there's the Ouija board, if that's your thing. So there is plenty to like about the Seriously Bad Magic reissue – especially for fans who might have skipped the album on its initial release, perhaps fearing that MOTÖRHEAD might be going out with a whimper instead of a bang. And while they should have known better, here's a perfect chance to atone.
3.5 Out Of 5.0

Please log in to view RANTS