CHAOS AND CHARNAGE Tour Featuring SUICIDE SILENCE, DYING FETUS, BORN OF OSIRIS, ABORTED, CROWN MAGNETAR, SANGUISUGABOGG And SLAY SQUAD In Anaheim With Photos!


By Larry Petro, News Monkey
Friday, May 5, 2023 @ 9:36 AM


| | | |
| --- | --- | --- |
| | | Final Show Of Tour At The House Of Blues April 30th |
All Photos And Review By Thomas Delgado (@BatForceTom)
The Chaos and Carnage Tour 2023 ended it's 19 date run this year at the Anaheim, CA, House of Blues On 4/30/2023. A colossal 7 band package, fans were treated to an assortment of Brutal Death Metal, Deathcore, a sprinkle of Prog Metalcore, and a dash of "Ghetto Metal", a "new genre" per SLAY SQUAD vocalist Brahim Gousse. Rialto, CA's SLAY SQUAD opened the evening to the eager crowd with a combo of 808 drops, gutturals, and Hip Hop. Honestly, the kids ate it up. It had been a while since seeing an opening act so early in the day (4:30pm!) energize a crowd as much as they did. With performances lined up at this years Welcome to Rockville and Inkcarceration, this group seems to just be getting started.
CROWN MAGNETAR (Colorado Springs, CO) got the pits churning and the stage divers hurling with technicality and Deathcore brutality. Literally. Vocalist Dan Tucker placed a 28oz can of Busch's Baked Beans next to his monitor on stage and challenged the crowd to get passed security to be awarded with the sweet and savory prize.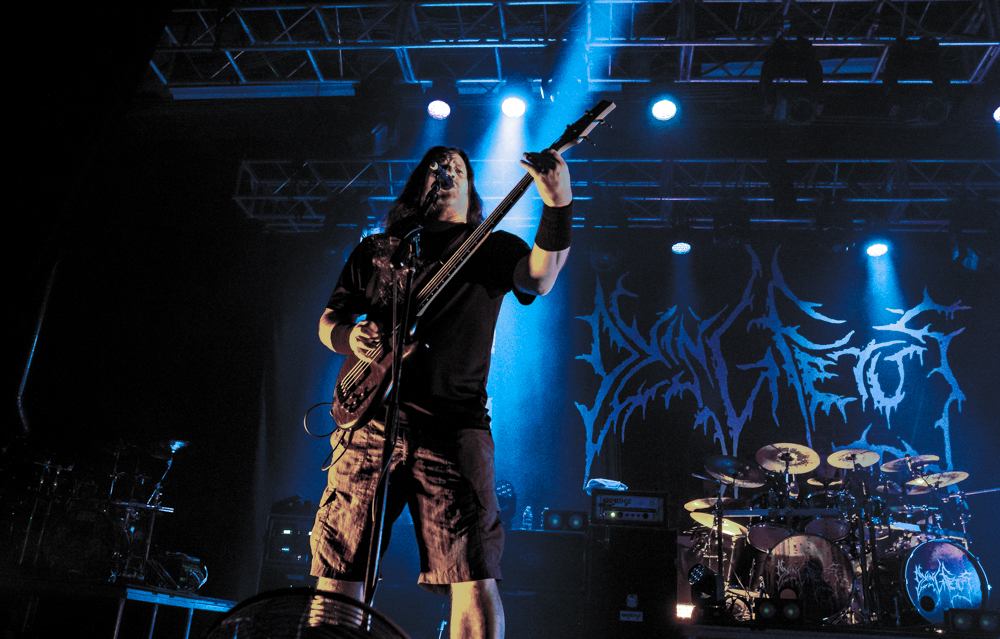 SANGUISUGABOGG (Columbus, OH) was up next, and my most anticipated act aside from the headliners. This band is all killer no filler. Flares of MORTICIAN, AUTOPSY, and Barnes-era CANNIBAL CORPSE, mixed perfectly with a modern edge. Crowd challenges seemed to be a theme for the evening as the 'Bogg boys threw a football into the crowd and stated the person left standing with it at the end of their set would be awarded at their merch booth.
The tour package was really tied together by ABORTED (Beveren, BE), veterans of the Brutal Death/Goregrind scene. As mentioned by vocalist Sven de Caluwe, ABORTED played their first show supporting DYING FETUS, went on their first tour supporting DYING FETUS, and has shared the stage countless times with DYING FETUS as part of Summer Slaughter, and now Chaos And Carnage. Needless to say, ABORTED have mastered their sound and presence. If you want consistent brutal gore filled slams and face crushing riffs, these are the guys to see.
Most out of place but still commanding and demanding praise from the crowd was BORN OF OSIRIS (Palatine, IL). This band has been going strong since the late 2000's and is one of the most successful and longstanding bands from the "Metalcore" scene. To their credit, they have evolved far beyond the genre of "Metalcore" as they have infused their sound with tech-heavy samples, keys, and orchestral backgrounds. Not the band I came to see, but this Anaheim crowd was eating out of the palm of their hand the entire set. These guys know how to do what they do well.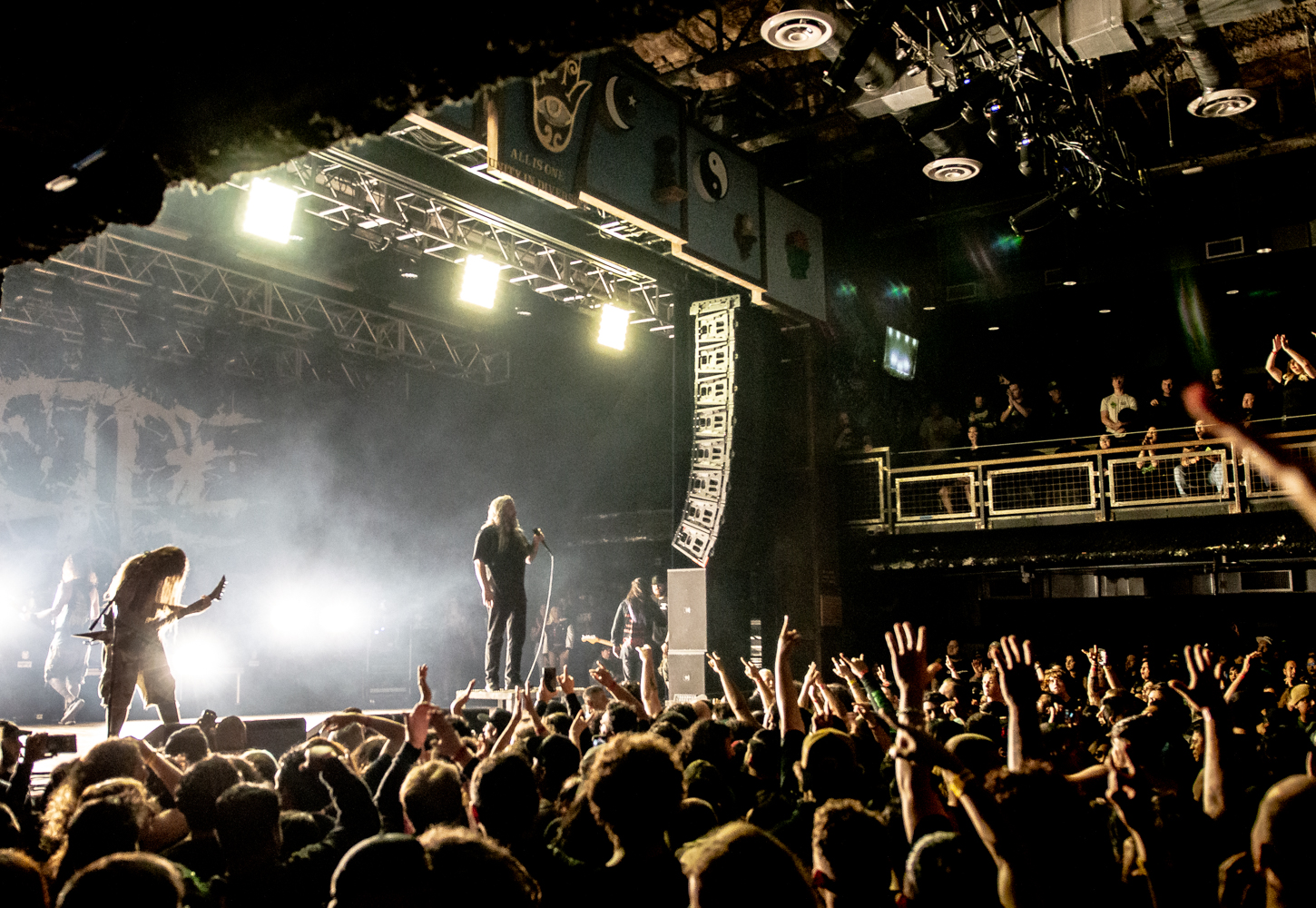 DYING FETUS (Upper Marlboro, MD). Just saying their name brings a smile to my face. DYING FETUS. Unapologetic brutality, slams, riffs, blergs, gutturals, and sweeps! If the lyrical content and the neck breaking brutal yet catchy grooves aren't enough, how about guitar AND bass sweep picking in unison??? Pure insanity to behold. The highlight of the evening was hearing every band on the bill shout their praises and pay homage to these legends. It has been well deserved.
Finally, to end the night, SUICIDE SILENCE. The road has not been easy for these Riverside, CA boys. It has been over 10 years now since original vocalist Mitch Lucker passed away tragically and unexpectedly. In those 10 years they have kept their energy and spirit going, always paying tribute to Lucker. This evening was extra special as they were joined onstage by the Lucker family to intro "You Only Live Once". Since giving themselves the title of "Kings of Deathcore" with the release of the 2011 album The Black Crown, the band has only proven their word. Unrelenting breakdowns and blast beats all set long. "Every CA date has been sold out on this tour, but this one takes the cake!" The crowd gave back as much as the band put out. All in all, there was a little something for everyone on this Chaos And Carnage package. I'm eager to see what this tour plans for next year.
Check out some more photos from the show!
All Photos By Thomas Delgado (@BatForceTom)

Please log in to view RANTS