BURNING WITCHES The Dark Tower


By Francisco Zamudio, Metal X Candy 2.0
Wednesday, May 10, 2023 @ 8:38 AM


| | | |
| --- | --- | --- |
| | | |
BURNING WITCHES
The Dark Tower
Napalm Records




Say it with me, THE NEW WAVE OF FEMME FATALE METAL is a new era with much respect and thanks to the likes of DORO and WARLOCK, Lita Ford, Angela (ex-ARCH ENEMY), VIXEN, THE RUNAWAYS - plus countless other female figures in Rock and Metal who kept it heavy and wrote brilliant songs. While mainstream Metal has become oversaturated with gawthy skinny-jean core, over-compensating theatrics and make-up, you have many fresh new and young bands keeping it real with intensity and organic music that simply echoes traditional true Heavy Metal. Pulsing and pounding drums, shredding guitar riffs and solos, and vocals that blow the ceilings off the tallest towers.

One band of the aforementioned genre that has also quickly earned my love and respect is BURNING WITCHES. The largely Swiss band and Dutch-fronted group has sharpened their swords with every album. May 5th marked the release of their 5th album and Napalm Records debut, The Dark Tower. Since their 2015 self-titled debut, you can immediately tell where their influences lie and where they would stand in their representation in this new era of music. If you needed a text book on what a Heavy Metal album should sound like, The Dark Tower has all you need. Dutch frontwoman Laura Guldemond's intensity in her vocals immediately shines on the opening track "Unleash The Beast" with the line "ANIMALS IN A CAGE!!", sending shivers down your spine. Her discipline and control has really developed a great deal since The Witch Of The North where I felt she over-sang a lot of parts, fitting in too many lyrics. More excessive then the previous, her debut, Dance With The Devil which was one of my favorite albums in 2020.

As the genre label applies, not only beautiful but equally deadly is their great song-writing. The Dark Tower is full of Power Metal groove, catchy riffs and lyrics that constantly keeps you head banging. Proof is the song "World On Fire", one of my favorite songs that gives me some "Judas Rising" (JUDAS PRIEST) vibe and I'm easily loving it. It's so comforting and very necessary to keep ballads alive and "Tomorrow" captures that classic nostalgia. I appreciate that BURNING WITCHES put in the energy to insist on including a ballad on every album ("Black Magic" from Dance With The Devil still gets me in the feels).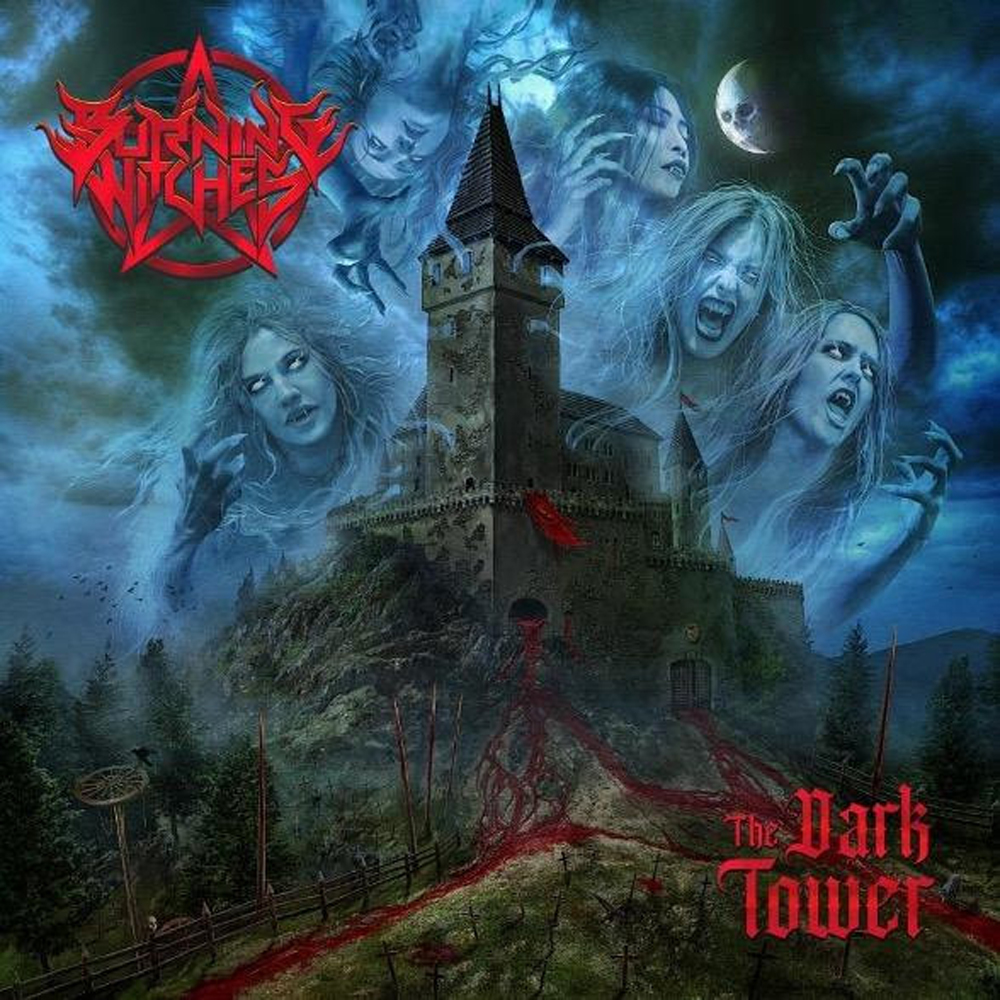 While the songs are fully focused, The Dark Tower is also complemented by great sound with the help of DESTRUCTION vocalist/bassist Schmier and V.O. Pulmer (who also has done work with DESTRUCTION). It is also worth noting that a new version of "Unleash The Beast" has been released. Where the previous featured guitarist Larissa Ernst, this new version features a friendly acquaintance of mine, Philadelphia-transplant/Los Angeles local Courtney Cox who is an absolute shredder. She recently joined the group (again, congrats Courtney) due to Larrisa going on maternity leave (also, congrats!). The new version of the song has Cox's amazing talent on display with face-melting solos giving it an extra kick in the pants.
The wraith of BURNING WITCHES strengthens them to be one of Metals best full-female bands for years to come. To understand the importance and definition of this movement, the empowerment and representation these women bring, whether you want to recognize "female-fronted" bands as a genre or not, Females in Rock and Metal is a definite category that demands and has done more than enough to earn respect of not only Metal music, but music as a whole. BURNING WITCHES and The Dark Tower is a reflection of this amazing stride in modern Metal that needs to be heard as THE NEW AGE OF FEMME FATALE METAL is here to stay… here to SLAY.
4.5 Out Of 5.0

Please log in to view RANTS