ALCATRAZZ
Take No Prisoners
Silver Lining Music
www.alcatrazzofficial.com




ALCATRAZZ may not have sold millions of albums or sold out large arenas back in the 80s, but as time rolled on they achieved cult status. Partially due to their brand of U.S. meets U.K. Hard Rock, but also due to the legendary members that have passed through over the years. Swedish guitar showman Yngwie Malmsteen was an early member. He was replaced by Steve Vai if you can believe it. Fabled Rock vocalist Graham Bonnet (RAINBOW, MSG) appeared on all but two ALCATRAZZ releases.

ALCATRAZZ has seen its share of stops and starts over the decades, but core members Jimmy Waldo and Gary Shea have been flying the flag for 40 years now. Guitar virtuoso Joe Stump joined the band around 2017 and became a major contributor in the songwriting and development of the band. Current vocalist Doogie White (RAINBOW, YNGWIE MALMSTEEN, SCHENKER) made his first appearance on their 2021 release V.

The sixth studio album by ALCATRAZZ, Take No Prisoners, is set for release on May 19, 2023. It features Waldo, Shea, Stump, White, and incoming drummer Larry Paterson (BLAZE BAYLEY).

The album's opening track "Little Viper" is quite possibly the heaviest song in the ALCATRAZZ catalog. Everyone is on fire here, from Paterson's monster drums working in cohesion with Gary Shea's bass, to guitarist Joe Stump's ear bending guitar licks accenting Doogie White's forceful and melodic vocals.

"Don't Get Mad…Get Even" is laced with the soft keys of Jimmy Waldo. Stump keeps the riffs simple, yet hard and effective. The group vocal chorus section is instantly memorable and will have live crowds joining in. Chugga-chugga riffage and multipart harmonies dominate "Battlelines". White tells the tale of an epic clash through his mighty pipes.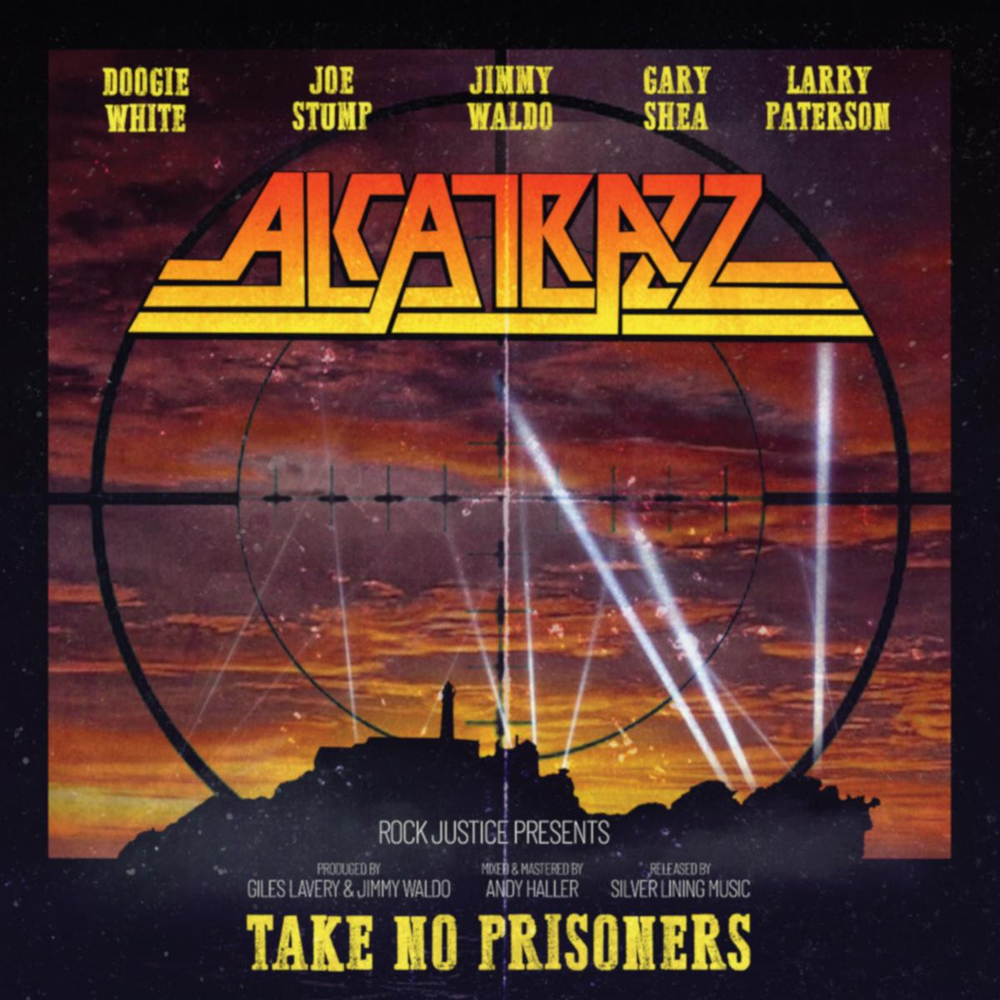 ALCATRAZZ slows things down on "Strangers" with clean picked guitars that give way to a bit of fuzz in the chorus. Stump lays down some solid neo-classical style guitar solos here. 40 years ago it seemed as if every Hard Rock and Metal band had a song they named after themselves. ALCATRAZZ must have realized they forgot to do that, so here comes "Alcatrazz" in 2023. I may have joked about the title, but the song is an absolute banger.
Paterson is back in the driver's seat for "Holy Roller (Love's Temple)". While his percussive work can't be ignored, neither can Waldo's classic 70s style Hammond organ tones. Waldo and Paterson also propell "Power In Numbers". The marching beat and pulsing ivories intensify White's already explosive melodies.
"Salute The Colours" goes deep lyrically, as White laments the dark side of war in contrast to the rituals that are employed to make it all seem noble. The album concludes with the same in-you-face fervor that it started with on the song "Bring On The Rawk".
ALCATRAZZ is tighter, heavier, and more laser-focused than they have ever been with their latest release Take No Prisoners. The band couldn't have come up with a more appropriate name for the album as everyone delivers intense and notable performances throughout. The addition of Doogie White on vocals has lit a fire under ALCATRAZZ that is not likely to burn out any time soon.
5.0 Out Of 5.0