MYSTIC PROPHECY Hellriot


By Alex Yarborough, Orlando Contributor
Monday, May 15, 2023 @ 9:56 AM


| | | |
| --- | --- | --- |
| | | |
MYSTIC PROPHECY
Hellriot
2023 Rock of Angels Records




I've been listening to MYSTIC PROPHECY since their first album, Vengeance, way back in 2001. That first lineup featured a relatively unknown guitarist named Gus G, (who eventually left to focus on his band FIREWIND after the third album, Never-Ending). What started out as a side project has turned into a reliable power metal institution over the past two decades. This band is stronger than ever, and set to release its 12th studio album, Hellriot on May 19th.

Hellriot picks up right where Metal Division (2020) left off by flying the flag for true heavy metal. MYSTIC PROPHECY is a band that understands a little fire and brimstone is needed to keep the power in power metal. Vocalist and leader R.D. Liapakis' breathy and powerful vocals once again take the center stage, as they rightfully should. This album leaps right from the speakers with lead guitarist Markus Pohl making his presence known immediately as well, by adding his swirling lead riffs in the title track "Hellriot" (video on KNAC.COM HERE). The rhythm section of Joey Roxx (bass) and Hanno Kerstan (drums) works well with rhythm guitarist Evan K to propel the song along and keep the song uptempo. "Hellriot" is a great opening track, and really sets the tone for the whole album. "Unholy Hell" keeps things nice and evil, while anthem "Demons of The Night" picks the pace up and features one of the catchier choruses on the album. The pummeling chant of "Metal Attack" features some cool shout along moments that should be fun in a live show. "Paranoia", while not the heaviest song here, definitely became a favorite on the album, as it is very appealing and full of hooks.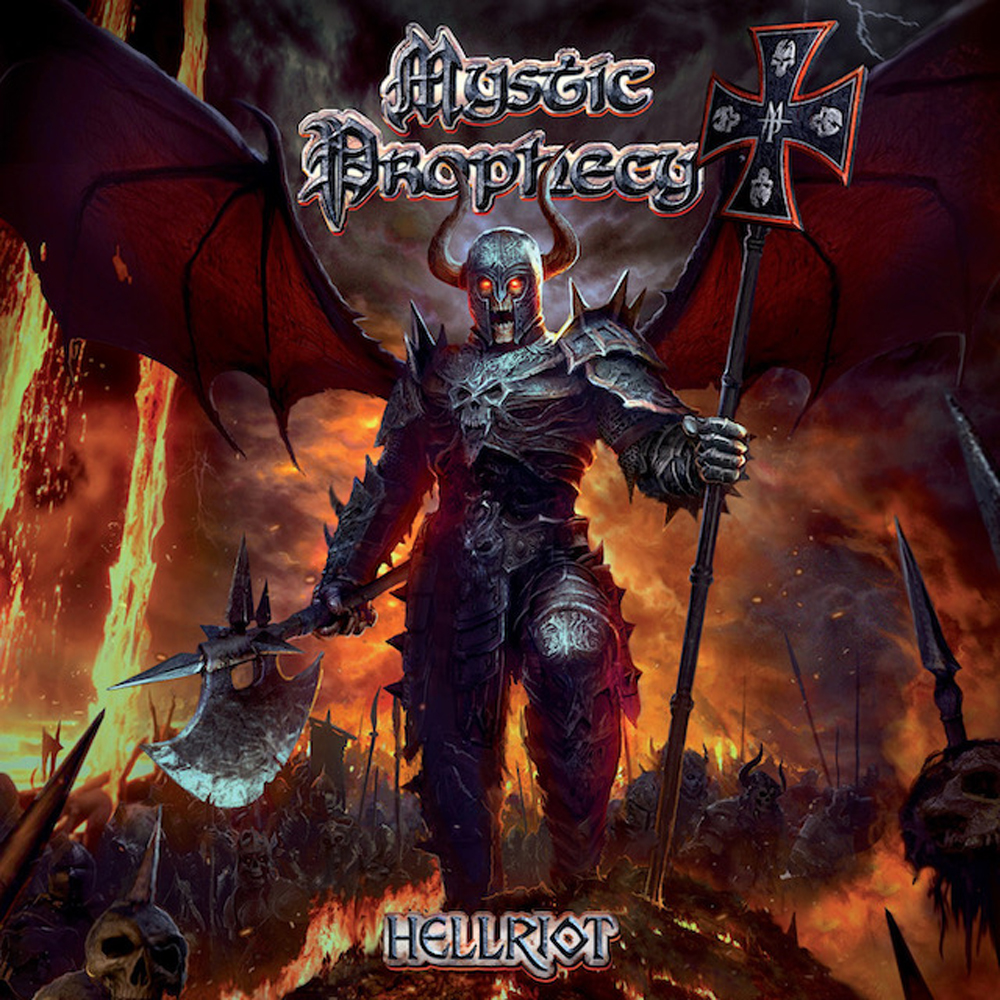 Skill and speed combine for the deft "Revenge And Fire", an irresistibly catchy track featuring over the top vocals and frenetic guitar leads. "Rising With The Storm" and "Road To Babylon" are both heavy rockers that should appeal to fans, "Azrael" (about the angel of death) starts out somber, but quickly picks up speed and finds Hanno playing double bass drums throughout the majority of the track. The album closes with a blast on the infectious "Cross The Line" and the prophetic "World On Fire", which features a killer guitar solo and some of Hanno's best drum fills.
All 11 of Hellriot's tracks operate in the three to four minute range, and the album clocks in around 42 minutes total. This album is a winner and something for MYSTIC PROPHECY to be proud of, and will contend for album of the year in power metal circles for sure. The album cover art was contributed by the always great Dusan Markovic. Hellriot is due out on May 19th through Rock of Angels Records, who is offering numerous vinyl collector color versions and a special boxset that are all available for pre-order HERE. Attackkkk!
4.8 Out Of 5.0

Please log in to view RANTS