TYGERS OF PAN TANG Bloodlines


By Rob McNees, Vinyl Aficionado
Monday, May 15, 2023 @ 9:58 AM


| | | |
| --- | --- | --- |
| | | |
TYGERS OF PAN TANG
Bloodlines
Mighty Music




Originally formed in 1978, NWoBHM titans TYGERS OF PAN TANG or ToPT for the rest of this review and been through many lineup changes in their illustrious career, but the ever revolving door has slowed a bit lately. Still helming the ship is guitarist and only OG member Robb Weir, with Craig Ellis on drums since 2000 and the voice, Jacopo Meille, since 2004. And that's no mean feat replacing one of my favorite NWoBHM singers in Jon Deverill who left for good in 1987 lemme tell you! The new guys are Francesco Marras on lead guitar since 2020, and Huw Holding on bass since 2021. Their latest slab of Metal is Bloodlines, which just dropped on May 5th.

Clocking in at just a smidge under 45 minutes, the album opens with "Edge Of The World" which has a middle-eastern flavor while still being a straight up banger. "In My Blood" is a mid-paced rocker with an ear worm chorus that you won't forget. "Fire On the Horizon" is a real uptempo asskicker that should have necks banging in maximum fury! I've always been a sucker for heavy so this is a definite fave on this album. In fact there's a lyric video for this, as well as album opener "Edge Of The World" go check 'em out if you haven't already! "Light of Hope" slows things down a bit but is still a metallic grinder with a solid groove that could actually see some radio airplay if the radio format didn't suck a huge fat chili dog these days. "Back For Good" is next and it's actually the track that was released as the Official video single which you can see on KNAC.COM HERE. It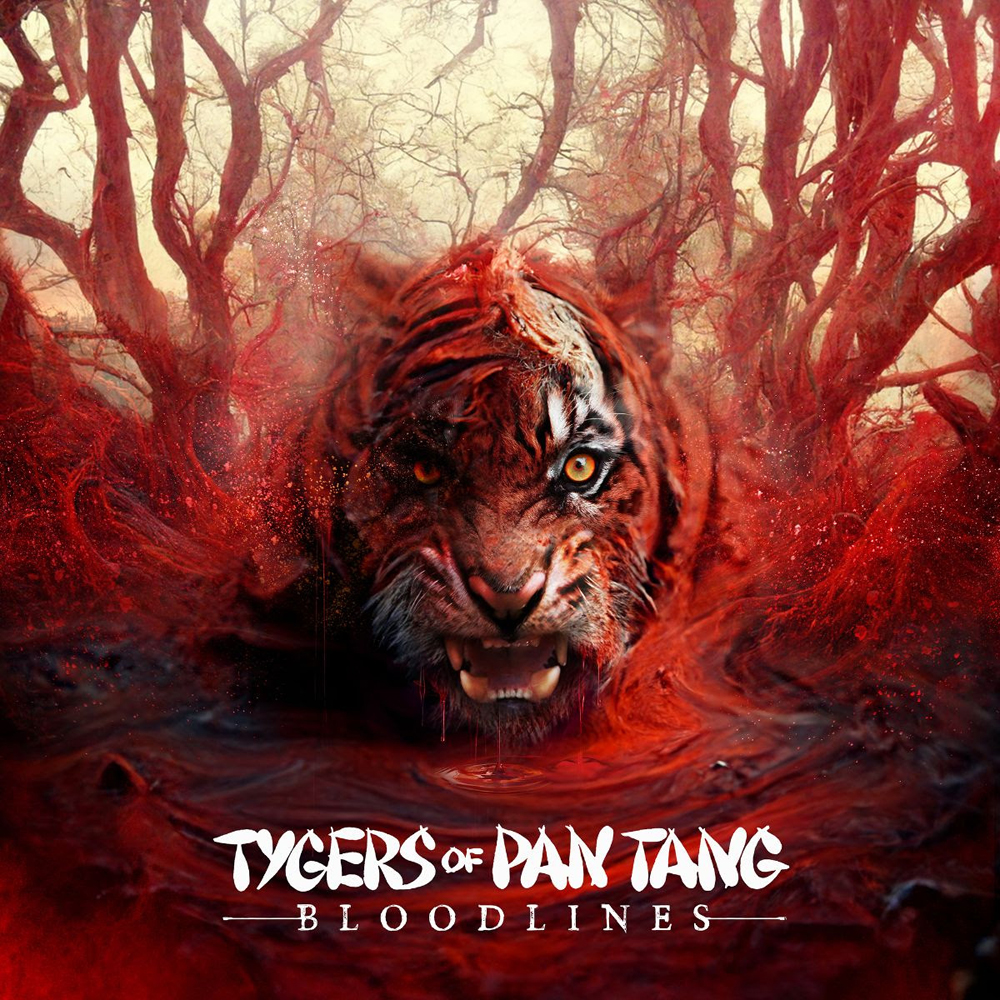 harkens back to the 80's when the hair nation ruled the musical universe, at least to these ears. Could be a live sing-a-long song to boot, so if that happens you read it here first! "Taste of Love" is a 80's-style power ballad. If you've longed for that in the 2000's then fret no longer, just grab your lighter and flick your Bic! "Kiss the Sky" gets back in the rocker category with a nasty little swagger and even a bit of cowbell! Some tasty guitar solos too! "Believe" is a mid-paced ditty that should have fists in the air. Believe! "A New Heartbeat" is more uptempo and has that distinct 80's flavour without sounding dated. Album closer "Making All the Rules" shifts down a few gears with its epicness and reminds me of the self-titled METALLICA album. One of the stronger cuts on the album and ends the album in fine fashion. Sonically pleasing too so don't be timid with that volume control! And great artwork that continues the TYGERS tradition.
A solid, diverse album by one of the NWoBHM mainstays, along with DIAMOND HEAD, SAXON, and of course IRON MAIDEN that still churn out new music to satisfy their legions of fans. If you are or have been a latter-era ToPT fan then I believe that something on this new album will be right up your alley.
And yes Vinyl junkies, there are supposedly 2 color variations of Bloodlines, so get out there and put that turntable to work!
3.8 Out of 5.0 Skulls

Please log in to view RANTS




AVATAR, ORBIT CULTURE, THE NATIVE HOWL In Houston, TX With Photos!

THE DEAD DAISIES In Hollywood, CA With Photos!

KILL DEVIL HILL Seas Of Oblivion

THE DEAD DAISIES In Ottawa, Canada

MAMMOTH WVH In Santa Ana, CA

UADA Crepuscule Natura

BARONESS Stone

KAMELOT, BATTLE BEAST, XANDRIA In Houston, TX With Photos!

CRYPTOPSY As Gomorrah Burns

RAY ALDER II

GHOST, AMON AMARTH In Houston, TX With Photos!

U.D.O. Touchdown

DETHKLOK Dethalbum IV

STEVE VAI In Ottawa, Canada

PANTERA, LAMB OF GOD In Houston, TX With Photos!

OVERKILL, EXHORDER, HEATHEN In Los Angeles With Photos!

PUPIL SLICER Blossom

TANITH Voyage

PRIMAL FEAR Code Red

ALL FOR METAL Legends

VELVET VIPER Nothing Compares To Metal

SIGNS OF THE SWARM Amongst The Low & Empty