All Photos By George Dionne/@rockisgeorge
The HOLLYWOOD VAMPIRES began as a social drinking club in the 1970s. High profile musicians Keith Moon (WHO) , John Lennon (BEATLES), Ringo Starr (BEATLES), Harry Nilsson, Micky Dolenz (MONKEES) and Alice Cooper have been cited amongst their ranks.
In 2012, Alice Cooper formed a supergroup to pay homage to the music of his fallen HOLLYWOOD VAMPIRES brethren. As the group grew in popularity, they began incorporating some of their own bands' music, as well as composing all original material.
At the core of the HOLLYWOOD VAMPIRES is Cooper, guitarist Joe Perry (AEROSMITH), actor/guitarist Johnny Depp, and guitarist TOMMY HENRIKSEN (ALICE COOPER). Joining them live is keyboardist Buck Johnson (AEROSMITH), bassist Chris Wyse (THE CULT), and drummer Glen Sobel (ALICE COOPER).
What was supposed to be a quick three night East Coast jaunt to kick off their UK & European tour, ended up being a rescheduled end of tour run. On July 28, 2023, the HOLLYWOOD VAMPIRES rolled into Boston, MA to perform at the Boch Center - Wang Theater.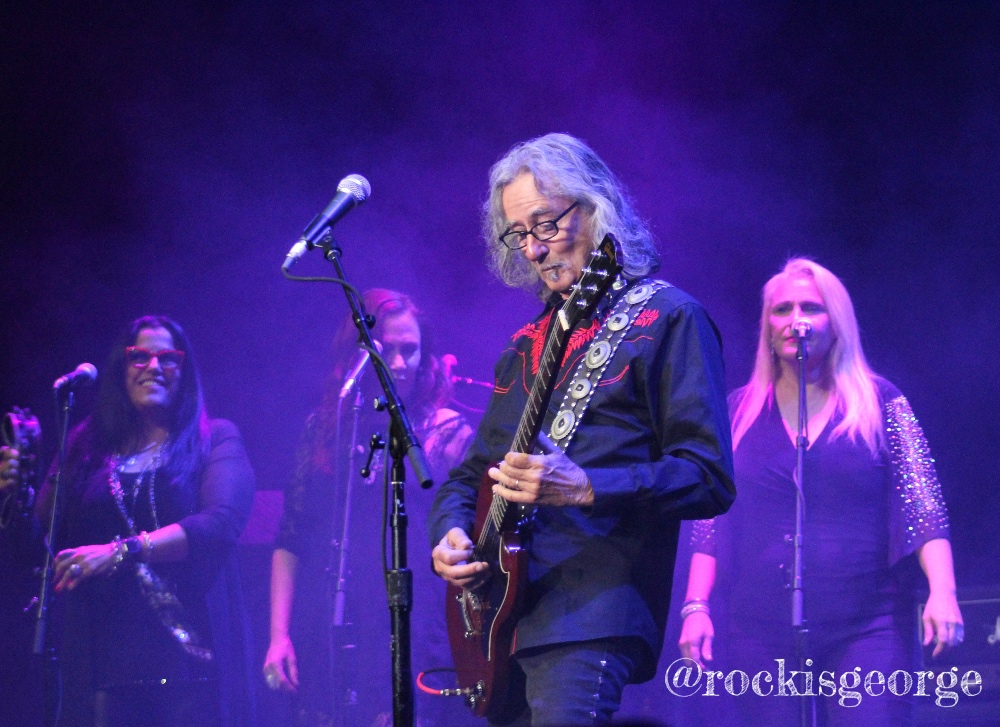 Opening up for the HOLLYWOOD VAMPIRES was BARRY GOUDREAU'S ENGINE ROOM, featuring ex-BOSTON and local music icon guitarist Barry Goudreau. ENGINE ROOM features musicians that have collaborated with Goudreau throughout the years; bassist Tim Archibald (RTZ), vocalist/keyboardist Brian Maes (ORION THE HUNTER), and drummer Tony DePietro (BRIAN MAES BAND).
I was not really a BOSTON fan, but their music is so ingrained into Rock and Roll history that you know their music when you hear it. Introduced by local businessman and musician Ernie Boch Jr. and ex-EXTREME drummer Paul Geary, BARRY GOUDREAU'S ENGINE ROOM played a great mix of BOSTON classics, original material, and even a song from ORION THE HUNTER. The band was tight and the vocal melodies between Maes and Goudreau were unmatched.
It's a bit awe-inspiring to see so much talent on one stage when the HOLLYWOOD VAMPIRES arrived. Alice Cooper has always been the consummate frontman. Even with the HOLLYWOOD VAMPIRES Cooper dons his trademark face paint. Joe Perry is instantly recognizable with his gray-streaked black hair and guitar playing mannerisms. Johnny Depp was very laid back and humble. It appeared Depp was intentionally trying to avoid any Rock 'n' Roll grandstanding. Tommy Henriksen can go lick for lick with Perry, and it makes sense that he's been with Alice Cooper's live band for so long.
Their covers heavy set was sprinkled with 6 original HOLLYWOOD VAMPIRES songs, "I Want My Now", "Raise The Dead", "The Boogie Man Surprise", "My Dead Drunk Friends", "Who's Laughing Now", and "As Bad As I Am". The HOLLYWOOD VAMPIRES keep their cover material fairly close to the originals, only pumping up the distortion and energy.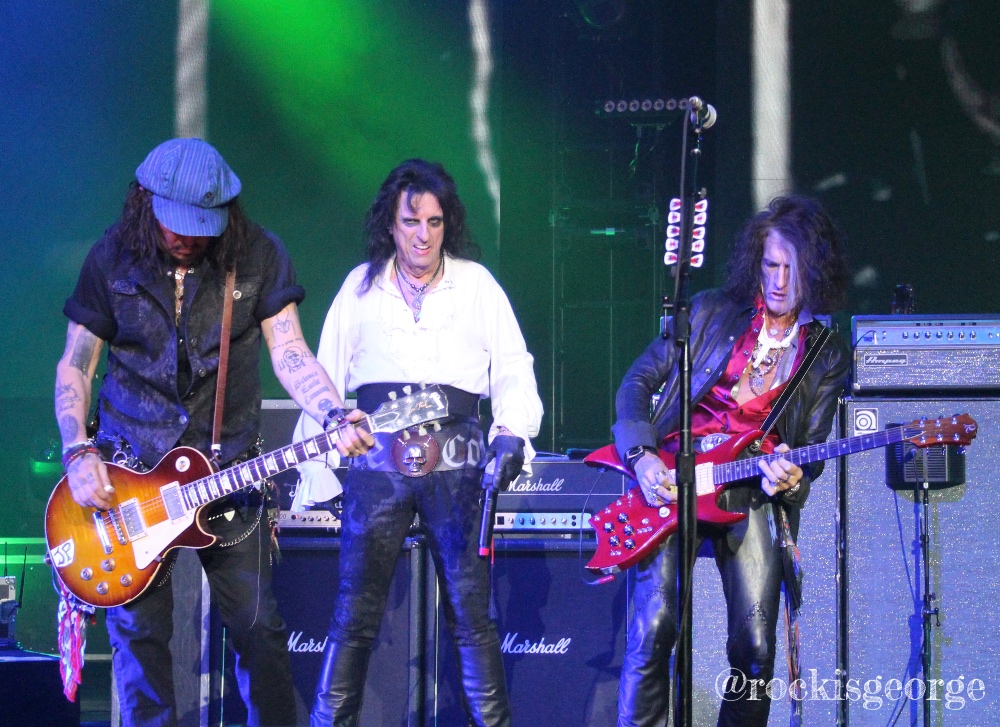 Alice Cooper channeled Jim Morrison on "Five To One"/"Break On Through (To The Other Side)", Roger Daltry on "Baba O'Riley" and Steven Tyler on "Walk This Way". Guitarist Johnny Depp sang a couple of songs as well, most notably "Heroes" by DAVID BOWIE. He also handled vocals for "People Who Died" (THE JIM CARROLL BAND), in which a video played on the screens showing all the great musicians we've lost over the years. It was a sad, but fulfilling moment.
Depp is okay as a vocalist. He's more of a crooner like FRANK SINATRA in the sense that his vocals are just above talking, but it did not take away from the enjoyment of the songs. The highlight of the night involving Depp was his tribute to his recently departed friend JEFF BECK. Joe Perry backed up Johnny in an instrumental jam session in which Perry played one of Beck's iconic guitars.
The HOLLYWOOD VAMPIRES ended the night much the same way Alice Cooper ends his shows, with the pomp and circumstance of "School's Out". There were some theatrics throughout the night, but not on the level of an Alice Cooper solo show. The HOLLYWOOD VAMPIRES are a must see event for sure, it's just a shame their shows in the U.S. are limited to just three.
Check out some more photos from the show!
All Photos By George Dionne/@rockisgeorge