TANITH Voyage

By Rob McNees, Vinyl Aficionado
Monday, August 14, 2023 @ 11:43 AM

| | | |
| --- | --- | --- |
| | | |
TANITH
Voyage
Metal Blade Records




In the olden days of Rock & Roll, you concentrated all your energies on YOUR band, doing whatever you could do, along with the labels help (sometimes) to make your band a household name. Tour, release an album, tour that album, write a new album, release and tour that one etc, etc. One could say it was a grind, but that's what you did to make it. But as time went on, some guys would quit their bands because they wanted to do something different, (unless their band was experimental enough to risk alienating their fanbase), or the label themselves would force them to write music that fit the fad of the day (shitty hair rock for one example). But in today's world of Rock & Metal, guys (and gals) have various bands, side gigs, and collaborations to satisfy their need to spread their wings and fly in different directions. Take the NWoBHM Legends SATAN for example. Lead Singer Brian Ross still sings for one of his earlier bands BLITZKRIEG (yes, the same band that METALLICA covered) and also has his own ALICE COOPER Tribute. Guitarist Steve Ramsey and bassist Graeme English have SKYCLAD (once featuring SABBAT UK singer Martin Walkyier), drummer Sean Taylor also plays for NWoBHM stalwarts WARRIOR (the Newcastle version). That just leaves guitarist Russ Tippins. And he's quite the busy lad himself, with THE RUSS TIPPINS ELECTRIC BAND and TANITH, the glorious Hard Rock band.

TANITH was formed in 2017 and features the aforementioned Mr. Tippins on guitar & vocals, along with Keith Robinson on drums, and last but certainly not least, wee lass Miss Cindy Maynard on bass and co-lead vocals. Naturally TANITH sounds nothing like SATAN, which naturally is the whole point of this exercise. They first tested the waters with a digital single in 2017, which became a full-blown 7" single in Feb. 2018, "Citadel" before dropping their first full length in 2019, In Another Time. Rave reviews followed, and when enough quality music (and time) came together, here in 2023 they've unleashed their newest opus, Voyage. Recorded in NYC, Voyage is just that, a continuation of the journey started back in 2017. Album opener (and first video as well) "Snow Tiger" comes out of the gate, and the sound is crisp & clear. The fact that it was recorded on a 24-track analog tape might have something to do with that. Both Cindy and Russ share vocals and harmonizing vocals and they have melodic voices that complement each other very well. I hear some Uli Jon Roth led SCORPIONS a bit in this tune, and that's a wonderful thing. Up tempo yet complex, a great opener indeed. "Falling Wizard" starts off with a tasty 70's sounding riff and settles into a nice Hard Rock pocket. The co-vocals fit so well together on this one.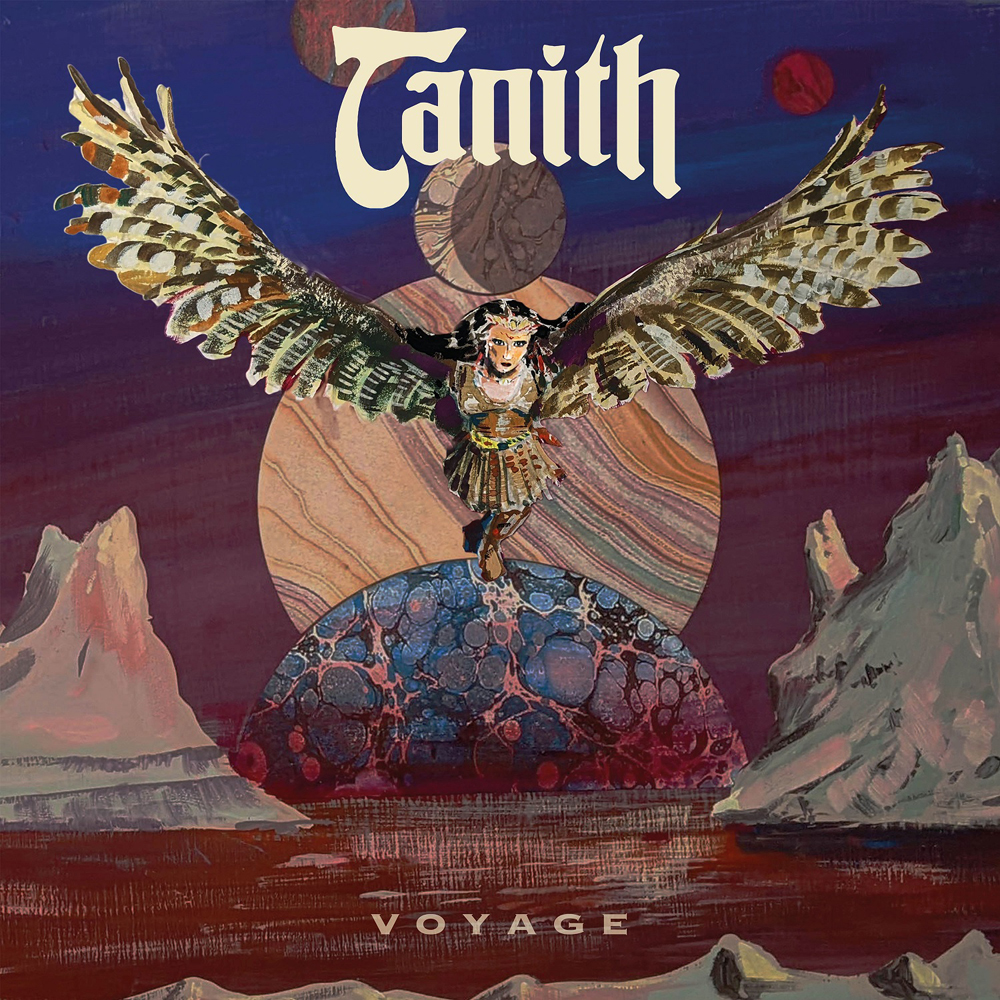 "Olympus By Dawn" rolls in and it sounds so authentically 70's it's mind-blowing. And I think that's one of the major pluses of this band, lest you think I'm slagging them off. There's also a video for this track to check out. "Architects Of Time" comes marching with a military type beat before shifting down into a slow burner. And it must be said that Russ possesses a solid voice, which when he harmonizes with Cindy, it sounds brilliant. The song shifts gears and becomes a great banger midway through and really finishes with a bang. "Adrasteia" actually sounds like it could be a SATAN track as it has that intricate picking that helps make their sound. Uptempo, with those harmonizing vocals that make it sound like only TANITH does however. A splendid track. "Mother of Exile" is a toe-tapper of a track that showcases the band perfectly, with that crystal clear sound giving everyone room to breathe. Outstanding! "Seven Moons (Galantia Pt. 2)" continues the story from Citadel, that being "Citadel (Galantia Pt. 1)" and "Wing Of the Owl (Galantia Pt. 3)" and to these ears has that unreal 70's RUSH vibe that some people dream about, put could never musically pull off. I'll be watching (and listening) to see if this story continues. "Flame" musically started out and brought a little APRIL WINE to mind, while most assuredly sounding like TANITH. Some acoustic guitars are there to add texture as well. And a little Flanger solo to boot. Brilliant. This is also the 3rd video that the band released for your viewing pleasure. "Never Look Back" ends the album off in fine style as an uptempo rocker with everything you love about TANITH, unreal musicianship, great vocals and harmonies and songs that aren't just cut & paste. Complex music yet somehow soothing.
I can say without hesitation that I think 90% of Rock fans will love this band if you give them a chance. Not bash your head in heavy, but yet not sappy, wimpy and lame either. TANITH somehow has a way to appeal to everyone (save for the satanic black metal idiots). Definitely a band to continue to watch and I'm excited to see them further expand on this sound in the future!
And yes Broomhilda, there is Vinyl. Some of the variants might be sold out by now, but there's something out there for you, so get crackin'!!
4.7 Out Of 5.0 Skulls