Photos By Andrew Depedro With Contributions By Jean-Pierre Proulx
10 years, seven studio albums, three lead singers and Christ only knows how many stickers Doug Aldrich amassed spanning two continents...the end of the summer season brought forth one of the few supergroups that live up to the name back at the Brass Monkey along with some of the finest blossoming homegrown talent taking (ahem) root.
The first band to leave their indelible mark on the stage that night after the gap between their soundcheck and the cue for their actual performance had been so small that they hadn't noticed would be local rockers SPIT. If the name isn't all that familiar to local rock/metal fans despite the band's formation in 2002, their lead guitarist Scott Wark should be, having been the frontman/guitarist for long-missed local heavy shredders JOE THRASHER - known particularly for their anthemic banger "Cries Of War" which KNAC.COM has played on occasion - prior to SPIT's own near-similar timeline. Regardless, Scott plays with such focused and seasoned perfection that he makes every band he's in sound like well-established veterans regardless of how long they've been musically inactive. Indeed, him, along with bassist Chris Carr, second guitarist Gary Houlahan, drummer Elder Silva and guitarist/frontman Trueman Yuill, play a solid style of modern hard rock compatible to CANDLEBOX that's firmly established their legacy; they even had a full-length studio album out titled Arms Of Life which made up the night's setlist.
Their set, overall, while somewhat abbreviated due to scheduling, did yield a decent performance and some class cuts such as "What It Is", "Away", "Help Me", "The Wave" and the title track becoming quick faves for both fans and curious onlookers that night and already prompting talks of a comeback and even re-issuing their studio debut. Maybe a possible tour package with GOB and SALIVA is in the planning stages as well? It's otherwise the perfect climate for SPIT to officially get back into the system, moistly speaking.
SPIT Facebook Page
SPIT Bandcamp Page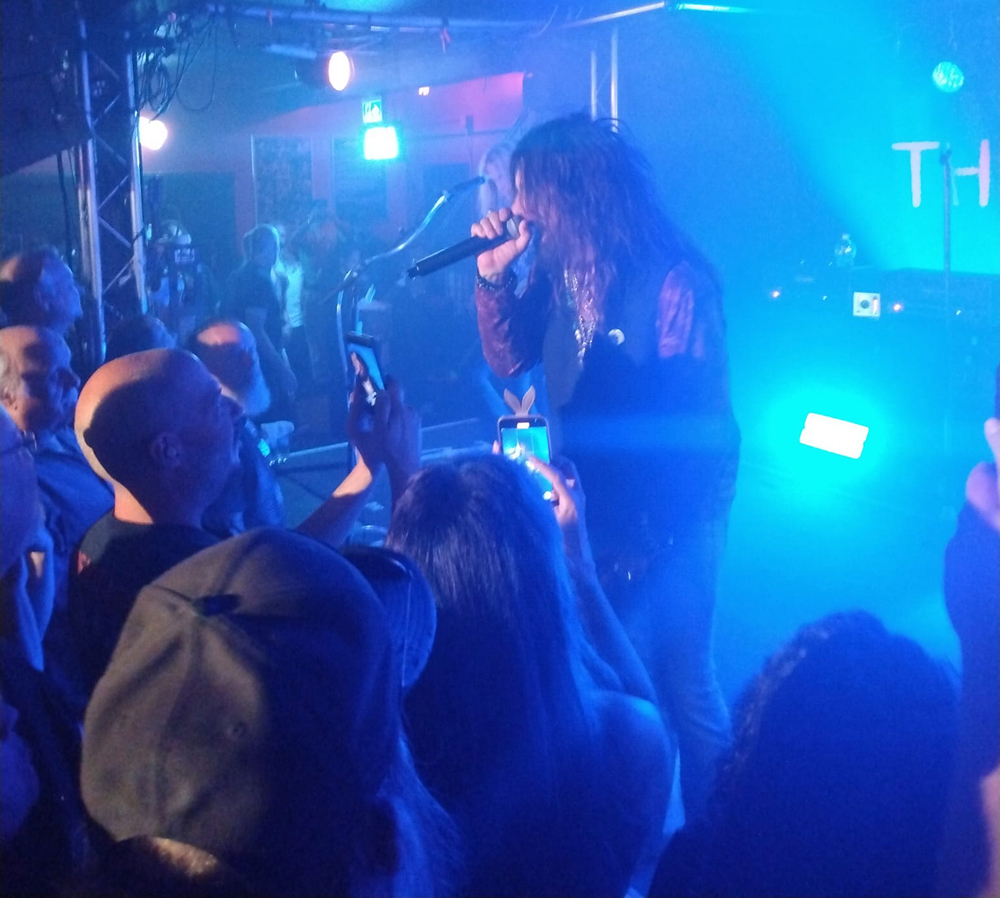 If bands named after projected bodily fluids might not be to one's preference at this show, there was definitely the surprise appearance of the more colorfully-named SUNDAY RIOT CLUB. The surprise was probably moreso that with their shaggy-haired guitarist/frontman bearing a similar striking resemblance to John Corabi, there was definitely a good number of us who thought that he was his son. But as the band have been a routine fixture on the local music scene for the past six years and their frontman's name is Jay Philips, that's the closest to six degrees of separation between the two, excluding this bill.
Proclaiming to be Canada's answer to bands like DIRTY HONEY, GRETA VAN FLEET and THE LA MAYBE, the rambunctious trio, also comprised of drummer Gethyn Hatch and bassist Alexandre Maheux, made good use of the otherwise tightly-packed stage as they played as much of their debut EP Graffiti as they could, along with a couple of neat covers such as "Born To Be Wild" and the Archer-approved "Danger Zone". And judging by the song titles such as "Risky Business", "Where The Wild Things Are", "Gone In Sixty Seconds" and "Midnight Rider", SRC are also probably the first band to include Blockbuster Video as a musical influence alongside the likes of GNR, KISS and THE CULT. Still, the trio were kind enough to musically rewind back to the 70's and 80's with their brand of swaggering classic hard rock vibe, with Philips even flexing his best Hendrix workout solo on "Rambling Moon Child". Its base firmly entrenched in O-town while its vibe and energy harkening to Tinseltown, SUNDAY RIOT CLUB showed that they are the perfect soundtrack music for every occasion - even any given Sunday, or Thursday in this case.
https://www.sundayriotclub.com/
https://www.facebook.com/sundayriotclub/
https://www.instagram.com/sundayriotclub/
With much respect to their colleagues who'd previously graced the stage before them, co-headliners HARM & EASE from Burlington, Ontario, covet the award for having the best band name of the evening. They're also fairly proficient in hiding under the radar so to speak as few nationally-known bands that have played the Brass Monkey for the first time don't immediately have four studio albums - including their recent (actually, 2022) release titled Camino Loco - and a Juno Award nomination to their credit like this quartet have. Even their history has quite the interesting story to tell. Initially formed in 2010 as an acoustic duo by high school friends Danny Lopez (who'd immigrated to Canada from Colombia with his family as a child) and Rylan Whalen, the band, with the gradual addition of drummer Alex Hamnett and New York-raised bassist John Goodblood, actually got their start in Argentina where Lopez' family had relocated after he'd completed high school. Though Whelan and Lopez' own musical influences were forged mostly in emo, punk and metalcore, their long and arduous journey through the more blues/classic rock-aligned music scene in Buenos Aires heavily influenced and honed their sound completely.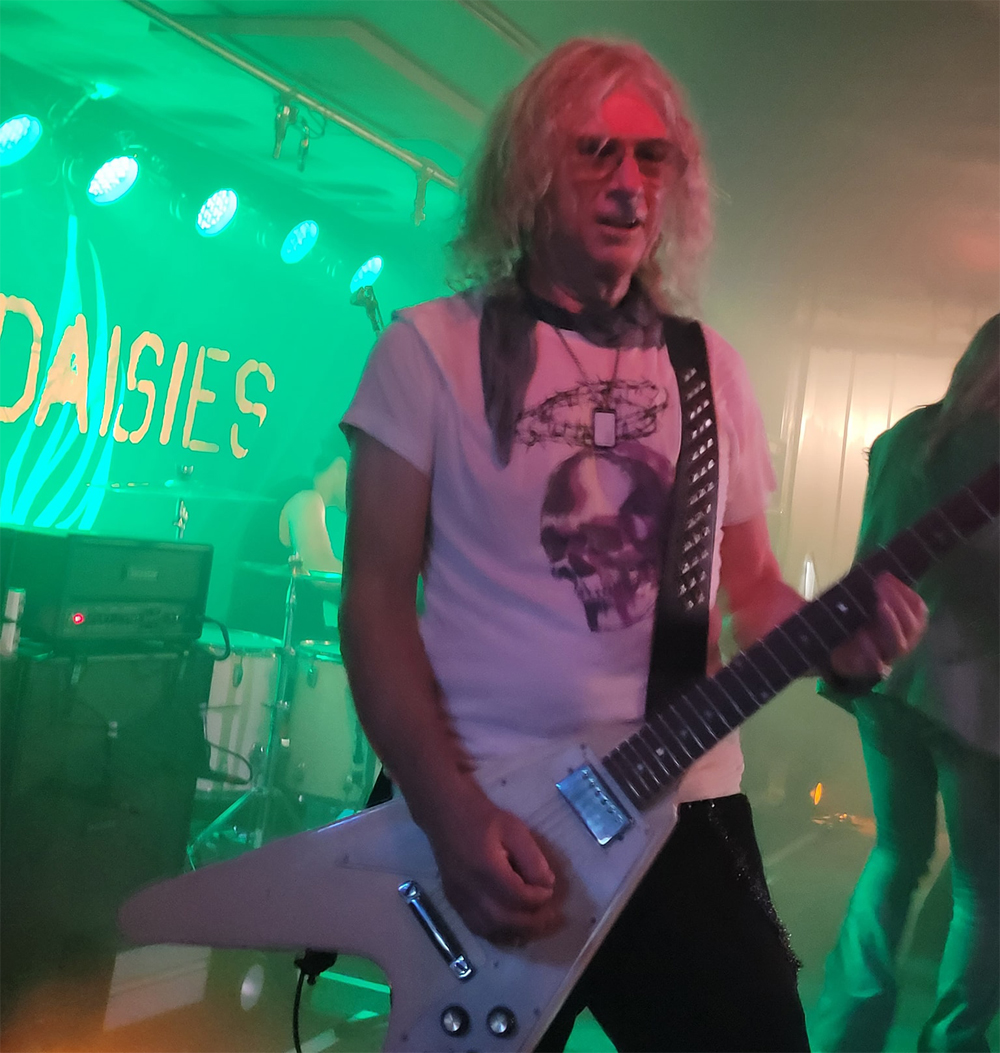 Less SILVERSTEIN and more SAVOY BROWN was the order as H&E's sound flourished and bonded the two genres into one, and 13 years and four studio albums later, this otherwise modestly-hidden band with outrageous hairdos is attracting the entire floor to push and shove to the front with their opening number titled...er, "Push & Shove". The nearly 6-foot-tall Rylan may appear like he wants to call for a sick circle pit in the middle of a heavy breakdown but when coupled with Danny's soulful blues licks and John's groovy bass gallops on tracks such as "Living In The Moment", "Thinkin' 'Bout Love" and "Lemonade", he unveils his best 70's boogie rock vocals instead. It's about midway during the appropriately-titled "I Can Do Anything" when Danny's blues playing becomes near full-on shredding for a good part of the set before he partially reverts back to bluesy jam band mode at the climax during "Cut Me Loose" and "Steady Roll" and John also decides to join him on guitar - more specifically, the same guitar Danny's already playing as he's providing the chords while his bandmate does all of the strumming. Indeed, if Andean blues-core ever becomes more than just a fledgling niche genre in Canada and beyond, HARM & EASE will be its best global ambassadors in every sense of the term.
http://harmandease.com/
https://www.facebook.com/HarmAndEase/
https://www.instagram.com/Harmandease/
When I'd last seen THE DEAD DAISIES about 5 years ago, the burgeoning supergroup had played an impromptu acoustic set at local musical instrument store Long & McQuade before they'd played their scheduled set at the Brass Monkey later on that same day. There was lots of cycling and sticker exchanges made on that day but also a lot of music as well - new songs, old songs, covers, etc. And the band were already semi-established with four studio albums (and even halfway through writing their fifth while on the road) to their credit with a star-studded lineup of John Corabi, David Lowy, Doug Aldrich, Deen Castronovo and Marco Mendoza at the time. Between then and the night of their Brass Monkey show, the band had since put out three more studio albums while going through a significant lineup change, with Glenn Hughes taking over for Corabi's vocal duties before Corabi returned back to the fold. And all of this frequent lineup changing happened during that global pandemic which would've fallen most other bands twice or three times their age.
So, can you really fault the band for embarking on a comeback tour under the Resurrected banner to promote their upcoming greatest hits compilation celebrating their decade-long career?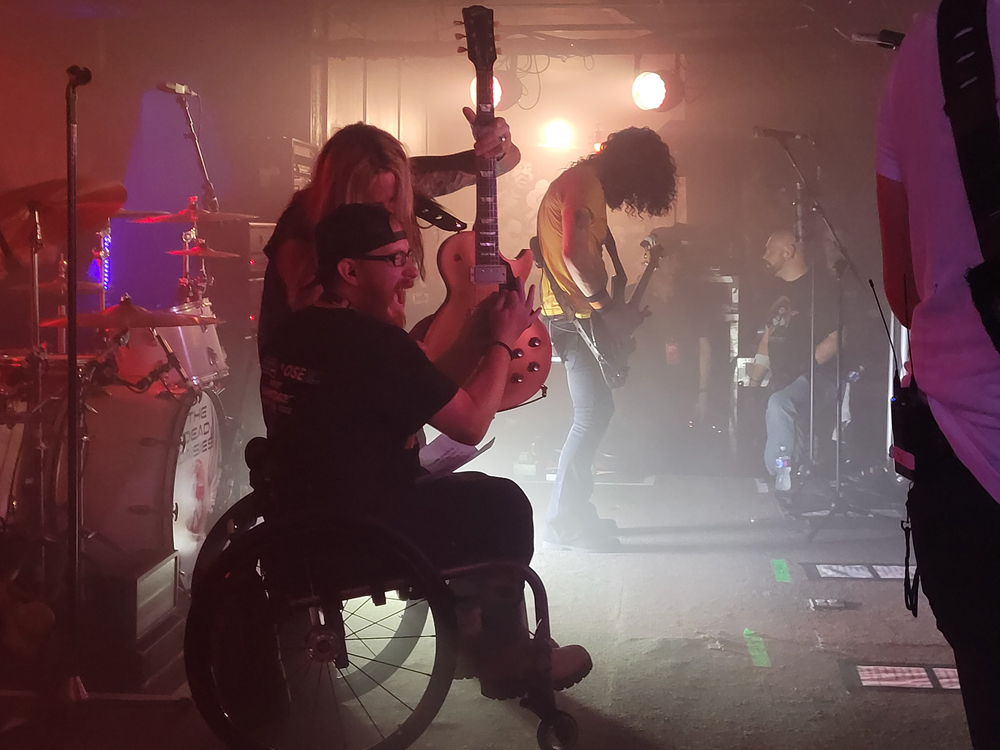 In any case, the new lineup of the DEAD DAISIES certainly sounded like the rebirth of a band once they'd opened their set with - obviously - "Resurrected" and with a few new additions to their lineup: Brian Tichy back on drums and former WHITESNAKE bassist Michael Devin. Sticking with the theme of rebirth as they followed up with "Rise Up" and "Dead And Gone", the quintet covered every facet and period of their history throughout the night. They'd even included a couple of numbers from the Glenn Hughes era such as "Unspoken" and "Bustle & Flow" out of courtesy as well as some rarely-performed numbers such as "Face I Love" and "Something I Said". Their covers repertoire also included a surprise rendition of WHITESNAKE's "Slide It In", which had been born out of a spontaneous jam session by both former members and found its way into their current setlist. And to further solidify their reputationas being one of hard rock's most consummate crowd pleasers, they'd even invited a wheelchair-bound concertgoer up to the stage after John Corabi noticed him amongst the audience and encouraged the crowd to carry him up to the stage where he guested on "Midnight Moses".
After a decade of cultivating budding new audiences and further growing their base crop at the roots, THE DEAD DAISIES can confidentially boast about their revival while keeping themselves well planted. This show and tour was definitely part of their ongoing flower powervibe as they continue to put the petal to the metal and beyond.
With special thanks to Skotti and the Brass Monkey staff for landing this show and to Kyle Humphreys - the aforementioned concertgoer who got to share the stage briefly with THE DEAD DAISIES - for saving the setlist afterwards.
https://thedeaddaisies.com/
https://www.facebook.com/TheDeadDaisies
https://twitter.com/TheDeadDaisies
https://www.instagram.com/thedeaddaisies/
Setlist:
"Resurrected"
"Rise Up"
"Dead And Gone"
"Make Some Noise"
"Face I Love"
"Unspoken"
"Bustle & Flow"
"Something I Said"
"Lock 'N Load"
"Born To Fly"/Band introductions
"With You And I"
"Fortunate Son" (CREEDENCE CLEARWATER REVIVAL cover)
"Mexico"
"Midnight Moses"
"Long Way To Go"
"Slide It In" (WHITESNAKE cover)