TOMORROW'S OUTLOOK are set to release their new album Black Waves later this year, on their own record label, Sorvik Rock Music.

The 10-track follow-up to 2018's A Voice Unheard is mixed and mastered by Sascha Paeth (Avantasia/Masters Of Ceremony) and includes the first single, "Wait for the Sun", the official music video for which can be seen on KNAC.COM HERE.

The concept behind the video:

After her execution by decapitation, the soul of the murderess Anna awakens aboard Draugen's boat confused and with no memory of her ill deeds. Draugen is a mythical creature from northern Norwegian tradition, the spirit of a drowned fisherman come to warn of death - or cause it. Eternally they sail in perpetual night, always waiting for the sun. He takes her to the place of her execution where for a brief moment she finds hope in the beginning light of morning, only to have that hope torn away as the memories come flooding back. She returns to the boat to remain in the darkness of the spirit realm forever.

Black Waves is a concept album based on real events from the coastal region surrounding the Gressholman peninsula, stretching from 1748 to the early 1900s. We hear the deeply shocking story of a brutal double murder which shook a small community, and also about a once vital and important trading post which met its ultimate end in a fire centuries later. The stories are mostly told through the eyes of the people involved, whose stories are guided by the superstitions, fears, and beliefs native to the northern part of Norway.

TOMORROW'S OUTLOOK is based in northern Norway and is one of the most hardworking and aspiring bands in their region.

The band uses the term Arctic heavy metal to describe its music, which is heavily influenced by their homeland both in its somewhat gloomy sound and lyrical themes.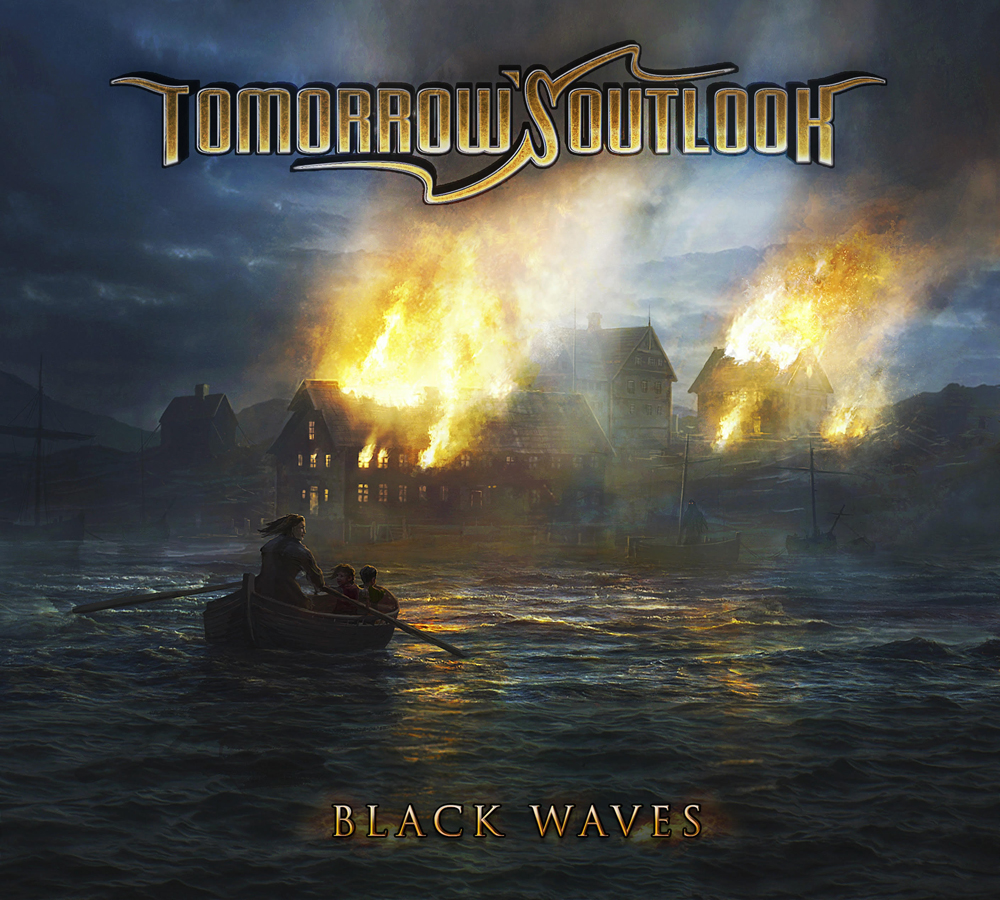 After 15 years as a studio project, core members and songwriting partners Trond Nicolaisen, Andreas Stenseth and Oystein Kvile Hanssen decided to take it to the next level and form an actual band. They completed the lineup with singer Tony Johannessen (THUNDERBOLT), drummer Owe Lingvall (NOCTURNAL RITES) and guitarist Valentino Francavilla (WHITE SKULL).
Black Waves track listing:
"Eventide"
"Oceans of Sadness"
"Black Hearts And Roses In Snow"
"Black Waves"
"Silver Ghost"
"Wait For The Sun"
"Lament of The Damned"
"When Falls The Axe"
"The Monument"
"The Calm" (Aria cover)
Owe Lingvall (Dreamday Media) and Konstantin Smirnov (Frogtown) were in charge of capturing the atmosphere of the video single. The storyline was shot at Gressholman by Andreas Ursin Hellebust. All concepts by TOMORROW'S OUTLOOK.

Additionally, Rado Javor, who created previous works for the band, including 2018's A Voice Unheard, provided the record's magnificent artwork.