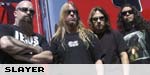 "Marilyn Manson puts on a great show and his fans are very loyal as our fans are. Like Slayer, Manson has had his share of controversy, and like Slayer, he's never backed down from that. And also like Slayer, Manson is outspoken and has taken a lot of grief for being that way. While there are similarities between us, there are differences too, and we think that the combination of those factors will make for a very interesting, possibly surprising, but definitely very entertaining show for both Manson fans and Slayer fans." -- Tom Araya, Slayer

Press release:

Since rock 'n' roll's inception in the 1950's, it's always been blamed for the ills of society-and no one knows that better than Slayer or Marilyn Manson. From suicides to school shootings, both acts have continually been unfairly categorized as scapegoats by media pundits and politicians simply because they can't understand these artists-or, maybe better yet, because they're afraid of them. Well, if people were scared before, now they have reason to be petrified.

This summer, Slayer and Marilyn Manson will co-headline a 25-city North American tour, which will feature both acts with elaborate stage set-ups playing full sets. "Usually we just come out and play, but this time around we're really going to give the fans a show," explains Slayer's bassist/vocalist, Tom Araya. "Our set is going to span our entire career, but we're definitely going to squeeze in some new songs that we haven't performed live yet."

Fresh off winning their first-ever Grammy for their tenth full-length studio album, "Christ Illusion, Slayer couldn't have more momentum going into the tour. "The other guys will tell you it didn't mean anything to them, but it did to me," Araya explains about the band's award for Best Metal Performance for the track "Eyes Of The Insane." "We're fans of the music we create and if we don't like it, we know the kids aren't going to like it either," Araya continues when asked what has kept Slayer relevant while so many of their peers have disbanded, or worse yet, become parodies of themselves.

"I think people like what they know," adds guitarist Kerry King. "The perfect comparison for Slayer's role in metal is what AC/DC did with rock; they made the same record for 30 years, but just changed the flavor." While musical trends have come and gone, for the past 26 years Slayer have continued to stay true to their thrash roots and loudly defied the music industry's standards. In fact at, at this point Slayer-which also features guitarist Jeff Hanneman and drummer Dave Lombardo-aren't just a band, they're an institution.

When bands like Green Day and the Offspring suddenly became ubiquitous in the late-'90s the band released Undisputed Attitude, a collection of hardcore punk covers from acts like Minor Threat and Black Flag-and now that inoffensive pop music rules the charts, in typical Slayer-fashion the band countered with Christ Illusion, a blistering critique of the current administration set to the tune of impossibly heavy riffs, frantic drums and guitar solos that pummel the listener in carefully constructed blasts of noise. In other words, it's just business as usual for Slayer.

"I remember when I was a kid and one of the biggest metal bands at the time came out with a new album - I remember this because I was genuinely offended that they would put that album out," King explains when asked what he thinks has kept Slayer not only relevant but revelatory for the past twenty years. "That band got sidetracked by commercial music and tried to cash in on it," he continues. "Look at me, even now I'm still marred by it," he adds with a laugh. "I don't want to do that to our fans ever."

It's not just lip service, it's the mantra that has helped make Slayer the most popular thrash/metal band of all time. Face it: in a world as seemingly screwed-up and uncertain as the one we currently live in, we need a band like Slayer more than ever. If you're a closed-minded critic you can take solace in the band's unrelenting consistency-and if you're a fan, be prepared to see one of Slayer's most impressive performances of their storied career when they join forces with Marilyn Manson this summer.

Tour dates for the Slayer/Marilyn Manson co-headline tour are as follows:
7/25 Sound Advice Amphitheatre, West Palm Beach, FL
7/27 Ford Amphitheatre, Tampa, FL
7/28 Hi Fi Buys Amphitheatre, Atlanta, GA
7/30 Merriweather Post Pavilion, Columbia, MD
7/31 TWCA Tower City, Cleveland, OH
8/2 Tweeter Center, Philadelphia, PA
8/4 DCU Center, Worcester, MA
8/5 PNC, Holmdel, NJ
8/7 Centre de Foire, Quebec, QC CANADA
8/8 Bell Centre, Montreal, QC CANADA
8/10 Molson Amphitheatre, Toronto, ON CANADA
8/11 DTE Music Theatre, Detroit, MI
8/13 Allstate, Chicago, IL
8/14 Xcel, Minneapolis, MN
8/16 TBA
8/18 Coors Amphitheatre, Denver, CO
8/21 Sleep Train Amphitheatre, Sacramento, CA
8/23 Sleep Train Pavilion, Concord, CA
8/24 Verizon Wireless Amphitheatre @ Irvine, Los Angeles, CA
8/25 San Diego Sports Arena, San Diego, CA
8/27 Cricket Pavilion, Phoenix, AZ
8/28 Journal Pavilion, Albuquerque, NM
8/30 Nokia Theatre, Dallas, TX
8/31 Reliant Arena
9/1 Verizon Wireless Amphitheatre, San Antonio, TX




Please log in to view RANTS

If you don't have a username, click here to create an account!






Represent! Get Your KNAC.COM Bumper Sticker

Happenings This Week on KNAC.COM

LORDS OF THE TRIDENT Premiere 360 Degree VR Video "Zero Hour"

SAXON Unleash New Video For Track "Predator"

MEMPHIS MAY FIRE Announce New Album Broken

BYZANTINE Launches New Video For "The Cicada Tree"

ARCHER NATION Readies New Album Beneath The Dream

WARKINGS Release First Glorious Single, Video "Gladiator"

DECIBEL METAL & BEER FEST: LA Announces PRE-FEST With ARMORED SAINT, NIGHT DEMON, PERSEKUTOR And UADA

WRATH Streams New Track "Draw Blood" From The New Album Rage

DEVILSKIN Release "ENDO" Video With Important Message

KISS Announces The "End Of The Road" Final Tour

MADBALL Release Music Video For "Freight Train"

ICARUS WITCH Return With Goodbye Cruel World Album

TRIBULATION Release "Nightbound" Video

VIRGIN STEELE Will Release With Seven Devils Moonshine Special 5 CD Boxset For Their 35th Anniversary

KNAC-FM DJ THRASHPIE Release Head Bangin' Radio Book

DREAM CHILD Drop "Midnight Song" Video

WITHIN TEMPTATION Announce New Album Resist

BMG To Reissue DIO's Classic 1996 - 2004 Studio Albums

DEE SNIDER Is "American Made" With New Video

STEEL PANTHER Announce More "SUNSET STRIP LIVE!" Tour Dates

IMPELLITTERI Unleash "Run For Your Life" Video

THE POWER OF THE RIFF Makes Its Return To Los Angeles In November

GRAVE DIGGER Stream New Track "The Power Of Metal"

VOIVOD Release "Inconspiracy" Video, 7 Inch EP

CASTLE Unveils New Song "Can't Escape The Evil"

MEGADETH Bassist DAVID ELLEFSON Announces East Coast "BASSTORY" Dates

FIVE FINGER DEATH PUNCH Premiere "When The Seasons Change" Video

UNLEASH THE ARCHERS Stream Track "Ten Thousand Against One"

LACUNA COIL Release "Blood, Tears, Dust" Clip From The 119 Show - Live In London

ARCHITECTS Return With Holy Hell Album

STEELHEART Set To Release Rock'n Milan Live Album, DVD

'A BOWIE CELEBRATION' Announces 32-Date North American Winter Tour

BLACKTOP MOJO Reveal PledgeMusic Campaign To Fund Upcoming Album

POP EVIL Announces 2018 Canadian Headline Tour Dates

SODOM To Release New EP Partisan In November

CIRITH UNGOL Releases First New Track Since 1991 With "Witch's Game"

STRATOVARIUS To Release Enigma: Intermission 2

ENUFF Z'NUFF Release Video For Title Track of New Album Diamond Boy

ALCATRAZZ Reveal Parole Denied-Tokyo 2017 Live LP

SEPTICFLESH Announce Show With Live Orchestra

HELIX To Release A Helix Christmas Album

SUPERSUCKERS Debut "History Of Rock N' Roll" Video

LOUDER THAN LIFE Daily Music Schedule Announced

STEVE VAI Reveals First Round Of Guests Performing At "The Big Mama-Jama Jamathon"

FIFTH ANGEL Unleash 'Can You Hear Me' Lyric Video

GHOST Announces 2019 European Headline Dates

WITHERFALL Release "Ode to Despair" Single/Video

AUDIOTOPSY Reveal Grooving New Track "What Am I?"

KROKUS To Call It A Day With "Adios Amigos Tour"

Former MUSHROOMHEAD Frontman, Co-Founder JEFFREY NOTHING Returns With New Single

METAL ALLEGIANCE Unleash New Beer Visualizer Video For "The Accuser"

FOZZY Announces Full Canadian Tour

SEVENTH WONDER Debut New Song "The Everones"

MADAM X Release 'Monstrocity' Music Video

GRETA VAN FLEET Announces Its Debut Full-Length Album, Anthem of The Peaceful Army

YOB Premiere "Original Face" Video

RIVER CITY ROCKFEST Announces Band Performance Times

BEHEMOTH Launches Video For "Wolves Ov Siberia"

RED FANG Announce Late 2018 West Coast Tour Dates

AFTERSHOCK, LOUDER THAN LIFE Festivals Announce VINNIE PAUL ALL-STAR TRIBUTES

OBSCURA Announce Winter 2019 Headlining Tour Dates

OZZY OSBOURNE Partners With OMAZE To Offer Fans An Epic Concert Experience

HOLTER Set To Release Vlad The Impaler Album

KAMELOT Premiere Video For "MindFall Remedy"

VICIOUS RUMORS Kick Off the "Digital Dictator 30th Anniversary Tour" With SOLD OUT Show In Santa Rosa

SEVEN KINGDOMS Announce North American Headline Tour

ANTHRAX To Celebrate The 30th Anniversary Of State Of Euphoria With Special Edition

STRYPER Guitarist OZ FOX To Resume Touring After Medical Scare

GWAR Takes Over DC's Rick And Morty-Themed Pop-Up Bar

FLOTSAM AND JETSAM Announce New Album, 2019 "Tour Of Chaos"

THE VEER UNION Launch "Living Not Alive" Video

KINGDOM COME Confirms Addditonal Tour Dates For Band's 30-Year Anniversary Tour

SUNFLOWER DEAD Release "Victim" Video

SOULFLY Stream Title Track To New Album Ritual

OPETH Start Pre-Order For "Ghost Of Perdition (Live)" On 10" Vinyl