Gnarly Charlie's Exclusive Interview with Steve Harris, Nicko McBrain, and Adrian Smith of Iron Maiden


By Charlie Steffens aka Gnarly Charlie, Writer/Photographer
Thursday, March 6, 2008 @ 10:50 PM


| | | |
| --- | --- | --- |
| | | "I know it sounds big-headed to say that we're global, but we really do have a fantastic fan base all around the world." |
With the DVD release of Live After Death and the current "Somewhere Back in Time" world tour, Iron Maiden is celebrating the start of another banner year.

And what better way to commemorate KNAC.COM's 10-Year Anniversary than to bring the party and live webcast to The Forum. Up the Irons!

The "World Slavery Tour" of '84 and '85 was an outing of back to back shows, a tour in which the band had very few nights off. The exhaustion the band felt after completing all 193 shows was more of the mental kind than physical, as drummer Nicko McBrain recalls. Although the members of Iron Maiden had always regarded their band as being a touring machine since inception, the overload nearly split the band.

When I sat down to talk to bassist/lyricist Steve Harris, guitarist Adrian Smith, and drummer Nicko McBrain they all admitted that even with their comparatively luxurious accommodations (compared to earlier tours), being on the road can be wearing.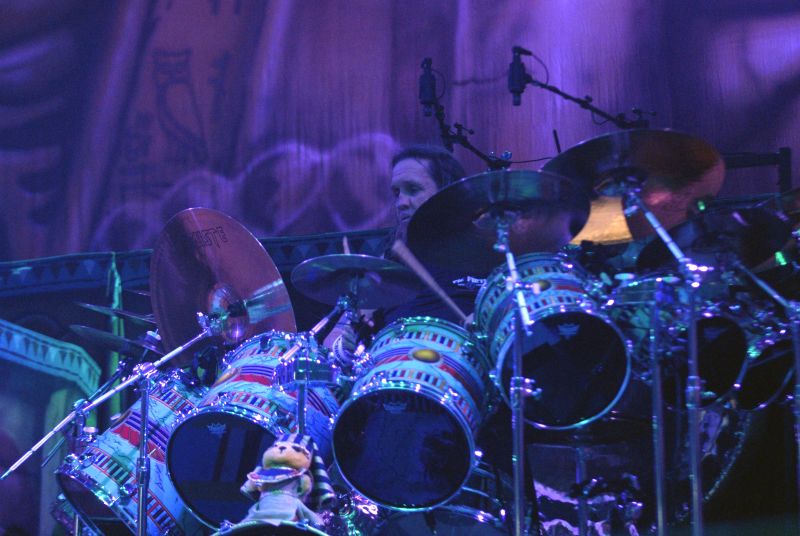 "The Powerslave, it was a long tour," says McBrain. "It was over 13 months long, which nearly was the death of the band, to be honest, only from the number of the shows we played; four in a row, three in a row, four in a row, day off, three in a row, day off, four in a row, day off, two in a row, day off. It was relentless. I think we toured America for like, five months. In those days, it was you'd go to play where anyone would have you, because we were breaking the band."
"It was kind of a back up of years before that of solid album, tour, album, tour," adds Harris of the experience. "Coming off one tour and having a week off and going straight into writing the next album and rehearse, and then going straight out into the next world tour. And we did that for the first four or five albums. It was pretty crazy, so by that time, after the Powerslave Tour, we were all burned out. We had to say to management, 'Look, we want time off.' And everybody was pretty fried after that. It just affected people in different ways. It was tough, but at that time we were invincible young lads and we were totally up for doing the tour. But, by the end of the tour we were fried. Five or six nights a week for 30 months, two hours a night, full on. Physically we were fit at the end of it—but mentally very unfit," the bassist confesses candidly.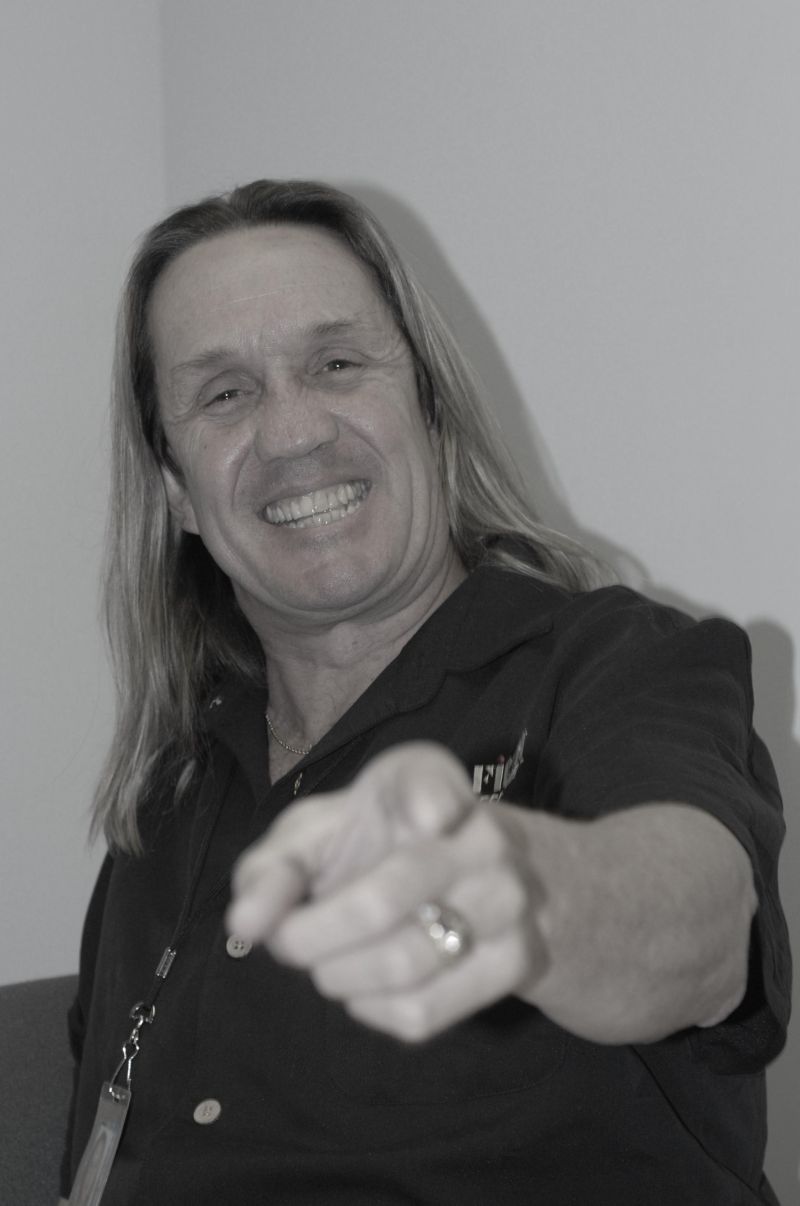 "The kind of touring Maiden did during that period of time, not to mention the kind of breakneck schedule they still take on today, would affect their singer's voice adversely. Harris recounts this fact of his bandmate, friend, and trusted pilot of the band. "Bruce was so fried he couldn't even write anything, really. Anything coherent, anyway (laughs), for the next album. Without a doubt, he was the one affected the most. When you're singing…I can't imagine what it's like singing the way he does every night. It's just incredibly taxing on him. It's a lot to ask of someone. He's got fantastic pipes, but to go out and ask him to do that every night for six nights a week for two hours a night for 13 months is a lot to ask of anybody, really. And I don't think he realized before he went out on the tour—none of us did--what it was going to do to us, because we probably wouldn't have done it (laughs). We probably would have said 'Okay, let's have a month break in the middle of it or something,' and it probably would have recharged our batteries and we would have carried on fine. But to go months like that is just crazy, really. But you think you got to do these things to find out."
A "real live" account of Iron Maiden playing Long Beach Arena was recorded and the stunning visuals of the very heavy metal theatrical experience were captured on 35mm film. With a little help from digitalization and Kevin "Caveman" Shirley, the new and improved Live After Death has recently been released in DVD format. Until now, many fans had only heard the recording, but the immortalized Death is now available to be seen. "I can't believe it was 20 odd years ago. It's just unbelievable," exclaims guitarist Adrian Smith, who seems ecstatic to be kicking the dust off of some of the songs that are on this year's "Somewhere Back in Time" tour's set list. When we got together to start rehearsing for the tour and we hadn't to played the songs in a while…it's like riding a bike. Those songs are so imprinted on your brain; we played them so many times it wasn't a problem. They all came back. We virtually were running through the set within a couple of days," Smith says. "It's been great fun to play those songs again."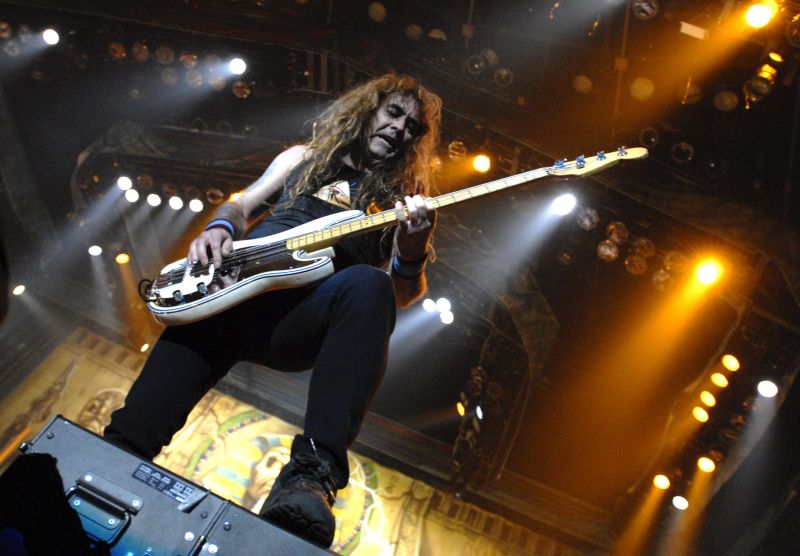 "As to why the Iron Maiden fan base continues to broaden, Smith explains:
"As people may or may not know, I had a time out in the band for about eight or nine years. And when I came back into the band—I think it was '99 or 2000, I noticed there was this new set of fans. Young kids coming to the shows. That's the first thing I noticed when I got onstage was these young kids up front, because I was expecting people of that generation who grew up with us really, basically our age. I know, having kids myself, they're really into the artwork, the whole Eddie thing. That draws them in—the really young kids—and then they get into the music. There are probably a lot of fans, a lot of older fans that are looking for something a little more alternative, something that's got more melody, guitar solos, more traditional—big, bombastic, like a big rock show kind of thing. And not many bands are doing that, only the older bands, and there's not really too many of them around, doing what we do."
In an unprecedented mode of rock and roll touring, the band is being flown, along with the road crew, management, and nearly the entire stage production in a 757 jet, which is sometimes flown by Bruce Dickinson.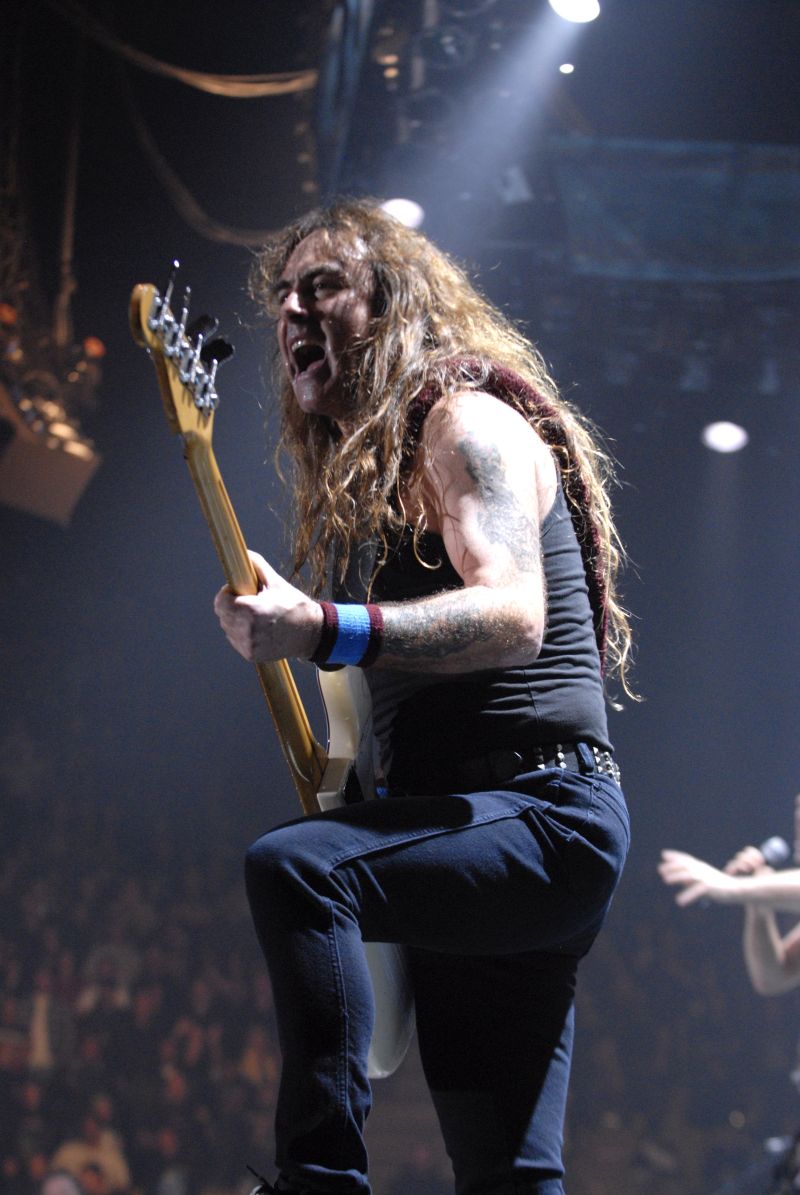 "Nicko McBrain reveals how this came about. "Bruce came up with this idea of doing it with the 757 because his airline company that he works for in England had a spare plane. This is a phenomenal boundary. There are two things I've seen that's happened for us: one is with the plane. Nobody's done this—taken their full stage out—background gear, drapes, all the mummies, all the Eddies, and what have you. And with a member of the band up front. So a lot of thought went into reconfiguring it to accommodate the band, the road crew, and the equipment, plus all the luggage. And that was a big headache, but they got around it, and then Rod [Smallwood] went 'Alright, how are we going to plan this tour?' So we had a map of the world, 'Go here, go here, go here, go here. This is the best way on the bodies.' Believe me, we were only nine gigs into this and I felt like I'd been on the road for a year. My frickin hands are torn to pieces—they're working me on this tour. I'm making me money on this tour. It's all very glamorous on the outside, but when you sit in an airplane for a 14-hour flight, which is broken up with a fuel stop, which is nice because it breaks the journey in half. It's quite an ordeal. So actually the thing to do is just drink on the plane (laughs) because you definitely got a free beer going up there in a plane (laughs). With Bruce, we got three other pilots on the plane. That is frickin nuts. Our first gig was the first of February. We did India, Australia, and Japan. Tonight's our 10th show. We did six gigs down in Australia, which were absolutely phenomenal. The India show was a little rusty. To get gelled together, normally it takes us three gigs, which is what happened. As soon as we hit the first night in Melbourne, I was surprised. We were on fire. We've always been a tight act. It's historic. We've broken barriers. This is a great opportunity for other bands to follow what we've done. They too can go and get their plane customized. All the blueprints are in place." Smith adds, "We got sixty of us on there, obviously the six of us, management and the road crew in the back, drinking the plane dry (laughs)."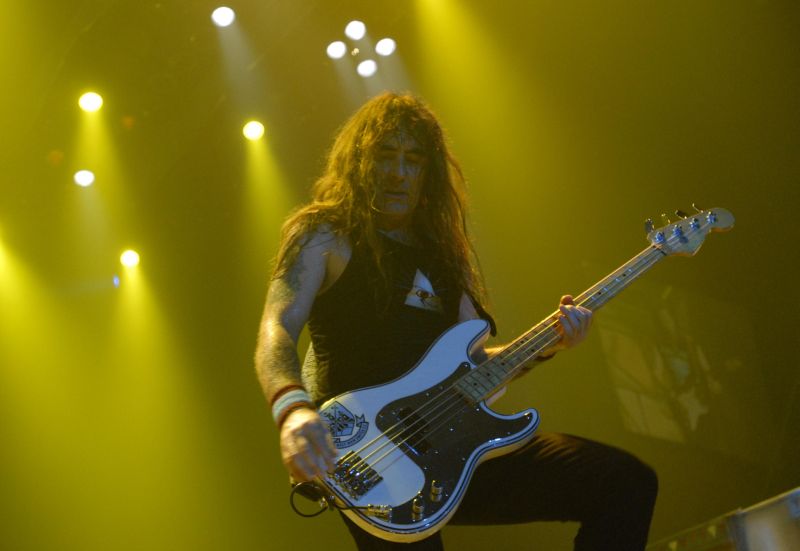 "Smith explains that being a guitarist in a trio of guitarists, who all switch lead and rhythm parts, isn't as hard as it seems, though certainly not easy.
"We work at it ahead of time; you have to, because it would be pretty chaotic. All our stuff—there's no improvisation onstage. Aside from the 16-bars we solo, we might change it a little bit. All the solos are worked out ahead of time. On this particular tour, because Jan [Janick Gers, guitarist] wasn't in the band when we did it—he really wasn't involved in any of the writing or the recording—I said to Jan 'Well, you play some of my stuff.' Divvy it up a bit so everyone gets a chance to express themselves a bit more. Some of the harmonies we worked out so we could play three-part harmonies on some of the records we did. If you listen closely, there's a third in there, so now we can recreate it more faithfully. It's working pretty well with three. No one's doing it really. I don't think so much in the rhythm parts you can hear, but you can obviously hear the lead parts that come out of the top. Again, it's the energy thing. It's the energy of six of us onstage. That's the most important thing."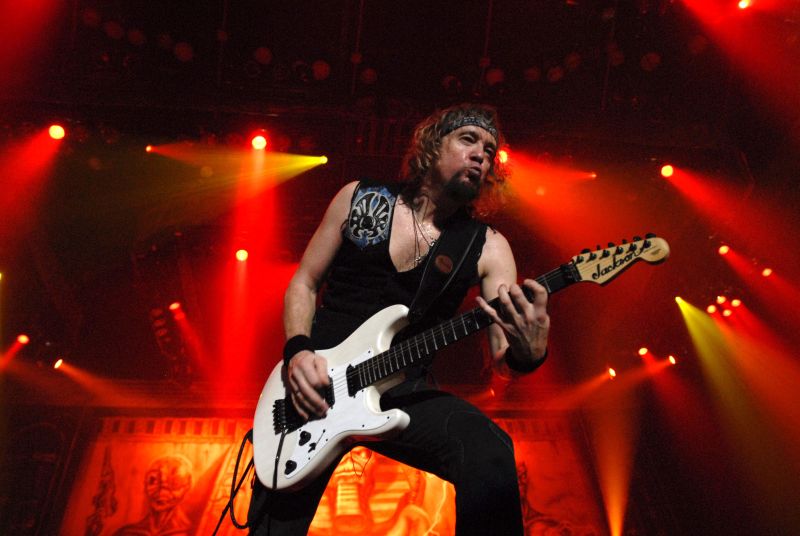 "I don't listen to a lot of music," Smith confesses. "But I do like guitar. You know, Joe Satriani, Eric Johnson, that sort of stuff. Guitar virtuoso stuff—I find that inspiring. Gary Moore. Sometimes I listen to Humble Pie or Free. These people are a little off the radar, but they're still making albums. It's not all over the media anymore, but there's still some good music out there from the old school."
Harris, or "Harry" as McBrain refers to him, affirms that the quintessential comedian and elder statesman of the band is still a madman on occasion.
"Nicko still has his moments. He's a drummer for godsakes. He's a character also. He's mellowed out a little bit over the years, but not that much. We still have our moments. To be honest with you, the first two world tours we did we went crazy. It wears thin, you know. Going to all the bars and getting up early afternoon the next day for a couple world tours, and you go 'I just been there and there and there, here, there, and everywhere and I haven't seen any of it.' I think it was good we got it out of our system pretty quickly, really. We enjoy touring a lot more by doing what people might think would be boring things. But I think it's much more fun, these days."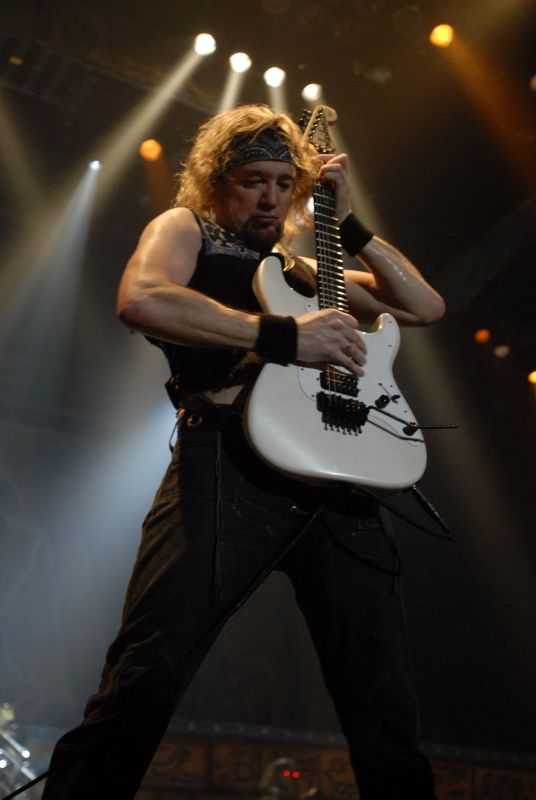 "McBrain denies allegations of being a hellraiser these days, but admits he still has a tendency to accidentally get schlaggered once in a while.
"I've calmed down, mate, because I'm the old man, I'm the granddaddy of the band, I got to set an example, rather than before just leading the lads into miscreant ways or whatever. You know, being a hooligan. Now I've got to be this father figure, keep them in order and tell them 'No more drinks. Go to bed. If you're going to have one, buy me one (laughs).' Janick's more mischievous than I am. He says I'm still the misguided youth in the band. We all still have a good chuckle. We can all take a joke and we can all tell a few jokes, so we have a really good time. It's a true family. And as families do, they have their rough times. There are times when you can read emotion. They know me when I'm in a bit of a mood, not to speak to me."
By the time the "Somewhere Back in Time" world tour has ended, Iron Maiden will have scores of new fans. Ask Steve Harris which country has the maddest fans and he'll tell you they're all crazy.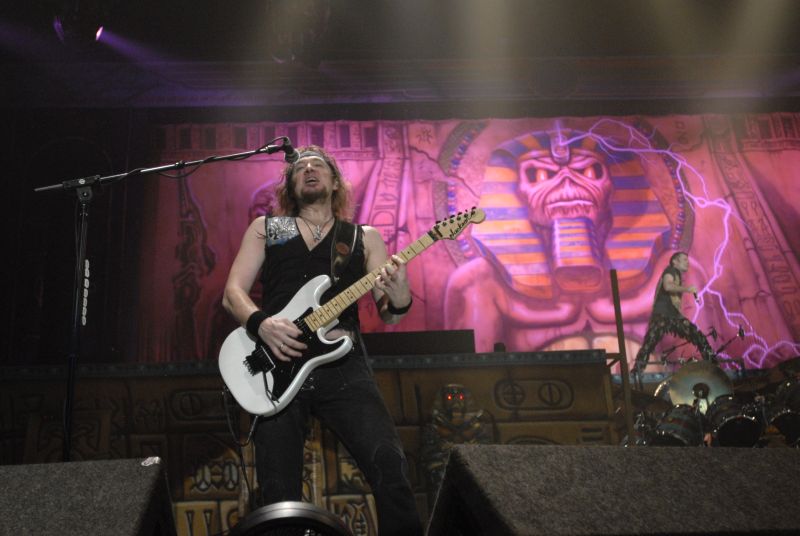 "I know it sounds big-headed to say that we're global, but we really do have a fantastic fan base all around the world," says Harris. "So it's difficult to pinpoint one particular country. At the moment I'd say Sweden is probably ridiculous. It's just insanity out there, the way things are going out there. But if you're talking about an absolutely fantastic audience then you're probably talking between Buenos Aires, Argentina or Santiago, Chile because I think they're probably the two most insane—in a good way—audiences. It's just unbelievable. I can't explain what it's like, really, but they're all pretty crazy. It makes you feel really alive, is all I can say (laughs), Most audiences are really good everywhere in the world in different ways. Japanese audiences are totally different to a US audience or again to a European audience, but they got their own way of showing their appreciation. And it's just different levels of good, really."




Please log in to view RANTS

If you don't have a username, click here to create an account!