Richie Scarlet
The Insanity Of Life


By Edward "Ace" Annese, RealityCheck TV
Monday, April 15, 2002 @ 3:18 PM


| | | |
| --- | --- | --- |
| | | (Gem Three Productions) |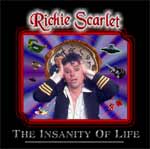 Richie Scarlet has released another Rock 'n' Roll Masterpiece! Best known for his blazing guitar work for Ace Frehley and Sebastian Bach, Scarlet also has several solo discs to his credit. Like his previous original effort, Wiseguy from NY on indie-label Axis Records (there's also a collection of garage band covers from the late '60s called Out of My Past), Scarlet employs a slew of guest stars to add a little spice the mix. Scarlet's self-described "rock 'n' roll brother," the legendary Ace Frehley of KISS, checks in with his patented stylings on two tunes, "Johnny's in Love" and "Too Far Gone," the latter of which Ace co-wrote. Likewise, Frehley cohort Anton Fig of the David Letterman Band -- and who got his first big break drumming on Ace's 1st KISS solo LP -- sits in on skins for no less than three tracks here. In addition, former Mountain guitarist extraordinaire, Leslie West, lays down a killer solo on "Who's to Blame," as does modern-day guitar hero Ty Tabor of King's X on "Tin Soldiers." A rare treat for rock fans occurs on "Ghost of Brian Jones" as Dennis Dunaway and Neil Smith of the original Alice Cooper Group -- a Scarlet fave -- lay down bass and drums, respectively. Lastly, another great drummer, Bobby Rondinelli of Rainbow fame, also sits in on "Who's to Blame." Other players include Steve "Budgie" Werner (also of Ace's band, as well as NY's Tang), Lenny Lee and Bonnie Parker (Tang again) as well as other associates from out of Scarlet's past. Despite all the guest appearances, this is very much Scarlet's record. His distintively soulful vocals and monster lead, rythym, acoustic and slide guitar playing make it his and his alone -- even when covering other people's material. Here he busts out crushing renditions of Enuff Z'nuff's "Fly High Michelle," David Bowie's "Moonage Daydream" and Michael Des Barre's "Too Good to be Bad" (Scarlet likes to borrow from all eras of Rock, evidently). Still, the best tunes are his: "Johnny's in Love," "American Youth," "Tin Soldiers" and "Too Far Gone" all have strong hooks as well as Scarlet's scintillating guitar signature. Also outstanding is the instrumental "Lake Gleneida" which has some of the most 'electrifying' acoustic guitar ever, and some fine flute work from childhood pal Jeff Waldo. All in all, yours truly would stack up Scarlet's fretwork with any guitarist out there today, and his tunes simply ache with passion. Why this rock veteran isn't more well-known is a very good question. So, while newcomers like Andrew WK and The Strokes might be grabbing all the credit and glory for "bringing back" glam-style hard Rock 'n' Roll, Richie Scarlet has been living and breathing it for well over twenty years. Accept no substitutions -- get the real deal! *** For more info, log on to RichieScarlet.com or email Richie. Also, please check out Edward "Ace" Annese's website RealityCheckTV.com.




Please log in to view RANTS

If you don't have a username, click here to create an account!