Part One of Two Interviews with Testament: The Heart of the Matter with Chuck Billy


By Charlie Steffens aka Gnarly Charlie, Writer/Photographer
Saturday, January 2, 2010 @ 1:08 PM


| | | |
| --- | --- | --- |
| | | "He was trying to show me techniques to make my tumor shrink, so I was practicing that stuff and over time my tumor did shrink small enough to where I had open heart surgery and had it cut off my heart." |
For any band to have vitality and still put out great music 25 years+ into the game is a rarity, particularly in the metal world. Testament is such a band, still riding high from 2008's highly successful album, The Formation of Damnation, and taking that momentum into the next phase of its journey.

Testament will be going out on the American Carnage tour with Slayer and Megadeth, starting January 18th in Seattle.

Singer Chuck Billy talks about the past, present, and future of the band.

KNAC.COM: Do you have a release date for the new album?

BILLY: Not sure. We were shooting to not do any touring this year until we got the record finished, but the Slayer tour came up, so we couldn't pass that up. So we decided to keep writing and we're going to make an attempt to finish writing the record out on the road this year, which is something we haven't done in over twenty five years.

KNAC.COM: It is an amazing lineup: Testament sharing the stage with Megadeth and Slayer, and, obviously, a much-talked-about tour these days.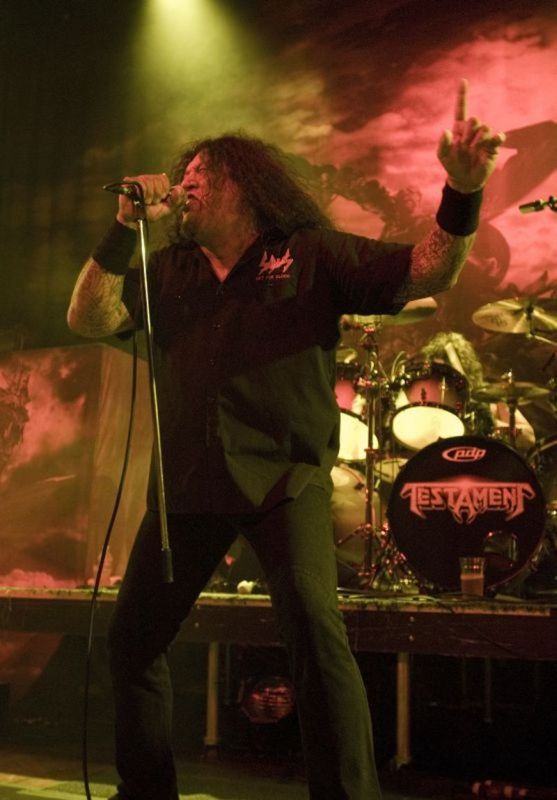 BILLY: Yeah, it's going to be fun. I mean, it's something I think that's definitely been a long time coming, especially hearing the fans' response for The Clash of the Titans. They'd love to be able see that, because they just read about it and never got to catch the concert, so it will be nice to see all three of us again. The beauty of it is that we're all here 20+ years later and putting out good music, you know?
KNAC.COM: That's for sure. With The Formation of Damnation for Testament, and the new material from Slayer and Megadeth, each band has put out some excellent music recently.
BILLY: It's a statement for itself, just new bands or whatever, because you always get time-stamped into something and everybody's talking about something new and fresh and whatever. But look at three bands right here, for example, wrote some great material over the last couple of years and I think that's still gonna keep writing good material throughout the rest of our careers. It's an accomplishment, for sure.
KNAC.COM: How were you approached to be on this tour and how quickly have things been moving for the band since?
BILLY: Well, it was something that was discussed, I would imagine, over the last couple of years, because there's always been talk about Metallica, Megadeth, Slayer, Anthrax, probably Testament. For about a year and a half or more there's been talk. That's all it was, was just talk. It was like, "Oh, it would be cool. It would be an awesome tour." So, last minute, we kind of were right in the middle of writing and we got a call from our manager just saying, "Hey, our agent wants to know if we'd be up for the Slayer/Megadeth tour' and we were like, "Well, you don't even have to ask. That's a no-brainer." So at that point we said "Yeah, go ahead and put our name in—we're totally down." Shit, within a week, man, they called us back and said we're on. "You're in. Get a press release for Monday." It happened, like, so fast. So I'm sure those guys discussed it because last summer they played some shows across Canada, Slayer/Megadeth, I think probably to test the waters and everything went pretty good, so I guess they moved forward from that point and made plans for this tour.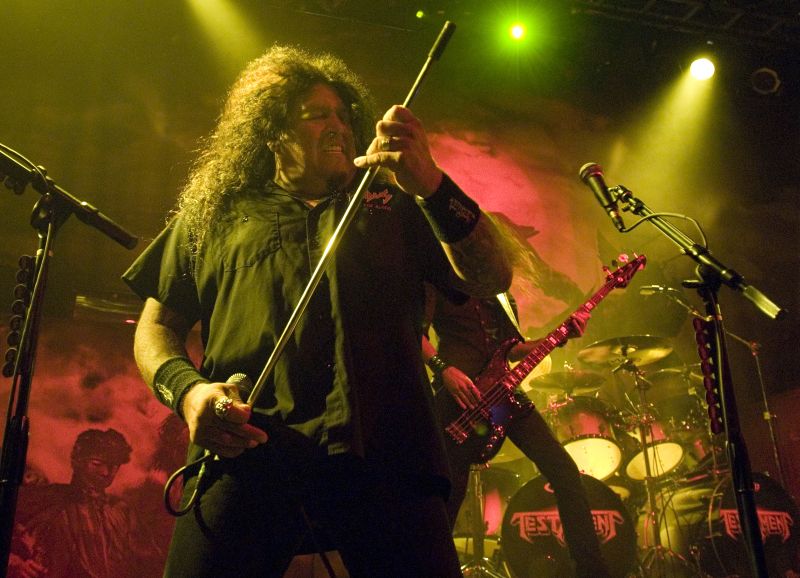 KNAC.COM: Let's talk about The Formation of Damnation. When you guys started writing the material, could you sense that you were on to something as big as this album has turned out to be?
BILLY: I knew the songs were good. We had a big undertaking, because, for us, we had The Gathering, which was put out in '99, and for us we thought that was the best record that we had written to date. It had all the elements of everything we did up to that point which we were very happy with, vocally, musically, the sound. Everything was right there-- what we wanted. And we got a lot of acclaim for that. So we had a little pressure on our shoulders going, "Man, everybody's talking about The Gathering. We're going to have to outdo it. That's going to be a tough one." So, we actually sat down and discussed how we could make it better. Of course you always want it to sound better—bigger guitars, better drums, and I wanted to sing a little more. I wanted to be more melodic vocally like some of the older Testament stuff. Consciously, we set out to set those goals for ourselves and I think we accomplished them. We knew we had some good songs, but, when we actually put the songs back to back, after mixing it all, and listened to it like we were listening to a record, at that point that's when we knew, "Wow! This record kicks ass. I think it's better than The Gathering," and we all just got a big smile on our face. And the response of the record was much more than I thought. It's what I hoped for, but it was much more than I thought. To get voted Metal Hammer's Album of the Year and get it in there to possibly get a Grammy last year—all these things were pretty huge for Testament, you know, for this record. And, on top of the whole thing was that we had Alex (Skolnick) and Greg (Christian) and Paul (Bostaph), you know, the original members back in the group again. So, on top of doing the good record and having a new booking agent, a new record label, a new management company, and having the original band, it was like all cylinders were firing at once, you know. Everything was happening simultaneously. And at that point it was like, "Well, with all this good stuff happening we have to go tour." We used to pick and choose our tours, and not tour as much, and when we saw the success of the record we said, "Okay, we have to go out now. We have to go out there and not turn down any shows, just do everything we can." So that's what we did last year, and by the end of it we were like 190 shows into the The Formation record. At that point we said, "Okay, we toured enough, it's time to get in there and start a new record." Plus, Alex, he goes out and does the Trans Siberian Orchestra starting around October, November, December, so those are the months we were taking off to write the record.
KNAC.COM: What can you tell us about the forthcoming record?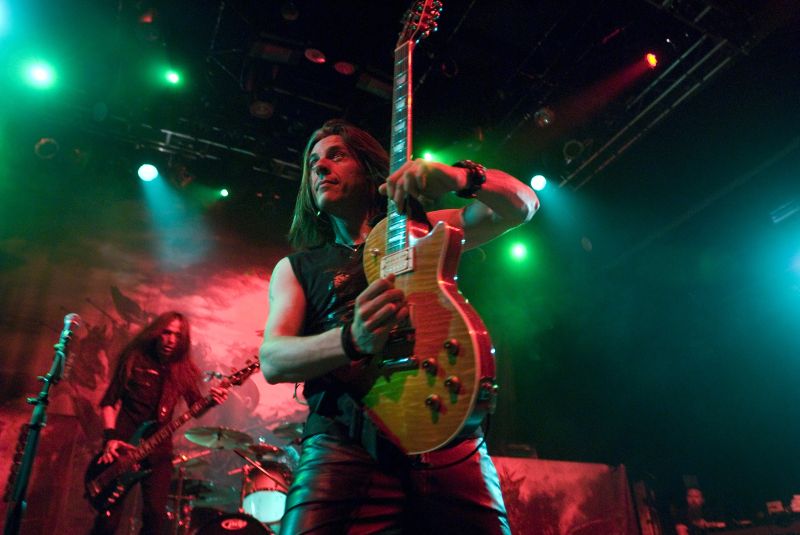 BILLY: Well we're doing demos trying to go this way--if it's not broken don't try to fix it. We're really trying to get the mindset like, "Let's just pretend like we're at last year, the last time that we were writing, and take it from that point on and just pretend like we're still writing this record." If we can write ten more songs that should have been on The Formation, you know, right on. It can't be that bad.
KNAC.COM: What are you doing to gear up for the tour?
BILLY: We've been rehearsing, just getting a set down. I treat it like a boxing fight, like I'm going to have a fight in a month. I hit the gym, I'm running (laughs), and I'm doing the whole thing. I'm looking at it like I'm going into a fight. I'm mentally and physically getting prepared for it. We feel pretty good. Last night we just made a crucial decision, so you're going to be the first exclusive to hear. We decide last night that instead of putting—because we only have a 40-minute set to pick--instead of playing a medley of songs, we decided we're going to do the entire The Legacy record, start to finish, in its entirety for the show. We did it last year, over in Holland, and then we did a show in London. And that show we did The Legacy and The New Order back to back, just like on the records, song after song. It was awesome. It was such an awesome deal. It turned out way better than we thought. It was killer. So, we were rehearsing for this tour, and at one point we were like, "Man, we're not playing this and we're not playing that. Ah, shit. We only got 40 minutes; you can only play eight songs, so it's tough to pick eight songs. We're leaving so many good ones out." And we were like, "You know what? Since we've already toured a year and a half with Priest, we did our own headline, we did so much stuff out there, why don't we go out there and do something different? We'll give 'em a whole different stage look…let's give 'em The Legacy album, start to finish." It's a nostalgic kind of tour, so why not?
KNAC.COM: It's like an allegiance to the old school.
BILLY: That would be kind of interesting for us, because look who we're playing with. I would hate for just a normal set to get blown over, but something exciting, like we're going to do the full Legacy record, is a whole different thing. So we're kind of excited and we're going to go for it.
KNAC.COM: In addition to the medical treatment you underwent for your illness, it was your spirituality which healed you, right?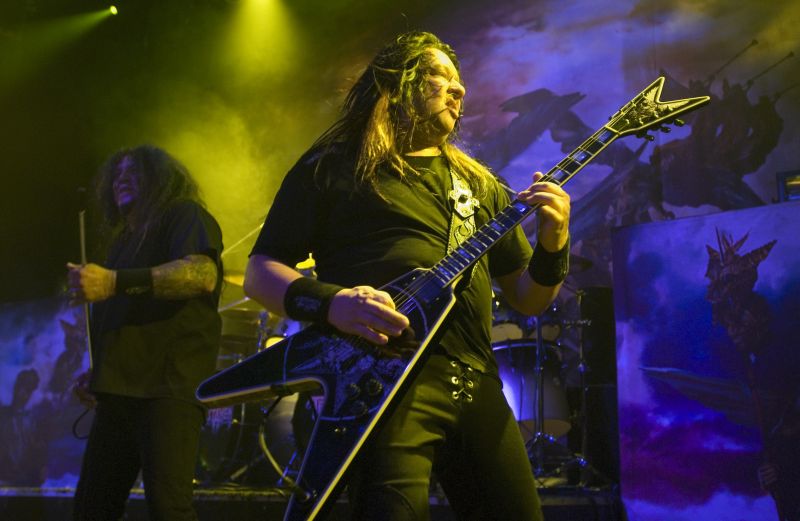 BILLY: Well, yeah. Big time. My mom raised us Catholic. I wasn't going to church every Sunday—that kind of Catholic, you know? But I believed in a God, and when I got sick I really went back to my Native American heritage and really focused my energy on doing the sweat lodges and seeing some medicine men. I took that approach and had some pretty incredible things happen to me on my journey. Some outrageous stuff just opened my eyes spiritually, and after surviving the whole thing it really, spiritually, changed me. I'm definitely a more mellow guy and easy-going. It takes a whole lot to really piss me off (laughs). To be fortunate enough to be able to go out and still do my music and to be able to tour and have fans enjoy it…dude, that's even a bigger bonus than being paid for the show, because I'm fortunate. I'm very fortunate to get the opportunity to go be able to do this again, because when I was sick I didn't think I was ever going to play music again. I had a rare form of cancer. It was germ cell seminoma, and it was the size of a squash, that grew on my heart. So, my whole chest cavity was filled with a tumor and I was having a hard time breathing and the tumor was too big to operate on. So that's why I did a lot of medicine man stuff, and a guy named Lupon up in the mountains…it's almost like meditation and stuff, but focusing your mind to heal yourself, kind of a self-healing thing with the mind over the body. He was trying to show me techniques to make my tumor shrink, so I was practicing that stuff and over time my tumor did shrink small enough to where I had open heart surgery and had it cut off my heart. There was a lot of crazy stuff that happened but the outcome of it—like right now I got The Formation, I got to tour my butt off, I got the original guys, I'm fortunate to get out there and keep playing, and having a bunch of these great things happening to us. Right now it's a good time for me and the band. And here we are on another venture, going out with Slayer and Megadeth. How good is that, you know?
KNAC.COM: Look what you're giving to the kids and old dudes like me.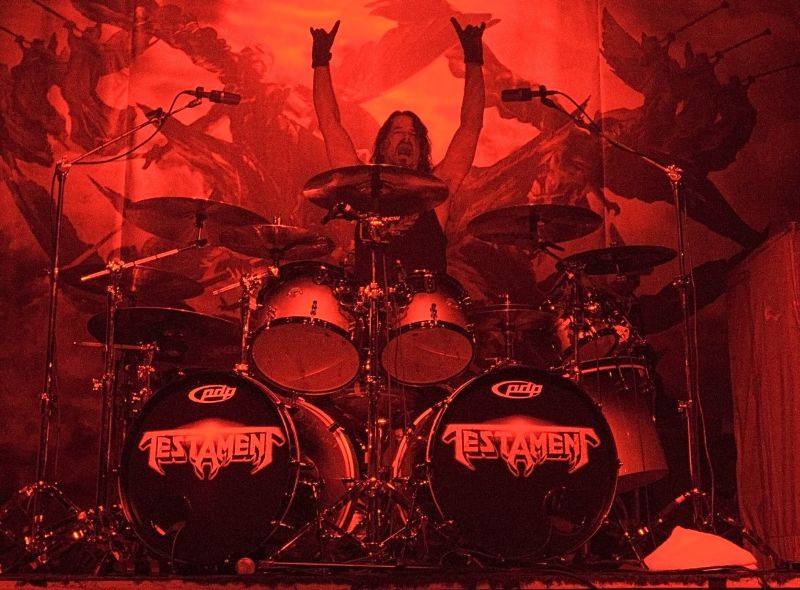 BILLY: And getting back from everybody, because I'm getting it back—the payback--having the opportunity to be out there and do it. When I was sick, I lost all my hair. I didn't recognize who I was seeing in the mirror. At that point I thought: "I'm never going to get to play music again." My focus was getting better, and spending time with my family. That's where my head was at. I didn't listen to music for two years. So once I got over everything and got the clearance, and once I turned my energy into, "Let me put on a Testament record and listen to it." And when I listened to it, it sounded brand new to me, and fresh, like it had been so long. And I got really excited that, "Wow! It's my band!" I got really fired up and that's what kinda started it again, and that's when Alex and them started getting back into the picture. It was all…kinda happened for a reason, I guess. I don't know. It's an odd thing because my illness not only got Testament back together, but it sparked a new life in the Bay Area music scene. There's a lot of bands. They threw a concert called Thrash of the Titans and they got bands. Anthrax came out, S.O.D., and S.O.D. had been broken up, all the Bay Area bands that were broken up got back together. Forbidden, Exodus, Death Angel, Heathen, Vio-lence…all these bands got together for this one show and it was the most amazing show ever. The performances were amazing. A one-time event, you had to be there to experience it. Amazing day. And, also, all those bands decided to put their differences aside and, "Let's stay together and write music." Exodus, Death Angel, all these bands, Forbidden's writing a record, so my illness…for whatever reason, fired up Testament and fired up a bunch of Bay Area bands again, and look at us today. We all got records out and kickin' butt.
KNAC.COM: Your illness and the subsequent concert sparked new energy in the Bay Area, without a doubt.
BILLY: It took something major to change things in the Bay again, and it did. I'm kind of proud of that, in a sense. It sucks I was sick, but the outcome was for everybody else to enjoy it now, like me again, to get the opportunity again.
Photos by Charlie Steffens: CharlieSteffens.com




Please log in to view RANTS

If you don't have a username, click here to create an account!