Marco Mendoza is a musician who is almost always working or setting up the next thing to work on. Marco's career achievements are varied and many, going back to his days with John Sykes' Blue Murder in the early 90's on up to now. In the last decade he's been the bassist for Thin Lizzy, Ted Nugent, Soul SirkUS, Whitesnake, Lynch Mob, and a host of other artists' projects. He's collaborated with singer Dolores O'Riordan (The Cranberries) on two albums, Are You Listening? (2007) and No Baggage (2009), and played on Tim "Ripper" Owens' solo debut, Play My Game (2009). Marco's recent design, Casa Mendoza (2010), is a solo release showcasing his extraordinary vocal abilities and knack for songwriting.
Marco's currently overseas with Thin Lizzy on the band's European tour alongside alumni Brian Downey on drums, Scott Gorham on guitar, and Darren Wharton on keyboards (who all played in Thin Lizzy with Phil Lynott), Def Leppard's Vivian Campbell on guitar, and The Almighty's Ricky Warwick on vocals and guitar.
Before Marco left for Europe he invited me out to see him and his band of gypsies play a gig at a little place called the Baked Potato in Studio City, California. Before the show, we talked about a range of topics and what it was like, what happened, and what it's like now. During the set I got to witness again what a great talent Marco is--this time as the singer/bassist of his Casa Mendoza band, which, on this night, included guitar phenom Rafael Moreira (Pink, Christina Aguilera, Paul Stanley, CBS's Rock Star) and Joey Heredia (Stevie Wonder, Sheila E.) on drums. The band played tracks from Marco's Live for Tomorrow and Casa Mendoza records, along with a few covers, including Cream's "Sunshine of Your Love" and a blistering version of Ted Nugent's "Hey Baby."
Marco just gave me this Thin Lizzy update from London and wanted to pass it along:
"The Thin Lizzy experience is something to be seen! It's like a freight train coming at ya, and before you know it, you got trampled! And you want more. Scott and Brian couldn't have done a better job at getting this together with Darren, Ricky, Vivian, and me. It's just great. You have to check it out!"
KNAC.COM: Your solo album, Casa Mendoza, shows you out front singing, which is a side that we don't see when you're playing in Whitesnake, Ted Nugent, Lynch Mob, and with other artists. What will you be playing tonight?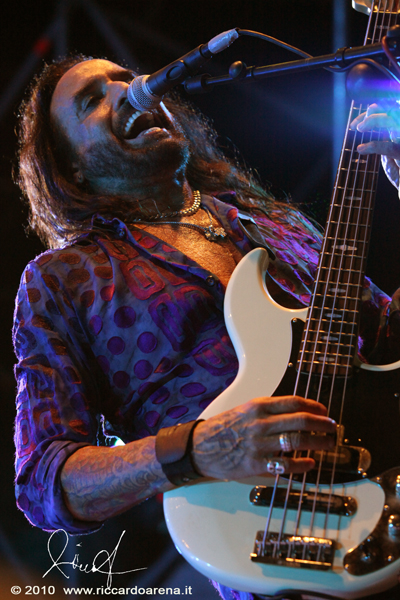 MENDOZA: What you're going to see tonight is two-thirds of a trio that I've had in L.A. since '99. The trio just got harder and harder to book. Some of the songs from Casa Mendoza are from that lineup. I just incorporated some guitar. Writing is where I want to go. I'm really trying to focus on that more and more to grow musically. I've been part of some big projects, but what happens is you're always supporting somebody else's vision. And that's beautiful when you got cats like Ted Nugent and David Coverdale, I mean, why not? It felt natural when I was doing that. So, the writing is just for me to step into my own shoes and say, "This is what I think, how I feel, and how I want to sing it," and write the song. It's not that easy to do. But I'm at that point in my life where I have to do it. I've always dabbled in the writing. So this album, Casa Mendoza, was a vehicle for that. And I can't wait to do more. I'm excited.
KNAC.COM: How did you come up with the title, Casa Mendoza?
MENDOZA: The idea for that was brought up by my producer friend, who wanted to do a project that was not dependent upon the players, but me. It wouldn't inhibit me from going out, waiting on people's schedules, which is a great concept. I love a band, but it gets harder and harder. I like the idea, because I can continue doing my albums under that flag. It's like, "Welcome. This is my little restaurant."
KNAC.COM: I really like the song about the girl in a trailer park in East L.A.
MENDOZA: "Betty Joe."
KNAC.COM: Were you in East L.A. when you encountered Betty Joe?
MENDOZA: I might as well have been. Hollywood, man.
KNAC.COM: It sounds like a first-hand account.
MENDOZA: Yeah. Betty Joe's everywhere, man. I used to fall in love every other month when I first got to L.A. To this day, all these girls that come here from the Midwest and other places and worldwide to make it in Hollywood have this dream. I didn't have all the room to explain that picture, but this is what happened: I met her and she broke my heart. I thought it was going to last forever and she's gone. Next! Just where you came from--there's thousands coming in, man. So bring on the next one. I wanna have my fun. That was the attitude. That came out of a moment where you're heartbroken and you gotta talk about it.
KNAC.COM: Did you write some of the songs on Casa Mendoza before you were married?
MENDOZA: Some of it. My wife and I joke about it. It's a trip. She knows. Nobody knows me better than my wife, which is why we have such a good relationship.
KNAC.COM: Do you have moments when you're hit with an urge to write a song that has to go down on paper right then?
MENDOZA: Sometimes. Like I said, my role has been that of a supporting member, so I try to take that seriously and live that music. I just kind of jump in, full on, and that's all I listen to. I try and do some homework. Right now with the Thin Lizzy tour coming up. I'm trying to surround myself with Lizzy. Phil Lynott and Lizzy and Lizzy, and Lizzy. Not to just play the songs, but to live the idea when it comes to bringing it live. Same thing with Whitesnake. Same thing with Ted Nugent. It's a joke around my house-- "Don't you know that stuff already?" Yeah, I do. One thing is to play it. The other thing is to experience it, to be inside. It has nothing to do with how difficult the music is. It's about experiencing it, right there. You own it. In your brain you're juggling a lot of stuff. It takes a minute to go there. Tonight I could probably go to a studio after the gig and write two, three, or four ideas (snaps fingers) like that, because you're there. Your creative juices are flowing, your adrenaline is pumping, man, and your endorphins are flying. I look at the street, the pavement, and I'm inspired. All sober, by the way. 23 years of sobriety. Sobriety's been my thing. Totally. It's been my saving grace. I shouldn't even be here, to be honest.
KNAC.COM: Were you a drinker or a drug user?
MENDOZA: Heroin and cocaine was my thing. Speedball. Let's just say, I've been to the other side (laughs). Quite a few times. And I'm still here, so thank God. Sobriety is my walk. You can almost hear it in some of the writing--where I'm coming from. Trying to be positive and share the message. When I see somebody in trouble and I start talking about sobriety and they get that haze over their eyes, I know it's not doing any good. You lead by example, in this business especially.
KNAC.COM: Is it sometimes hard for you to be around all the drink and drugs when you're on the road?
MENDOZA: I'm a people guy. I go to all the hangs. Aftershow parties. If there's something going on--I'm there. I just don't have to use or drink. I dig it. It shouldn't keep me from going. When I see it and I feel a little weak around the knees and my flags go up or I can smell it--somebody's cooking stuff. Smack, for me. Even like a match, is a trigger. So I protect my sobriety. It's my little baby. Honestly, I want to talk about my sobriety. There's no doubt in my mind that's one of the reasons I'm still here. Period. However you want to break it down or look at it. There's no doubt in my mind. The way that everything happened--and we don't have time to get into details-- there were situations and people presented in my life that made a difference. Don't ask me how or why. Through the court system I was on my way to do 10 years. If it weren't for sobriety I wouldn't be here. So why not talk about the message? And it also keeps me accountable. It confirms where I came from and who I want to be when I grow up. KNAC.COM: Well, we won't get loaded tonight.
MENDOZA: Oh cool, man. Maybe tomorrow (laughs). I always say tomorrow. You never know.
KNAC.COM: It's really disarming when someone says they're sober. It's hard to tell in this business, right?
MENDOZA: You don't know what to expect. I know I still look like I'm out there.
KNAC.COM: Well, I look like I just put the bottle down. I look like Jim on Taxi.
MENDOZA: We're always going to look like that, bro (laughs). That's another reality we have to face. I look like a dope fiend. I know.
KNAC.COM: Right now you have the Casa Mendoza project, which we're going to see tonight, and you're about ready to leave to tour Europe with Thin Lizzy. You'll be with original members Scott Gorham and Brian Downey. You'll be doing bass duties and Ricky Warwick will be on lead vocals.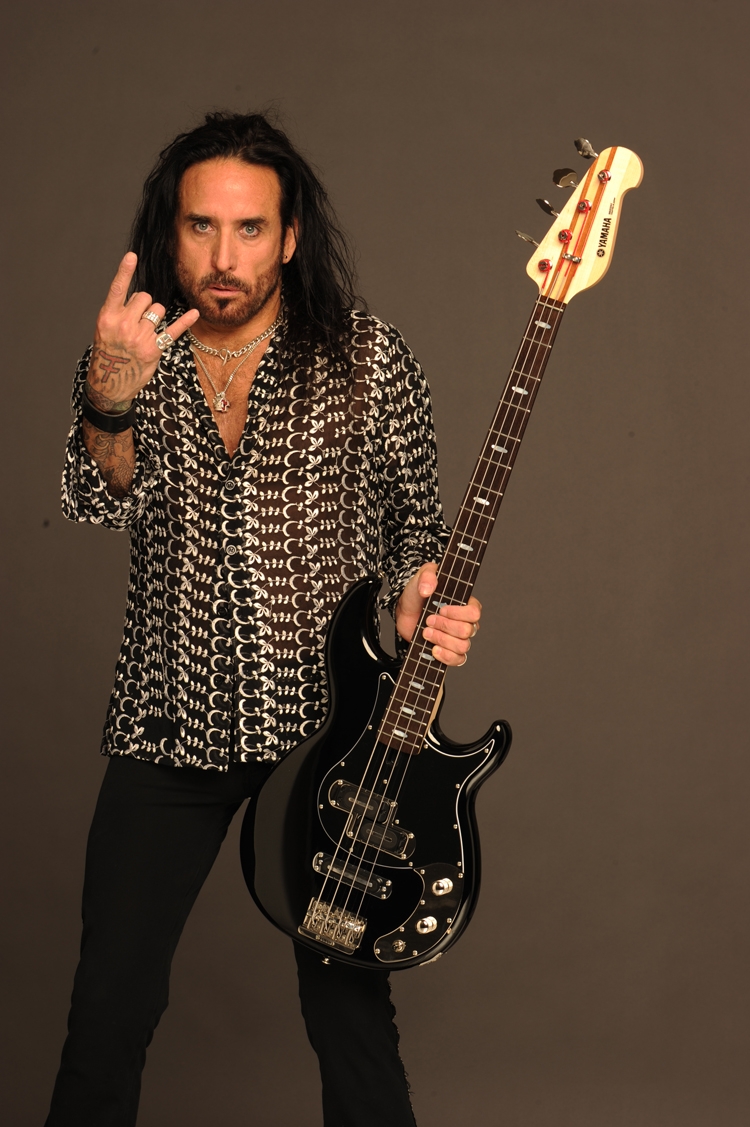 MENDOZA: And Vivian Campbell's there. He's an amazing player. And Darren Wharton. It sounds great, man. It really does. It looks like it's going to be handled the right way on all ends. It's going to be run like a good business should be run, while being respectful of the legacy. The fans know Phil Lynott with Thin Lizzy, and we've heard it's not the same. No, it's not going to be the same. It's going to be something like Thin Lizzy, with some of the original members. Unfortunately Phil passed away, but he left this catalog of great music that's part of rock and roll history. It probably will be for a long time to come. What better than to have Brian Downey, who's one of the founding cats, Scott Gorham, Darren Wharton, and then have some Irish cats who've experienced it from the outside in. Ricky's elated. He's so into it. I really gotta say that this lineup is a bunch of great cats, mainly because we're a little older. We understand what this is and we're treating it very carefully, moving forward the right way. Small steps.
KNAC.COM: Being a longtime fan of Thin Lizzy, I'm curious of how this lineup will stand up. You've been part of the Thin Lizzy fold for many years, right?
MENDOZA: This is a topic that comes up a lot, and I've done tons of interviews pertaining to this. There's a very thin line when you're paying tribute, a homage, and you're representing in the right way. Brian, who was in the original lineup, left. When he left--with all due respect to the other cats----big name drummers--it just started getting a little diluted. And then Darren left. So there was Scott, John (Sykes), me, and Tommy Aldridge. Then the business started to get really disorganized and it got increasingly harder and harder to put the time aside to be available, because they didn't know what they were doing. "So, let me see. I could got out and do four months with Ted Nugent or wait around and see what Thin Lizzy's doing." That's just an example, with all due respect to all the parties involved. This is a side of the business that people don't understand or see. I live off of this. I make my living off of this. I'm supporting my family, so there's a business aspect that comes into play, and you have to make the right decisions. Then I had an opportunity to do my solo thing, and I wouldn't have been able to do it had I stuck around. A lot of things. Dolores (O'Riordan). The Soul Sirkus album with Neal Schon, which is, to this day, one of my greatest projects. And then I started getting busier with David (Coverdale) and Whitesnake.
KNAC.COM: I love that Live in the Still of the Night DVD.
MENDOZA: Oh, I love that thing. It's really well done. I'll say that David Coverdale knows how to do things right. He's got the experience and he's got the knowledge.
KNAC.COM: When is your next outing with Ted Nugent?
MENDOZA: I got a call to be out in April, depending on how many hats I need to wear and juggle. He has another bass player. It would be just a fill in situation. He's very, very loyal. I love that about Ted. Once you're in, you're in. He took care of me for a long, long time. I was in, and then he took about a year and a half break to go hunting all around the planet and David Coverdale called. So I ended up there.
KNAC.COM: What has been your most memorable rockstar moment?
MENDOZA: There's been so many, man. It all is. I'm grateful to be playing. Period. Honestly. I try not to forget. We've done the big shows. We did some big ones with Ted. Some amazing shows, where you had the likes of Bob Dylan, Billy Idol supporting you. And you go out there and there's how many, 50, 60,000? And we're the headliners. And there's three people onstage--Ted Nugent, the drummer, and you. And everybody knows your name. But honestly, man, those things constantly come up and I don't measure them. It's like, I can't wait to experience the next one and the next one. I don't have any expectations, but still, I can't wait to see what's going to happen, what's around the corner, you know? This thing with Lizzy's been a good one. I've been doing so many interviews and we'll see how it's received in the U.K. first and then Europe. But we're getting offers to go all over the place. I'm opening up in Japan and South America and Latin America. With all due respect to the Lizzy situation, I did 19 shows in Italy this summer, playing my music. Now think about this for a minute. Anywhere from 500 people to a couple thousand in different size venues. Think about this: you're singing in English, nobody got the album, nobody knows the songs, and people show up because they know who you are. "Okay, give us what you've got." You're doing your music, singing your ballads. That's not a rock star moment, but a musician's moment. Your life is getting filled as you experience these things, because you're opening up and they're digging it. So I think along those lines. I'm busy, but I love it. Thank God. I'm addicted to performing and putting music together and writing.