MANRAZE Schedule US Live Debut In Los Angeles


By Tokemaster General, Contributor
Wednesday, June 29, 2011 @ 4:20 PM


MANRAZE have scheduled their US live debut, on July 31st at The Roxy Theatre in Los Angeles, California. Check out a show flyer below for more info, and click here to buy tickets.
Like a mixture of dangerous chemicals, equal parts guitarist extraordinaire, rudeboy rock drummer, and the righteous rhythms of a badass bass player and all together you have one hell of an explosive combination. Add to this concoction the experience of selling 75 million records and the attitude that comes from being at the top of your game and you've got Manraze.
This London-based alternative/nuwave rock band was formed by iconic lead guitarist Phil Collen of DEF LEPPARD. The band members include punk rock forerunner Paul Cook of the SEX PISTOLS on drums and Simon Laffy, rockin' bass player of Collen's former glam-band, GIRL.
The long awaited and highly anticipated sophomore album for these revolutionaries of rock, titled punkfunkrootsrock, will be unleashed upon the masses on August 2nd through Rocket Science Ventures in the US and Canada. The album will also be released July 27th in Japan on Nippon/Columbia and in the Europe and UK via Edel Music. In addition, a Limited Edition version will be available for order in the US as soon as June 1st.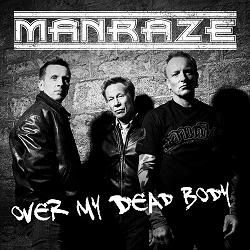 Prior to the album's summer release, the first single, 'Over My Dead Body', hit iTunes on May 31st. 'Over My Dead Body' is a hard-hitting track combining a mixture of fiery ROLLING STONES' foot stomping rhythms and Sex Pistols' over the top energetic drum beats. For fans that pre-order the album an acoustic version of the track will be offered as a free download. The remainder of the album's twelve tracks feature many diverse genres including rock, soul and reggae dub, a perfect blend of influences each band member brings to the mix.
punkfunkrootsrock tracklisting:
'Over My Dead Body'
'I C U In Everything'
'All I Wanna Do'
'Closer To Me'
'Lies'
'Get Action'
'Edge Of The World'
'Dreamland'
'Fire'
'I, Superbiker'
'Bittersweet'
'Dogbite' (Instrumental)
To sneak a listen to first single, 'Over My Dead Body', click here.




Please log in to view RANTS

If you don't have a username, click here to create an account!