KISS To Release "Monster" Of A New Album!


By Tokemaster General, Contributor
Sunday, August 21, 2011 @ 11:21 AM


KISS have just announced that the follow-up to their critically acclaimed Sonic Boom album will be called Monster. The band is currently working on the album in Los Angeles for a 2012 release. KISS is planning a massive 2012-2013 Monster world tour which will take the band around the globe.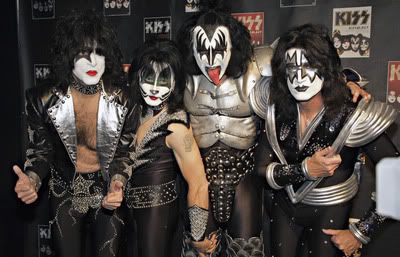 Gene Simmons spoke with DJ JC Green of Alfa Rock 105.7 FM and Metal Messiah Radio's Heavy Metal Thunder program recently about the band's new material.
"The new record is going to be the next step to Sonic Boom. Very similar, straight rock songs, no ballads, no keyboards, no nothing, just rock. We have brand new songs that we've been writing. We've been writing a lot and there's some very good material and that's what we are going to record. A lot of the songs have been written by the whole band together, so no outside writers, just the band doing what it did on the first three records; write the songs ourselves. Once you know who you are are and how you breath - because every song is like an animal - you try to bring life to the song so it becomes real. Once you know who you are, it's easy to do - just do what the animal does without thinking about what's popular, what a producer would do. You just do it like you would naturally do it."

Please log in to view RANTS