DUFF MCKAGAN To Embark On Book-Signing Tour


By Tokemaster General, Contributor
Friday, August 26, 2011 @ 5:33 AM


Bassist Duff McKagan's (VELVET REVOLVER, GUNS N' ROSES, DUFF MCKAGAN'S LOADED) upcoming autobiography, It's So Easy (And Other Lies), will be released on October 4th via Touchstone Books/Simon & Schuster.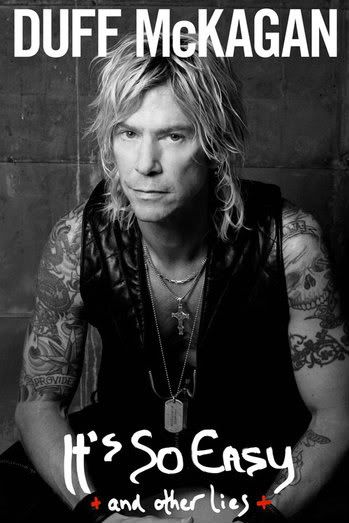 McKagan has scheduled the following book-signing events:
Tuesday, October 4th
Strand Book Store Event at 7 p.m.
828 Broadway
New York City, 10003
Wednesday, October 5th
Bookends Event at 7 p.m.
211 E. Ridgewood Ave.
Ridgewood, NJ 07450
Thursday, October 6th
Book Revue Event at 7 p.m.
313 New York Avenue
Huntington, NY 11743
Saturday, October 8th
Barnes & Noble Costa Mesa Event at 2 p.m.
901 B South Coast Drive
Costa Mesa, CA 92626
Sunday, October 9th
Barnes & Noble Santa Monica Event at 2 p.m.
3rd St. Promenade, 1201 3rd St.
Santa Monica, CA 90401
Tuesday, October 11th
Book Soup Event at 7 p.m.
8818 Sunset Blvd.
West Hollywood, CA 90069
Sunday, October 16th
Mall of America Event at 2 p.m.
60 E. Broadway
Bloomington, MN 55425
Tuesday, October 18th
Powell's Books Event at 7:30 p.m.
1005 W. Burnside
Portland, OR 97209
Wednesday, October 19th
University Book Store Event at 7 p.m.
4326 University Way NE
Seattle, WA 98105
Thursday, October 20th
Third Place Books Event at 7 p.m.
17171 Bothell Way NE
Lake Forest Park, WA 98155
Friday, October 21st
Elliott Bay Book Company Event at 7 p.m.
Saturday, October 22nd
Warwicks Event at 6:30 p.m.
7812 Girard Avenue
La Jolla, CA 92037
According to Gary Graff from Billboard.com, Duff McKagan promises that It's So Easy (And Other Lies) is "not the same story" as former Guns N' Roses bandmates Slash and Steven Adler told in their memoirs.
"Mine's not really a Guns N' Roses book, where I think Slash's ('Slash') really was...and I haven't read (Adler's 'My Appetite For Destruction')," McKagan, who plans to publish the book in October, tells Billboard.com. "I'm not saying one's better than the other. This is just my story. It's really my demise into addiction and stuff, and then my way out and my journey into things. My Guns N' Roses story is my Guns N' Roses story. My Velvet Revolver story is my Velvet Revolver story. It's my rock story, from my distinct viewpoint."
McKagan acknowledges that "it was pretty gut-wrenching to write some of this stuff, just because I hadn't faced any of it until I had to write" the book. But while it's frank, he says the book is not a kiss-and-tell, either. "I didn't f*** around, but I didn't throw anybody under the bus, either," he notes. "There's some things you just don't break confidences on, even if you're warring with someone."
Read more at this location.




Please log in to view RANTS

If you don't have a username, click here to create an account!