KILL DEVIL HILL Sign To SPV/Steamhammer


By Tokemaster General, Contributor
Wednesday, September 28, 2011 @ 2:42 PM


KILL DEVIL HILL, the new project featuring acclaimed drummer Vinny Appice (BLACK SABBATH, HEAVEN & HELL, DIO) and bassist Rex Brown (PANTERA, DOWN) have signed with SPV/Steamhammer. The band is rounded out by guitar slinger Mark Savon and killer vocalist Dew Bragg. Their debut album is tentatively scheduled for a March 2012 release.
Vinny Appice commented on signing to SPV and what people can expect from Kill Devil Hill: "We are a new band with the power, energy and history to stand out, create music and be successful. We are proud to be with SPV, a label with the same attitude, talent and drive!"
Bassist Rex Brown is equally excited about joining the SPV family: "It is with a great pleasure to be aboard the SPV Music Blanket. We are looking forward to a great new experience with a label that has put out many great metal records. Cheers!"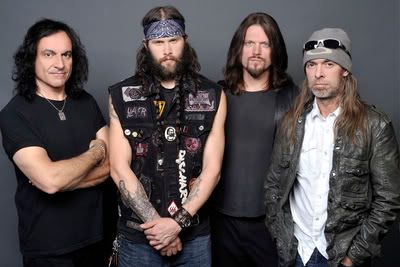 The still untitled release is being produced by Warren Riker who is best known for his work with Down, CORROSION OF CONFORMITY, SUBLIME, CATHEDRAL.
Olly Hahn (A&R Steamhammer/SPV) on signing Kill Devil Hill: " "It`s a great pleasure to welcome Kill Devil Hill to the SPV family. It´s not only because of Rex Brown and Vinny Appice, mostly it`s because of their music and that they are a real band. Music wise they don`t neglect their past but they also give some fresh elements to our beloved music genre called heavy metal!"
Kill Devil Hill is currently taking a short break from the studio for a short club tour starting October 2nd in Clifton, NJ with PLANET 9. A complete list of dates is below:
October
2 - Clifton, NJ - Dingbatz
4 - Morgantown, WV - 123 Pleasant Street
5 - Reading, PA - Reverb
7 - Charlotte, NC - Tremont Music Hall
8 - Spartanburg SC - Ground Zero
9 - Greensboro, NC - Arizona Petes
13 - Little Rock, AR - Downtown Music
14 - Fort Worth, TX - The Aardvark
15 - Houston, TX - Warehouse Live
19 - San Antonio, TX - Back Stage Live
20 - Shreveport, LA - Riverside Warehouse
21 - Jackson, MS - Club Fire
22 - Lafayette, LA - Grant Street Hall
25 - Cookeville, TN - Amps and Ramps
27 - Kent, OH - Outpost Concert Club
28 - Columbus, OH - Slapsy Maxie
29 - Covington, KY - The MaddHadder
31 - Omaha, NE - Chrome Lounge
November
2 - Des Moines, IA - The House of Bricks
3 - Lincoln, NE - Knickerbockers
4 - Salina, KS - Santa Fe Saloon
5 - St Louis, MO - Pitters Tavern




Please log in to view RANTS

If you don't have a username, click here to create an account!